John McLeod has ended up miles across the Pacific Ocean from where he started.
After growing up on a hill-country sheep and beef farm at Enfield, inland from Oamaru, Mr McLeod now grows vast crops of potatoes in a drought climate in eastern Washington State.
During his Lincoln University agricultural science studies in 1976, an extension trip took him to Oregon State University and an irrigated farm in eastern Oregon, where centre pivot irrigation originated.
''I fell in love with that,'' he said.
The family farm was too steep to be irrigated.
While studying for a master's degree in South Dakota, Mr McLeod met his future wife, Meredith, a local microbiology student.
After graduating, Mr McLeod spent three months in Libya. When he moved to Saudi Arabia, Mrs McLeod was able to join him.
For three years he produced grain for a prince who feared his country would be the victim of grain embargoes in retaliation for the Saudi oil embargoes.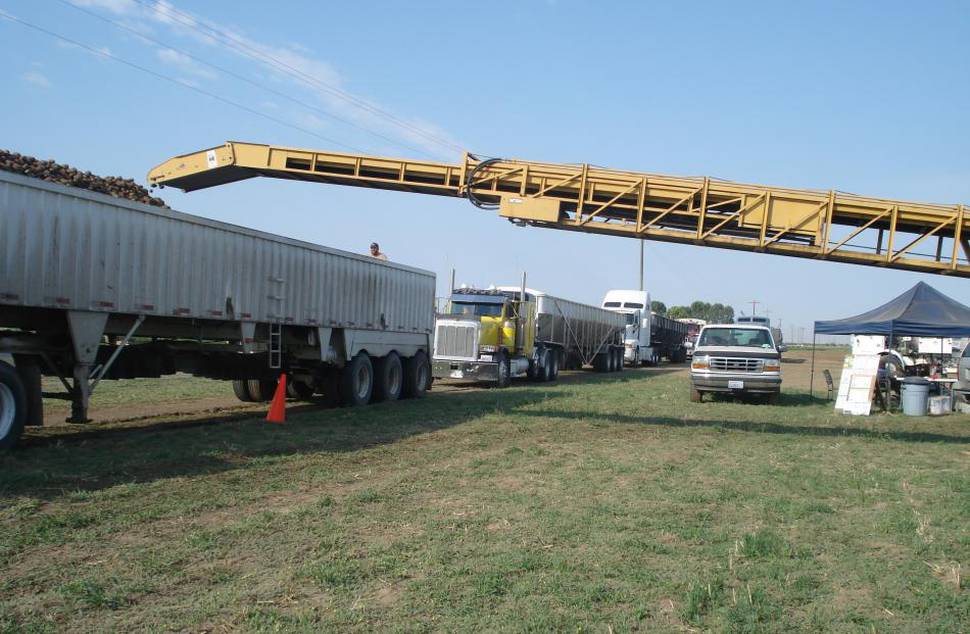 Expecting twins, the McLeods came to New Zealand. Their sons spent their first two years on the Enfield farm.
The family then had a year on a Tasmanian turf farm, followed by another six months in New Zealand before a permanent move to Oregon in 1990.
''I always wanted to go back to the irrigation area,'' Mr McLeod said.
He was in charge of growing sweetcorn and wheat on a South Korean company's corporate farm before being recruited by a man who specialised in growing potatoes in eastern Washington, just over the border.
Mr McLeod held a management position on that family's farm for 16 years.
''That got us our start. We did sweetcorn contracting on our own, then potato contracting.''
The Pasco area where they live has 152mm of rainfall a year. The McLeods depend on water from the Colombia River, to which they add fertiliser and inject fungicides, herbicides and some insecticides.
''It's pretty insane. Some are a matter of ounces per acre.''
Mr McLeod is a licensed chemical applicator. He has flow meters on all irrigator circles and proportioning pumps to account for varying inputs.
He uses only overhead irrigation.
The McLeods do not own any land; they grow potato crops under contract to French fry processors.
Potatoes cannot be grown for at least three years on land where they have been harvested. Fumigation technology is used to ensure the soil is free of pathogens.
Mr McLeod grows the Umatilla or Clearwater varieties in 40ha to 60ha paddocks that are harvested mechanically. Staff remove foreign material as 60 to 100 tons of potatoes an hour go past on an ''eliminator''. In a 12-hour shift, they fill an average of 30 trucks.
The McLeods employ a crew of Mexicans for the harvest. The same ones, or relatives of the original crew, come back each year.
''They like working for us. We look after them,'' Mrs McLeod said.
Mr McLeod said he would continue growing potatoes until he retired, despite the industry being ''at a low point in terms of grower returns''. The processors controlled prices by creating ''a managed over-supply''.
The 2018 contracts have not yet been sorted but the McLeods have already spent half a million dollars on them.
Mr McLeod is chairman of the Washington potato growers' association, which negotiates with processors.
''There are steadily declining numbers of growers because of consolidation.''
The French fry manufacturers were making record returns but were focusing on their shareholders, not their suppliers, he said.
There is no subsidy for potatoes in the United States.
The Enfield farm has been sold out of the McLeod family and converted to dairying.
''It's a tough piece of land to making a living off of. The last time I made a cycle trip through there, it looked great.''