Having just signed a new five-year contract, share milker Aaron Riddick is rapt to continue farming at the Stratford District Council-owned dairy farm.
"It's good because it's security. We have done the hard yards for the first few years and now it's time to reap the benefits. It's a good farm."
"Council are really good to work for. We are well supported and nothing is an issue to work through. It is easy to communicate and everybody knows where they stand.
Into his fourth year on the Flint Road farm, Aaron happily took on the sought after job for several reasons, including the fact it is a nice flat farm that grows grass well.
Having attended Stratford High School, Aaron started his career when he was 16.
"I left school on Thursday and started working on Friday morning."
Aaron, who was recognised in the industry after being awarded the Taranaki Farm Manager of the Year in 2009, has been dairy farming for nearly 20 years and enjoys the lifestyle it offers his family, wife Fiona and children Hunter, 5, and Charlie, 3.
Fiona is an accountant in Stratford at CMK Accountants and is originally from Limerick in Ireland. The couple met at a pub in Dublin while Aaron was playing rugby and doing his OE. Fiona says the council are great to work for and she loves the farm's handy location.
"I love the community feel that Stratford has. The hardest part was being away from family but we try and go back every second year.
"It's totally different here. The freedom is amazing Hunter is talking about getting a motorbike - there's no way a five year old can have a motorbike in the city."
Aaron says working for the council was good, with the quarterly meetings he has with council staff meaning there is fair and open communication.
During the meetings, ex-councillor, ex-farmer and farm consultant Robin Vickers is the go-between for the different parties, which includes Stratford District Council Parks and Property Assets Manager Neil Cooper, Aaron, plus his own farm consultant as well as other council staff if need be.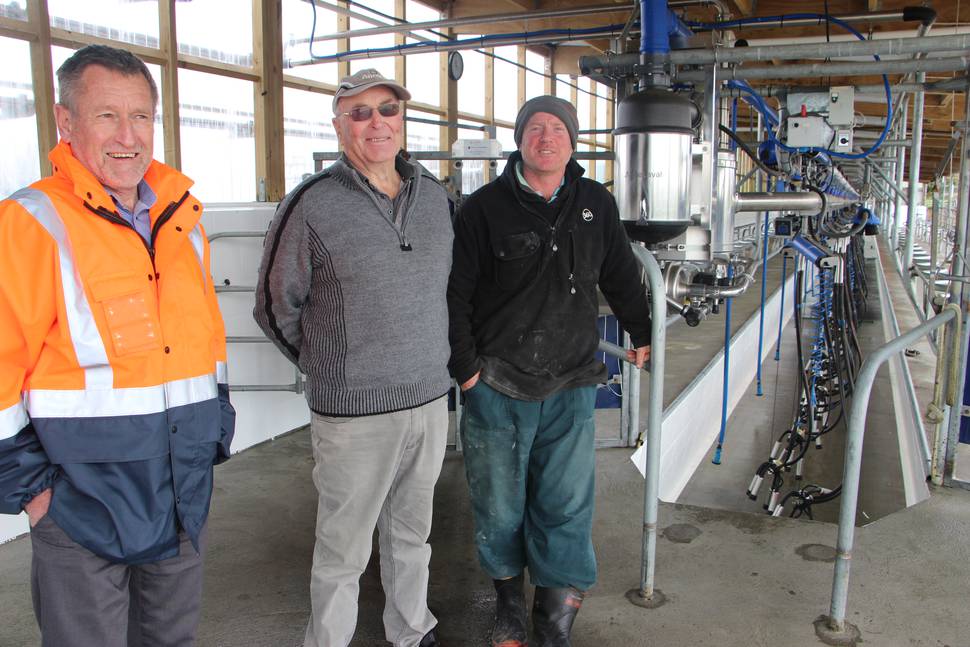 "The council let me do my job and at meetings we know where we stand and have open discussion," says Aaron.
When Aaron started at the farm he was milking 220 cows but with the extension of the farm by 53ha in 2015, that number has gone up to 380 cows.
Since, there have been improvements, including an extension and modernisation of the cowshed 15 months a go - building it up from a small 26-a-side shed to a-36-a side shed.
Aaron says it has been a busy two years, with other developments including the sorting out of races, paddock sizes, water and gateways.
His mum Carol helps out with milking during the busy season and full-time farm worker Peter Mossman is into his second season on the farm.
The farm's herd is made up of friesians and jersey cross cows - known to be smaller and lighter on the ground but still good producers.
They are also pretty mellow, and aren't bothered living next to the aerodrome and grazing around its edge.
"The cows are quiet, they don't even budge with the planes - they aren't even phased by it."
Aaron rears 80-90 replacement calves and so far all were fit and healthy. He hopes to have finished calving by the end of the month and says its been a bit of a wet winter, making pretty hard going.
Neil says the council has had its hand in farming for more than 80 years, with council purchasing the land on which the original farm was established in 1934 to establish the aerodrome.
This comprised some 64ha of land, 17ha of which was used to develop the aerodrome with the balance farmed on the basis the income would sustain the aerodrome.
An additional 37ha adjoining the farm and aerodrome to the south was purchased in 1969 to extend the farm, with the latest addition of 53ha following in 2015.
This additional land cost the council $2.775 million and was paid by a loan of $2.5 million with the balance funded from the sale of a little used portion of the original farm across a creek to an adjoining owner.
Neil says the adjoining farm was purchased because it came on the market and council saw it as a logical extension to future-proof the existing farm and make it a more economic unit.
Another key consideration was it also provided an opportunity to retain the existing buffer zone between residential housing to the south and the aerodrome for noise mitigation and operational purposes.
The amount that the farm income mitigates rates varies from year to year, depending on milk production and the payout but the 2017/2018 Annual Plan has budgeted for a $149,000 credit to offset general rates with $6500 to directly subsidise the aerodrome operation.
Neil says last year's milk solids production of 152,972kg was a record year for the farm, was due primarily to the efforts Aaron, and was despite some early season issues due to a weather-delayed finish to the cow shed extension.
"Aaron is a dedicated and well-respected sharemilker and Council is very fortunate to have him on-board as a partner. He has been farming all his working life and I'm sure he must eat, drink and breath farming as he is always looking for and suggesting ways of improving the operation.
"Despite the trials and tribulations of dairy farming he never loses his equilibrium and is a pleasure to work with which is why we've signed him up to another five year contract."
Neil says that most of the feedback about council owning the farm had been good and it was a good proven investment.
"It helps council relate to issues that rural community face. We are in it with them basically."
Aaron says he will continue working on the farm and giving his boys an upbringing to remember.
"I like being my own boss and watching equity grow. I just enjoy doing what I am doing."