Favouritism is an irrelevant tag. More pertinent is the acceptance that the World Cup is a vastly different beast to any other rugby test. The All Blacks, while unconvincing this season, therefore believe they remain well placed for their tilt at a third straight title next year.
As end-of-year reflections roll in and the status of fast-improving global rivals is widely discussed to the backdrop of gnashing teeth, glancing ahead offers context.
Much has been made of the Northern Hemisphere's successful November. Certainly, on form, they should fare considerably better than the last World Cup, when their embarrassing absence from the final four sparked intense introspection.
But just as it is foolish to suggest the All Blacks are badly broken beyond repair after two defeats in 2018 so, too, would it be silly to ignore the threat the Springboks, at full-strength, and Argentina, perennial World Cup challengers, will undoubtedly pose come September.
Give Fiji time to build and they, too, could cause further boil-overs.
If recent World Cups have taught us anything, it is there will be at least one pool upset; one result to shock all permutations.
That's because World Cups are different. Unlike established test windows, when host unions hold all the cards, World Cups provide a stage where all contenders arrive in similar physical shape.
World Cups also bring pressure like no other juncture in coaching, playing and refereeing careers. They inspire but, equally, consume. Come the knockout arena, expectation becomes a heavy burden to bear.
How will Joe Schmidt's tenure be judged if, say, Ireland lose a semifinal? The highly-regarded Kiwi presided over Ireland's best season of the professional era but such a scenario would leave Schmidt with an exit at the quarter and semifinal stages of the pinnacle event.
What about Warren Gatland, set to finish with Wales after the World Cup? Ditto for Eddie Jones and his rollercoaster reign.
Many of the All Blacks' squad and management have emerged through the World Cup's unique two-month bubble. They know what to expect.
Steve Hansen has had four with the All Blacks and one with Wales. It will be scrum guru Mike Cron's fourth; likewise manager Darren Shand.
Kieran Read, Sam Whitelock and Owen Franks twice held the Webb Ellis Cup aloft. Dane Coles, Ben Smith, Aaron Smith, Brodie Retallick and Joe Moody started the 2015 final; Beauden Barrett, Sonny Bill Williams and Sam Cane came off the bench.
That doesn't dismiss the obvious struggles and challenges within the All Blacks' game this season.
But extensive World Cup experience is a major advantage.
"When you go to the World Cup, you're going to get judged on whether you win it or not - and it's not just us," Hansen said. "Every tier one union that's got any hopes of winning it will be judged on that.
"Ireland, Scotland have had a pretty good season. England, Australia, South Africa, Argentina are teams that will go there hoping to win and therefore their fans will also be hopeful.
"That brings pressure that doesn't normally come because you've got to win every game. You might be lucky and lose one in the round robin. That creates a pressure not many teams are used to.
"Us, we live with that every day.
"We've got a good management group that are strong. They are challenging each other and we have robust discussions and then we get committed and aligned, so that's a big plus, and the playing group, we've got a number of people that have been and a number who are fresh, which will create a real enthusiasm, so I think we're in good shape."
The other part of the World Cup equation is close to home, particularly in a rugby-mad country like ours, where opinion and advice is never in short supply.
Hansen has managed to navigate similar testing times. At various points leading into the 2015 edition, he recalls public opinion in favour of leaving Dan Carter at home. He also lived through calls to axe Richie McCaw as skipper.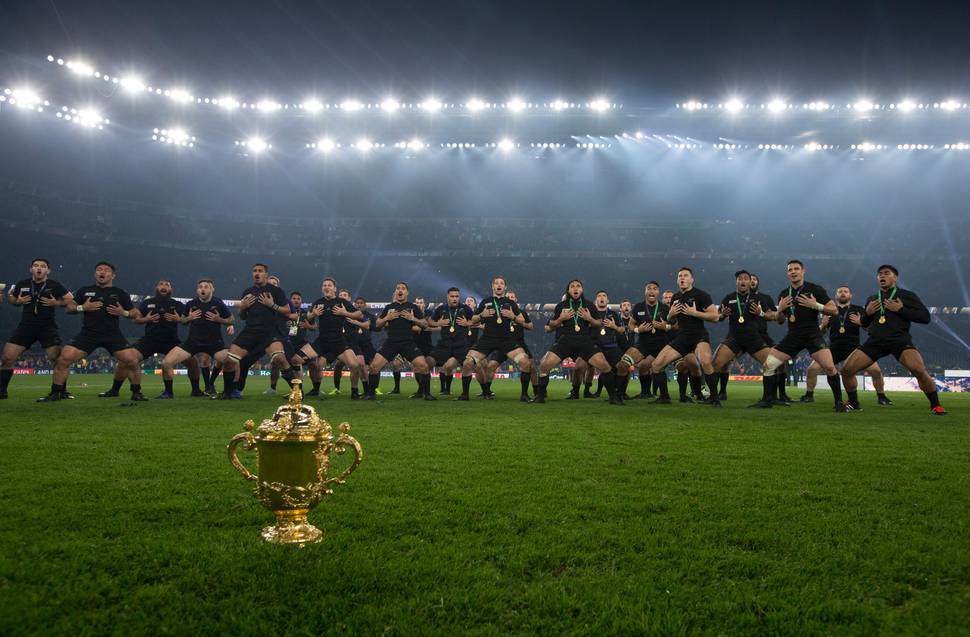 After finishing this year with the same win percentage as 2014, Hansen draws parallels with recent criticism.
"That's why I find the comments about Reado and Beauden always quite laughable. People were saying Richie is too old and he's got to go and Carter is finished. When you keep faith and you know how good they are - both those guys were instrumental in us winning the World Cup.
"Beauden Barrett has been World Player of the Year for two years - yeah, he might not be the World Player this year, but he's still been very good.
"Is he the finished product? No, he is not, but even where he is at, when he's not having a great game, he's still a good player.
"Our job is to keep growing him, and his job is to keep growing, and I've got every confidence he'll do that.
"Reado is such a calm influence on the group that his leadership is not even in question."
Hansen learned a long time ago not to be swayed by public panic. That came during his tenure with Wales, where the national team won 10 of 30 matches, a run which included 11 successive defeats.
At one point, a local scribe asked if he had "lost the plot".
"You've got to learn to trust yourself and trust the systems you've got, and eventually you become strong enough to know that as long as you're self-checking and group-checking with the people that matter, then what other people externally are saying doesn't count.
"I won't be bullied by the media and particularly a fraction of the media that that's how they operate. They write their opinion pieces and they're never wrong but they're never right either because their opinions are never tested.
"You come to understand that and just let it slide through to the keeper and treat it with the disdain it deserves."
The All Blacks are well aware they have work to do. Their attacking pod systems, employed for the past six years, have become predictable. Their kicking game, particularly from the ruck base, needs to be more accurate. And they need to find creative solutions to get around stifling umbrella defensive systems.
Internally, though, there is no sense of alarm. They believe they have the game, if not the assured combinations just yet, and attacking weapons to flourish in Japan, a destination expected to provide largely hard and fast conditions.
Most of all, they know they have the experience. World Cups are different beasts, after all.