The glitter that has cascaded upon Usain Bolt throughout his incredible career was nowhere to be seen in London, instead the eight-time Olympic champion was spiked with bad luck that led to a disaster.
Anchoring Jamaica in the final of the 4x100 metre relay at the World Championships, Bolt pulled up with a leg injury down the home straight as he took the baton in third place and with plenty of work to do.
60,000 people gasped as their hero jumped, hobbled and then crumbled to the floor, as Great Britain sprinted away to a maiden gold medal with the USA and Japan in tow.
Medical staff and his teammates rushed to the 30 year old's aid, with a wheelchair even produced.
Usain Bolt eventually dismissed them as he rose and gingerly walked over the finish line, receiving a limp applause from the crowd, they just as disappointed as he.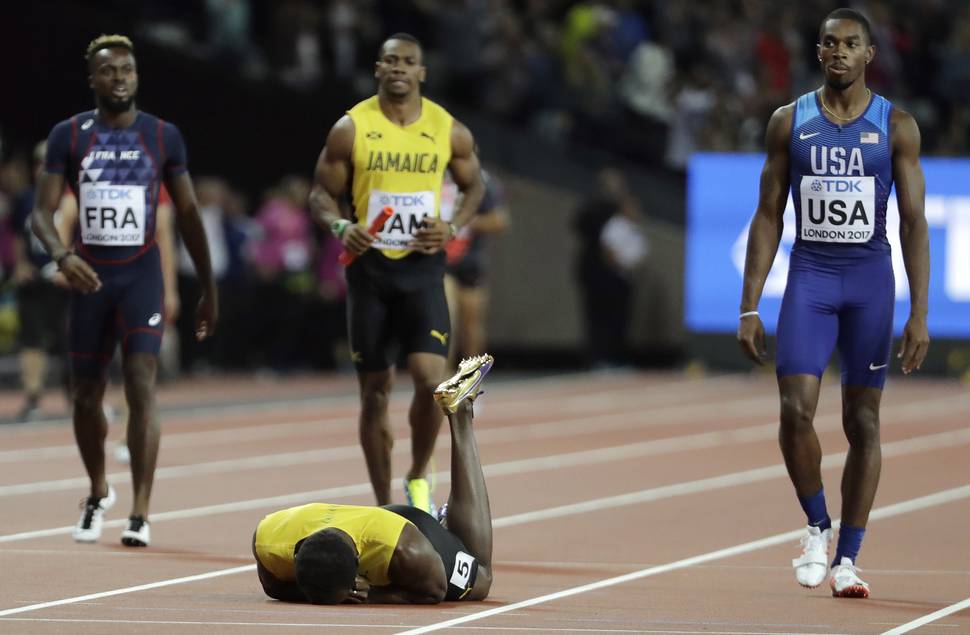 The atmosphere in London's Olympic Stadium was strange before the race, not in the past decade has there been doubt about Usain Bolt's ability to cross the finish line first, be it in an individual or team race.
The memories of his bronze medal in the 100 metre final hung in the minds of the British-come-Jamaican fans as they willed track and field's poster boy to a win.
Things would not go to script.
Yohan Blake was the first of the Jamaican's through the media mixed zone, slamming his fists on a barrier in front of two Japanese reporters who looked completely unsure if they wanted to provoke him further with a question.
Teammate Omar McLeod walked past, tears in his eyes as the magnitude of the situation dawned on him.
It was the third member of the quartet, Julian Forte, who articulated how they were feeling.
"We really wanted to send him off in style, send him off with a gold medal. All of us were doing our best to make that happen, but unfortunately, injuries are a part of this sport and it's devastating what happened, but we have to find a way to deal with it."
Forte linked Usain Bolt's injury to the longer-than-usual wait they had in the call room pre-race.
Having gone through their meticulous warm ups, the teams were made to wait as the medal presentations for the men's 5000 metres and women's high jump were carried out.
"We were in there getting ready to go for quite a while, it's not the warmest weather. It's not the sort of thing that any of us from Jamaica are accustomed to. I think it's something they really need to look into and I definitely think that's what caused the injury".
Even Usain Bolt's perceived rival Justin Gatlin conceded the drop in temperature had an affect.
"It was really cold. We were hanging around inside the stadium for too long with our clothes off and i think that's where Usain Bolt's injury came from. He said he had a little calf cramp and that's understandable because the body heat would've gone down."
Gatlin who earlier in the World Champs beat Bolt in the 100m final, felt sympathy for "the man".
"It's like a nightmare. You know what it feels like to go down. To have that pain and go down in his last race, all he would've wanted to do is go out on top. You can't take anything away from him, he still did a great job. He's amazing, he's a legend, he's built such a legacy that athletes around the world will be able to use going into their career."
Charlie Bristow is in London thanks to Air New Zealand.