Japanese rugby followers are hailing their team's dramatic world cup victory over the Springboks as one of the greatest surprises in sport.
The Japanese Times headlined its story on the 34-32 win: "Japan beats South Africa in biggest shock in Rugby World Cup history."
The Japan News leads with: "Japan stuns world, beats Springboks."
It calls the win the "biggest upset in world cup history".
World media are all leading with similar headlines and the victory has set Twitter abuzz.
Read more: Rugby World Cup: Japan shock Springboks - the greatest upset in rugby history
How the world's media reacted to Japan win
Springbok coach Heyneke Meyer apologises to nation
And it seems South African fans in Brighton, where the match was played, accepted defeat with good grace.
"People in Bok jerseys are coming out of restaurants to wave at the Japan team bus as it drives through Brighton. Rugby fans are amazing," tweeted Elma Smit.
Fans at other world cup venues also greeted the result with excitement.
"Huge ovation at Twickenham as Japan's winning try is shown on the big screen," tweeted Sonja McLaughlan.
Veitchy discusses Japan's unexpected victory over South Africa today during the Rugby World Cup
So often bullied by rugby's heavyweights, Japan got off the canvas and lifted South Africa off its feet with a huge uppercut that sent shockwaves through the sport.
The players were still coming to grips with the achievement on England's sunny south coast.
"I can't believe it," loose forward Hendrik Tui said. "We're going to go back to the hotel, and have a few beers. We are still floating on air."
Ever the pragmatist, team coach Eddie Jones put into perspective what this will mean in Japan, where football heroes such as Keisuke Honda and, before him, Hidetoshi Nakata, have got used to sharing the sporting headlines with baseball stars.
Rugby has always been a niche sport, but Jones hopes this result will cause an upsurge in popularity.
"Now history has changed for Japanese rugby," he said. "Now we'll have kids back home who wanted to be baseball or soccer players -- like Keisuke Honda, or like Nakata -- who want to be the next Gorumaru."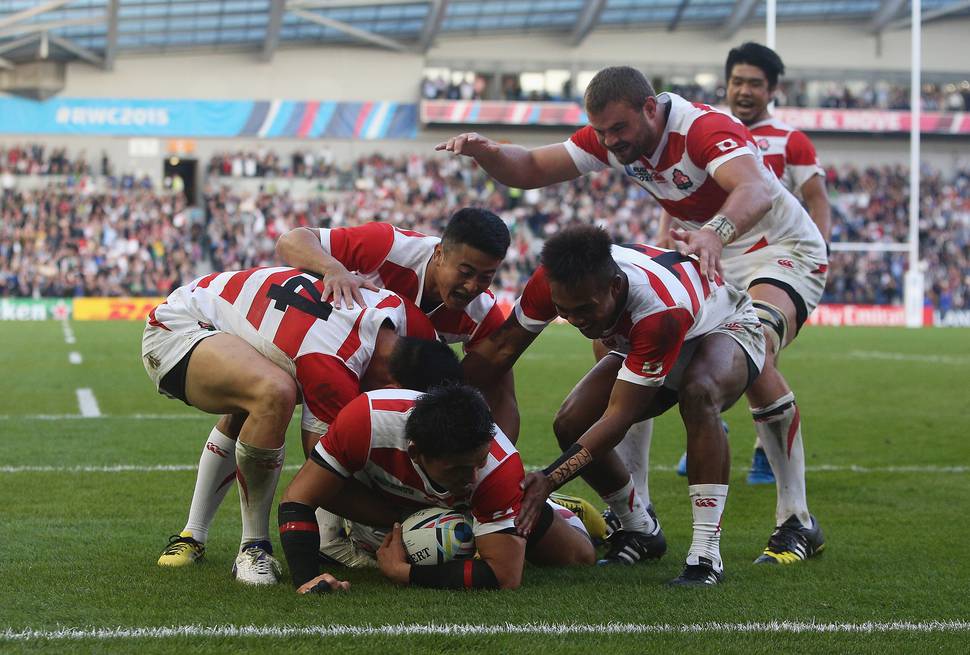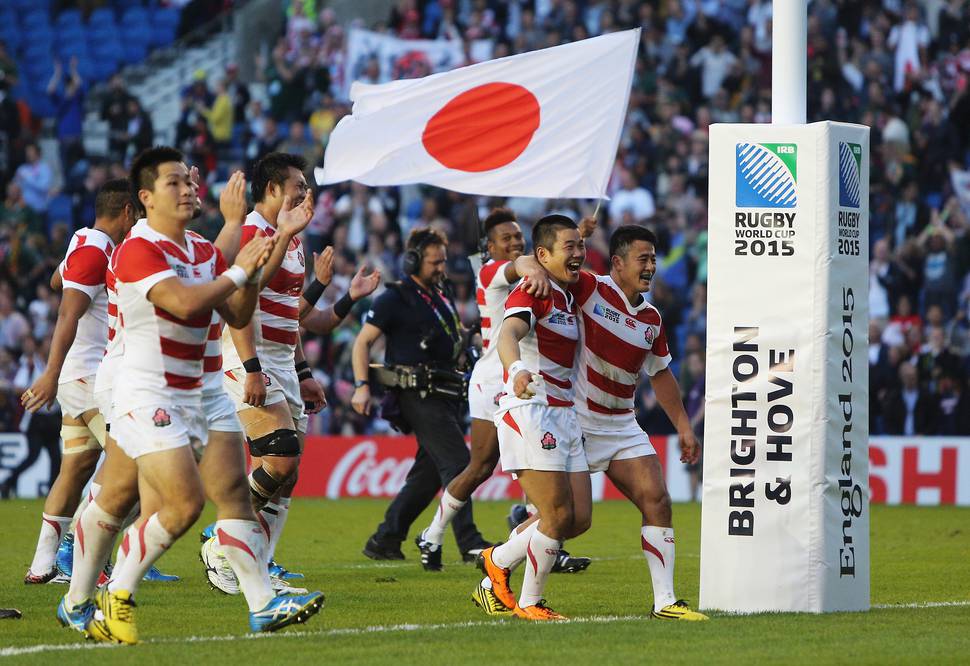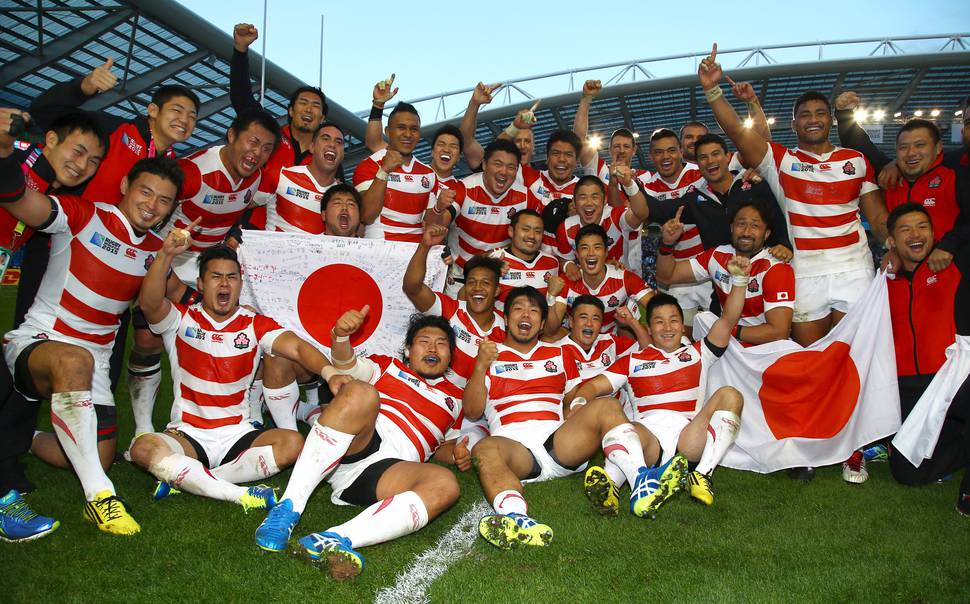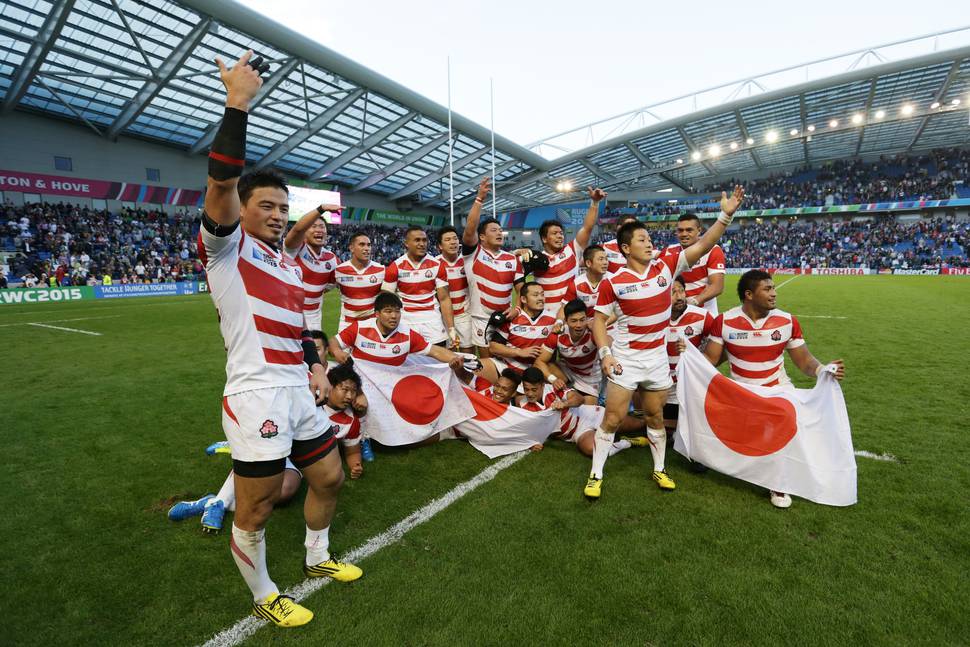 Honda, with his dashing looks and peroxide-blond hair, plays for Italian side AC Milan and is a superstar. Before him, Nakata became the face of football in Asia in the late 1990s and early 2000s after making his name in the Serie A with Roma and Parma.
If any rugby player deserves to become a household name in Tokyo, then it's fullback Ayumu Goromaru. Quite simply, he produced the game of his life.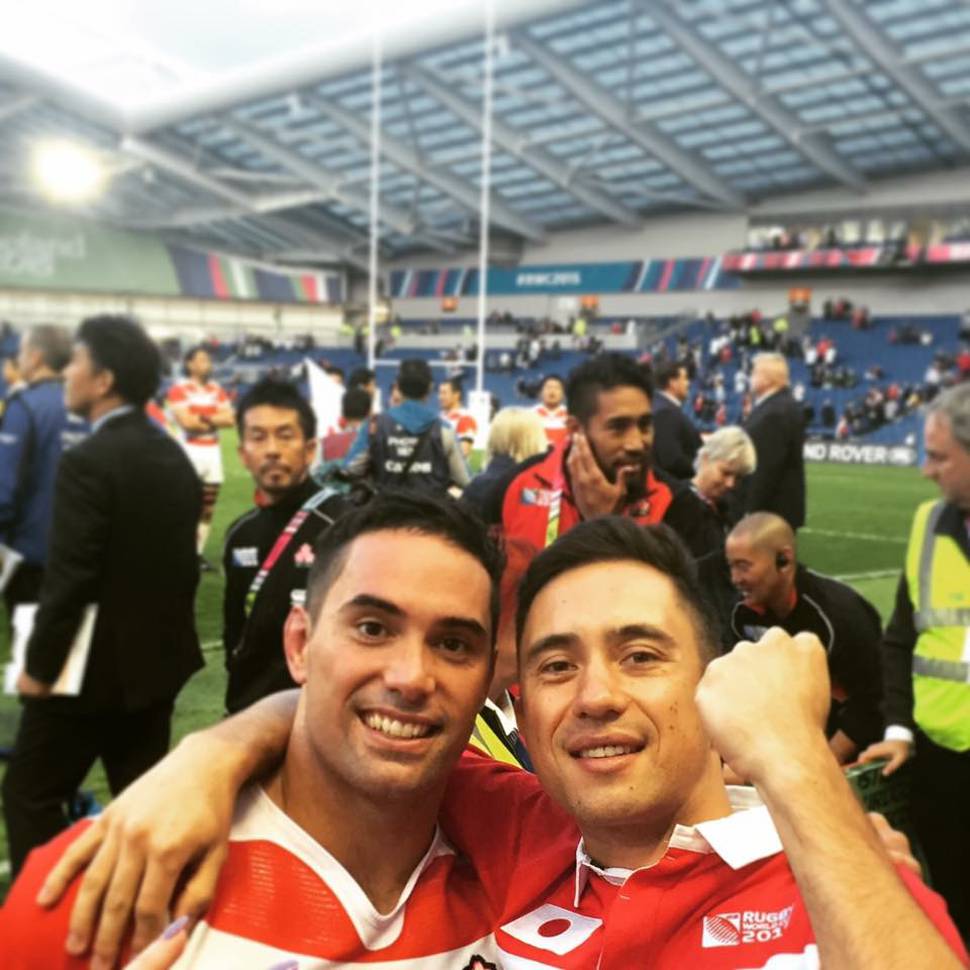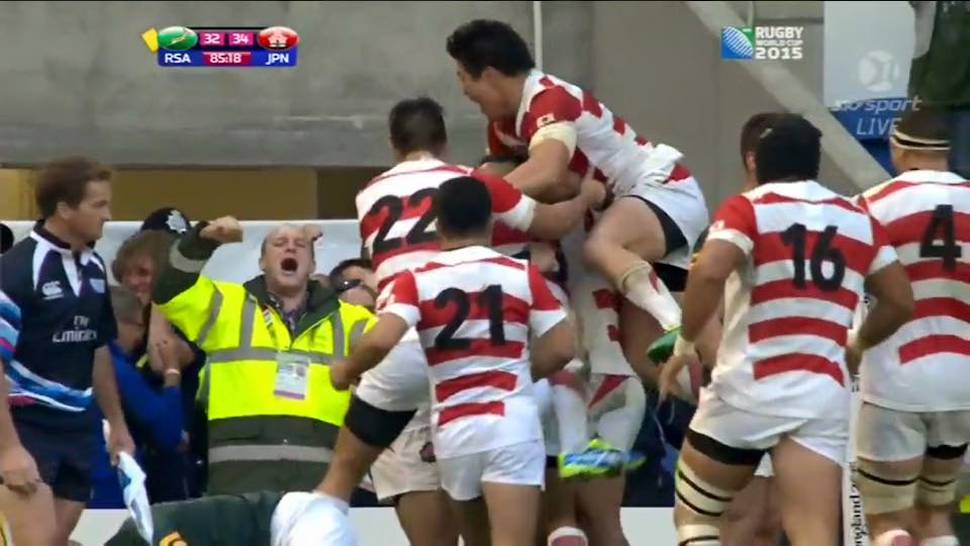 He was full of panache, daring running, thrilling risk-taking, and incredibly precise kicking. Performing under massive pressure, he nailed a superb conversion to level the scores to make it 29-29 -- and that was from his own try.
Added to that, he kicked five penalties in an atmosphere that was electric. When his try came late on at Brighton's Community Stadium, bringing Japan back into the match, the crowd's cheers almost lifted the roof off.
Read more: Chris Rattue: Sport doesn't get more stunning than this
South African media react with fury
A history of rugby shocks
Somehow, it was even louder when replacement back Karne Hesketh swooped in for the game-winning try.
As Hesketh was mobbed by teammates, the bench exploded into wild-eyed hugs and ear-piercing screams of delight.
"I was over the moon and cried too much," halfback Fumiaki Tanaka said. "The win is down to our families, fans, Eddie Jones and Japanese rugby."
Dead-pan Jones joked: "I'm getting too old for this, 55."
South Africa contained World Cup winners from 2007, seasoned campaigners such as No. 8 Schalk Burger and lock Victor Matfield, who have seen it all before.
Japan blew them away.
Matfield's head gear was lopsided and twisted from a scrap he surely never expected, and captain Jean de Villiers' face was pockmarked and bruised from the ferocity of Japan's attacks.
Japan came of age, led by an uncrushable spirit, roared on by some fans who had waited 24 years to see the country's second ever win in the Rugby World Cup.
Next up, Scotland on Thursday in Gloucester -- which should brace itself for a red-and-white invasion.
"We're not done yet, mate," the jovial Jones said.
- With AP