Is a bach at Taupo the answer to your dreams?
The Kiwi dream of owning a bach is alive, and relatively cheap, in the central North Island, with three-bedroom houses a short drive from tourist mecca Taupo going for under $150,000.
The Herald on Sunday revealed earlier this month that the once-humble Kiwi bach could soon be a relic of the past for many families in the Auckland region, with Piha joining Oneroa, Omaha and Onetangi as having median house values topping the $1 million mark.
Orewa is close to joining that group, with its median now tipping over to $901,900.
While property values in popular holiday spots on Auckland's outskirts tick over the $1m mark, Turangi is well within financial reach for holiday makers, if you're prepared to travel.
Perched on the edge of Tongariro National Park and Tongariro River, Turangi has all-year-round potential with world-class trout fishing, boating and hiking in summer and skiing at nearby Mt Ruapehu in winter.
Three-bedroom holiday homes in the town centre start at $130,000, while more desirable riverside homes go for $200,000 upwards, according to Century 21 Turangi principal Wai Johnson.
A large number of homes in Turangi were built in the 1960s and 1970s to house ministry of works' employees working on the Tongariro hydro-dam.
Johnson said the area has become an increasingly popular holiday destination for the likes of Aucklanders, as they wake up to what Turangi has on offer.
"The four-hour drive isn't that bad either," she said.
"The market has been very hot. It has grown exponentially over the last 10 years [with the likes of] people who have a bit of cash looking for an affordable holiday home.
"Taupo is getting out of reach for most people. Houses are skyrocketing there."
In Taupo, just 40 minutes north of Turangi, the estimated median property value is $380,000.
Johnson said the bayside areas of Pukawa, Omori and Kuratau, all located on the western edge of lake Taupo, have also become popular spots to buy a bach as people look for property near the lake without Taupo's high prices.
"Now's the time to buy. Once Taupo runs out and becomes less affordable it's just going to get dearer and dearer [in Turangi]," said Johnson.
Taupo District Council Mayor David Trewavas described Turangi as "a desirable location for a reasonable price".
He said there is a $100m investment plan to upgrade the Whakapapa ski area, including adding a snow-making system to guarantee a longer ski season, transforming surrounding towns into a destination for snow seekers.
With a permanent population of about 3000 people, Turangi also has plenty of amenities from a supermarket and library to a golf course.
"If you are looking for a place to invest or relocate that is affordable and a fantastic place to be, then Turangi should be on your hit list," said Trewavas.
Holiday hot spots near Taupo:
Turangi: $187,750
Omori: $369,850
Kuratau: $402,550
Mangakino: $156,
This house has the whole package with a gazebo, secure garage, two sheds, conservatory, air conditioning and indoor spa bath.
Bedrooms: 2
Bathrooms: 1
Area: Close to local parks and Hirangi School
Asking price: $129,
This '80s bach comes fully furnished.
Bedrooms: 2 plus a self-contained sleep-out
Bathrooms: 2
Area: Close to local parks and the town centre
Asking price: $135,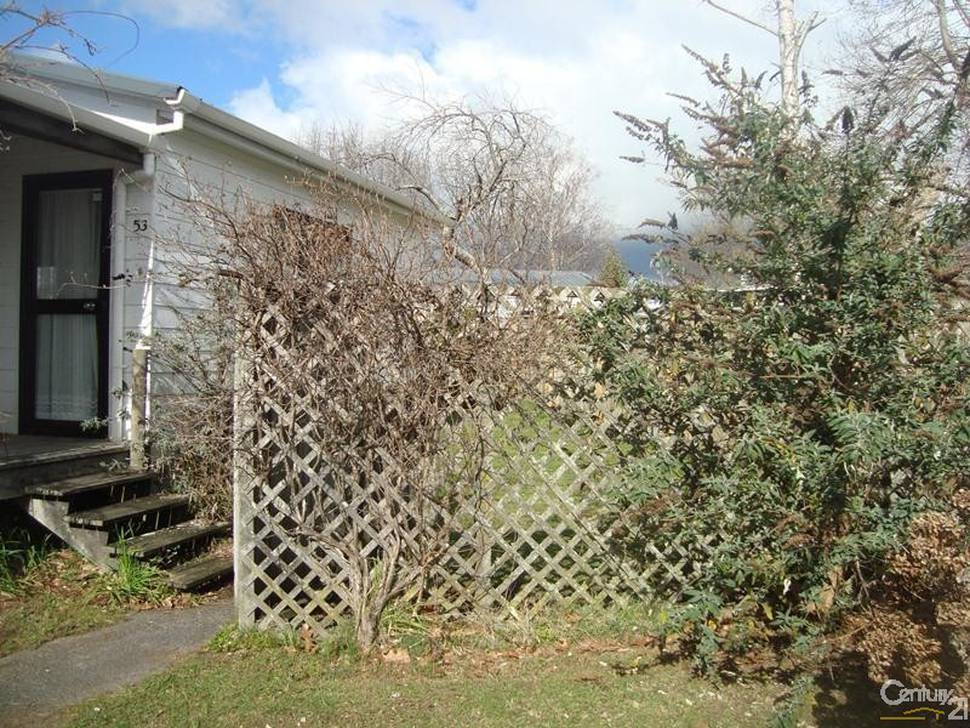 Modern and tidy unit
Bedrooms: 2
Bathrooms: 1
Area: Close to local parks and the town centre
Asking price: $109,000