An inconspicuous driveway with three letterboxes is the only clue to family living going on near bush behind Queenstown Rd. Down past the street-front brick house, the cedar-clad home of Anna and Tom Murdoch comes into view, just past their neighbour's matching house, also built in 1998.
Anna and Tom are the third owners and their house has the curiosity factor in spades.
Even after three-and-a-half years here, this house and its relationship to their much-loved native trees still stokes Anna's curiosity about what has gone before.
She points out two rimu trees that stand perfectly positioned parallel to the back deck and asks, "Did someone plant them like that?"
And she wonders out loud about a row of young nikau palms by the path into the bush, which they uncovered while clearing undergrowth.
For Anna, who works in PR, and Tom, deputy principal at Mt Albert Grammar, this slice of Onehunga-meets-Titirangi came their way by chance.
Returning from six years in the UK, they opted to rent near friends while they considered their long-term options as a family.

"We didn't have a catalyst for moving because we still owned our first place in Mt Roskill and we were happy we were renting in Onehunga," says Anna.
When curiosity brought them to this four-bedroom home, it was space inside as much as the Titirangi flavour of the rear swathe of bush which appealed.

For their two boys, Bruno (6) and Jack (3), who share a bedroom, it has meant they had a toy room and their parents had a second guest bedroom for out-of-town family and friends.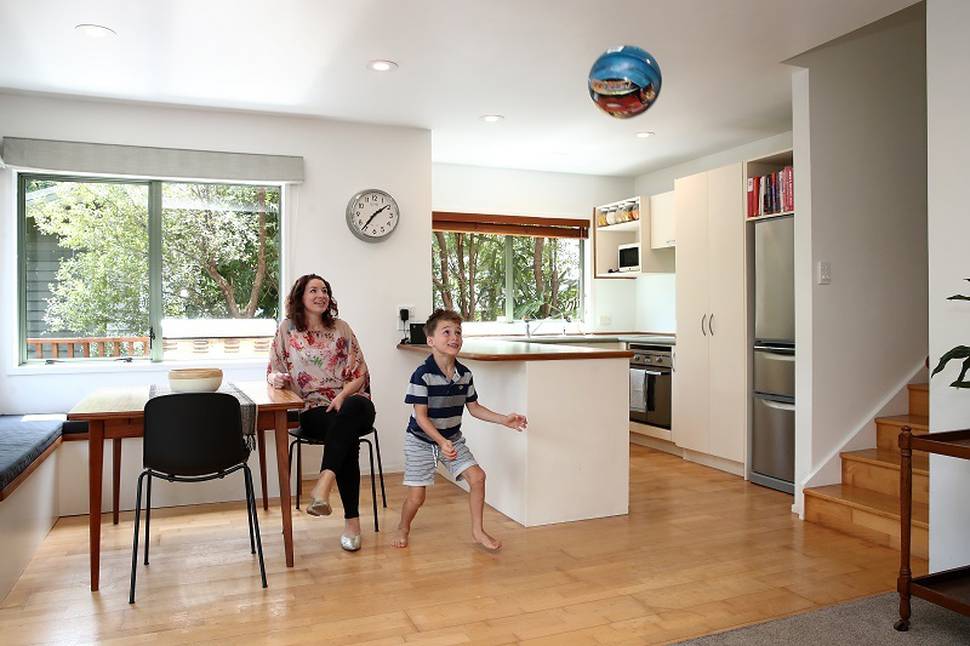 For Anna and Tom, their separate bedroom/en suite upstairs is a haven, providing an eye-level connection with the deck-side kowhai tree and its native birdlife.
For Tom, it is simply "a really nice room". For Anna, it is "the best bedroom we've ever had — we'll probably never have such a good bedroom again."
Downstairs, the umbrella effect of that tree delivers dappled light into both interior and outdoor living areas, favourite spots for pre-dinner drinks.
"The light is really beautiful then," says Anna. Upstairs at the front of the house, Anna and Tom's decision to replace their solid front door with one with four horizontal glass panes has brought more natural light into the centre of the house.
Design-wise, it also complements the strong vertical lines of the exterior board and batten cladding.
Within the house, they went a step further and had a new kitchen designed for a well-proportioned space that includes a wrap-around bench and cupboards.
Outside, they have given the weathered cedar exterior an update with a natural timber stain.
Their next door neighbour decided to do the same and together these two dwellings stand in companionable harmony, whether you're looking from the bush or driveway.
Anna and Tom are sad to be leaving but are doing so for their boys, whose playground is the bush and trampoline behind the back deck.
"We'd love to stay here in the bush, but it's time for them to have some grass," says Anna.
2/78 QUEENSTOWN RD, ONEHUNGA
• 4 bedrooms, 2 bathroom, 2 parking spaces.
• Land 569sq m, house 176sq m.
• Auction: Feb 20.
• Inspect: Sat/Sun 12:30-1pm.
• Schools: Hillsborough Primary, Royal Oak Intermediate, Onehunga High School.
• Contact: Janet McGillivray, UP Real Estate, 027 498 7888.