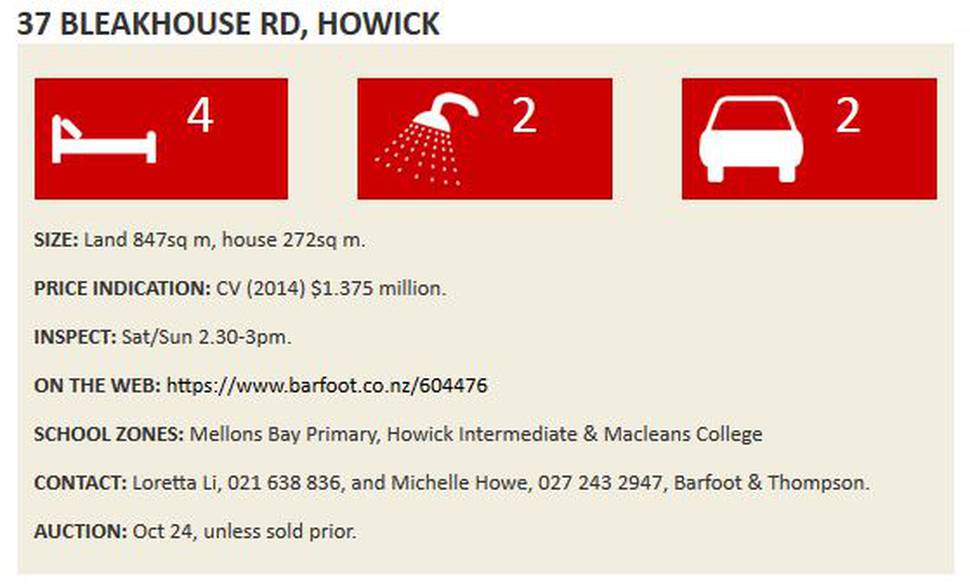 Winifred Kenstavishus was always one for looking ahead. In her younger days, she had her sights set on Howick's beaches for a swim, miles away from her parents' home in Otahuhu.
When her four children were young and they were all living with her parents, Winifred and her husband Walter would bring them out here for a swim.
Winifred's youngest son Justin believes that was a big part of what drew his parents here in 1964, when they bought this property and the original home, which pre-dated this replacement home built in 2000.
Winifred and Walter's children were 12, 10, 7 and 2 when they arrived here to a garden of quince, persimmon and black peach trees and neighbouring, undeveloped acreages with a ravine, waterfall and pine plantation down to Mellons Bay beach.
"It really was our reality," says Linus of their "Kiwi childhood" playground.
"We never saw it as special or unusual and we did run free, if not a little wild."
Justin's memory is of Mrs Middleton next door, who would ring her hefty school bell to let the kids in the valley know to head home for dinner.
That original house was his parents' answer to a lengthy search for the new home Winifred hankered for, but never found.
They loved this location and grew into the home, which Walter, who died in 1980, altered over the years.
By the late 1990s, it was clear that Winifred, in her late 70s, needed a home with single-level living, kitchen, bathroom and laundry facilities and internal access downstairs with a less treacherous route to her beloved garden.
She flatly refused to shift, so architect Paul Dickens was engaged to design an elegant, functional replacement to the old house that had exhausted all prospects of a realistic redesign.
Working closely with Linus, Paul Dickens gave Winifred everything she needed on the entry level, with her views preserved across the leafy valley now dotted with established homes.
Downstairs, further lifestyle options included a second lounge and a loggia for year-round entertaining off a courtyard and safe steps down to her garden.
The inclusion of living areas, bedrooms and bathrooms on both levels gave Winifred and Justin their independence and privacy during the 11 years he lived here to support her until her move into care in July last year.
"Her memories were all here. She sat here and watched all the changes, all the comings and goings," says Justin of his mother who died in May this year at 96.
Winifred's favourite rooms were her kitchen and its adjacent living areas that open out to the timber, boat-influenced deck, in keeping with the subtle nautical flavour throughout.
Linus brought inspiration for the traditional architectural details from far and wide.
Window placement, timber joinery, bevelled glass and sill and architrave details were elements in a 1920s home he owned in Hamilton.
The staircase design has American origins, as does the New York-style of the curved eyebrow entry window and entrance ceiling.
The glass/panelled French doors were modelled on a design he had seen in France.
Tasmanian oak flooring flows through the transition areas, kitchen and casual living area and down stairs to the informal living.
For her family, Winifred's 52 years here was testament to her far-sighted take on a life well-lived, close to her beloved Howick community.