By Robyn Welsh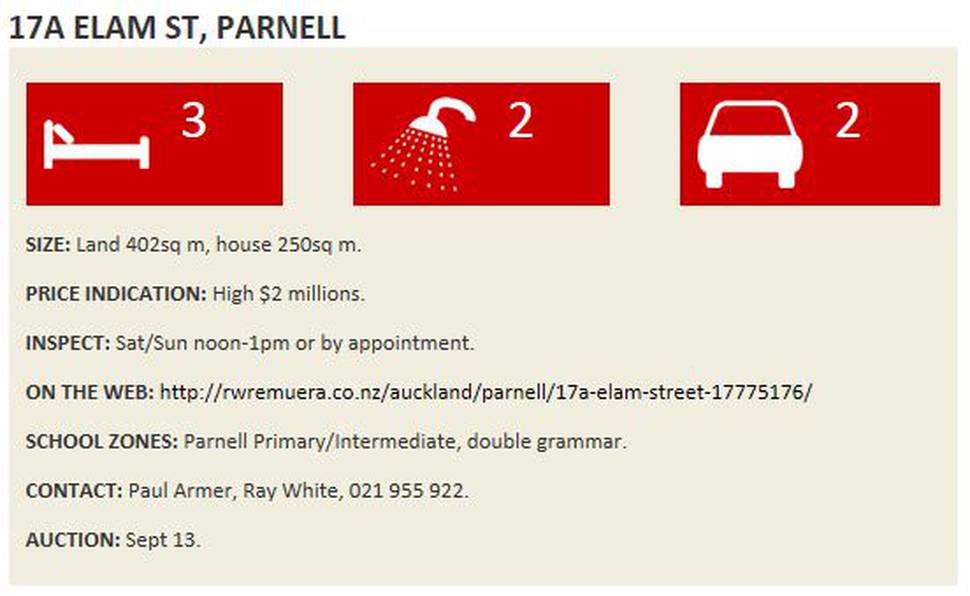 The native backdrop of Northland's Waipoua Forest shaped the rural life of the Donahoe family for the seven years they owned and operated the historic Waipoua Lodge.
Here, in the privacy of their Parnell home, it is a towering pohutukawa tree that has defined the dramatic contrast of their urban life in the heart of one of Auckland's oldest inner city suburbs.
This tree's multi-trunk form is the backdrop to their ground floor living areas and the lynchpin for a garden of natives that fill the views through the picture windows around this house.
"We bought this home because of that pohutukawa," says Nicole. "Chris saw it, he loved it and it was he who really chose this home. One of the best things I love about this house is lying in bed upstairs and your whole view is the tree."
Practically-speaking, it was this home's double-grammar zone status that initially drew Nicole and Chris down the driveway and into this unseen enclave of neighbouring homes with their similarly landscaped gardens.
All that aside, it was Chris and Nicole's keenness to add a city contrast to the rural life that their children Finn (22) and Caitlin (18) enjoyed in Northland and which included their first schooling at the local Aranga school.
"We went from 48 kids to 2000 or so," says Nicole, of the contrasts that rounded out their lives. "I don't know whether I'm a Northland girl or an Auckland girl, I can't decide, I'm really a country girl, I'm a green girl. I love nature. When I'm working upstairs in my lounge, I can look out and see the cars heading up the hill. I'm up here looking at the trees and not out there in the traffic. "
That sunny lounge off the master bedroom was Chris and Nicole's favourite spot for a break from their respective work. "Chris would bring up a cup of tea and we'd sit here and philosophise and put the world to rights," she says.
Because of its fine architectural form, the house only needed minor touches in keeping with the couple's requirements and taste.
Upstairs, Nicole installed extra hallway storage by their en suite and dressing room that is quite separate from their children's quarters.
Downstairs, beyond the tiled entrance, their large formal lounge with its picture windows that frame the outdoor nikau palms, opens on the opposite side to their sheltered barbecue area.
That outdoor space also opens into the wider family living area on the lower level, where warm timber floors strengthen nature's connection with the perimeter titoki trees alongside that specimen pohutukawa.
In the all-in-one family, dining and kitchen area, those timber tones are repeated in kitchen cabinetry updated with new white cupboard/drawer fronts.
Nicole brought wicker in as her textural accent, from the breakfast bar lampshades to the baskets in her rear open shelves that she created by removing the cupboard doors.
New white window shutters and curtains and new window seat squabs have softened and lightened the living areas. "It was all seriously modern and I wanted to make it a bit more country," she says.
Much more has changed within this family's dynamic over recent years. In the two years since Chris died, Caitlin has begun university studies in Canterbury and Finn has graduated from university and started his first job.
For Nicole, the time has come to hand over the large city home she no longer needs and to focus on how she wants to shape her own future.