Belinda and Campbell Stewart spent their first married moments alone on a mountain peak for perhaps the most dramatic wedding photos ever.
The high-altitude nuptials nearly didn't happen as the weather threatened their 1500m helicopter flight up Mt Roy near Wanaka.
But the newlyweds were whisked up the mountain immediately after their ceremony and snapped by Melbourne-based destination wedding photographer Eric Ronald.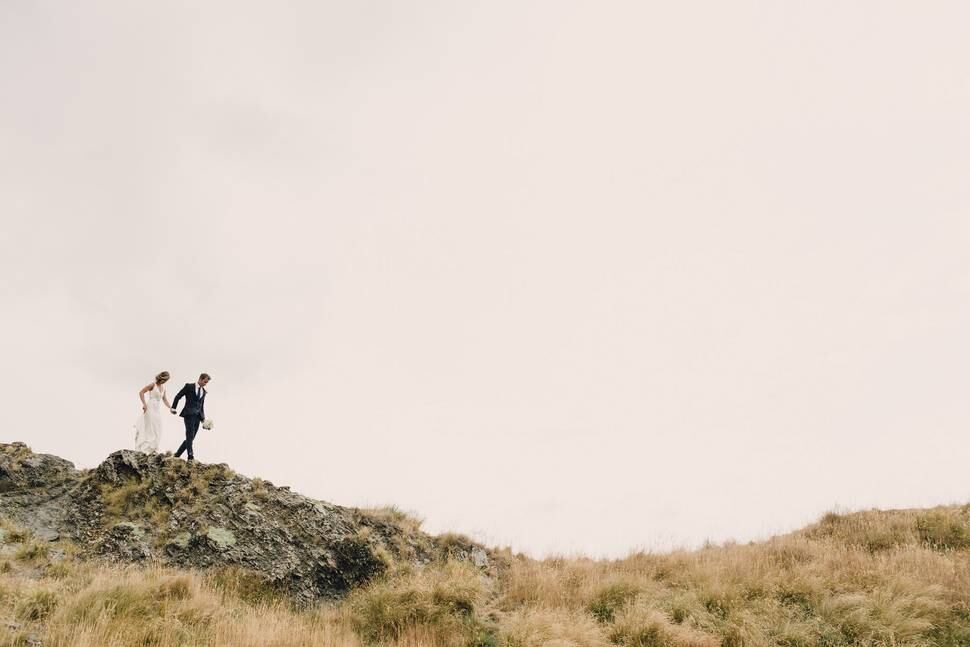 Belinda, 27, said she arranged the stunt without Campbell's knowledge.
"We had discussed it but decided it was just another significant expense that we didn't really need so we scrapped the idea," she told the Herald on Sunday.
"But I just thought 'I'm really going to regret that decision if we don't do it', so I decided to make it a surprise."
The weather on their wedding day in February was less than ideal and the trip nearly had to be called off.
"It was quite windy so I rang the helicopter company three or four times that day for a weather check.
"The last call I made was at 3pm - the ceremony was at 3.30 - and they said 'the pilots are happy to fly if you're happy to go', so I said, 'Let's do it'."
Campbell, 31, thought someone must have been injured when he saw the chopper landing at the wedding venue at Criffel Station in Wanaka.
"He was stoked when he realised," Belinda said. The flight cost about $1200 but was worth every cent. " It really was a once in a lifetime experience."
Belinda is originally from Christchurch and Campbell from Dunedin. The couple, who have been together for eight years, live in Melbourne.

• Do you have a spectacular wedding photo you'd like to share? Email news@hos.co.nz.