It's all laughs and smiles as Maddie and Scarlett Eddy snuggle up to police dog Gaze, pat his soft ears, and wrestle over toys with him. But there's one person missing.
The children and their mother flew down from Auckland especially to watch Gaze graduate in a bittersweet ceremony in Upper Hutt.
Bitter, because Auckland police officer Graham Eddy, who had always wanted to be a dog handler, died before he could see it.
Eddy, an acting sergeant, suffered a heart attack while refereeing a rugby match last year.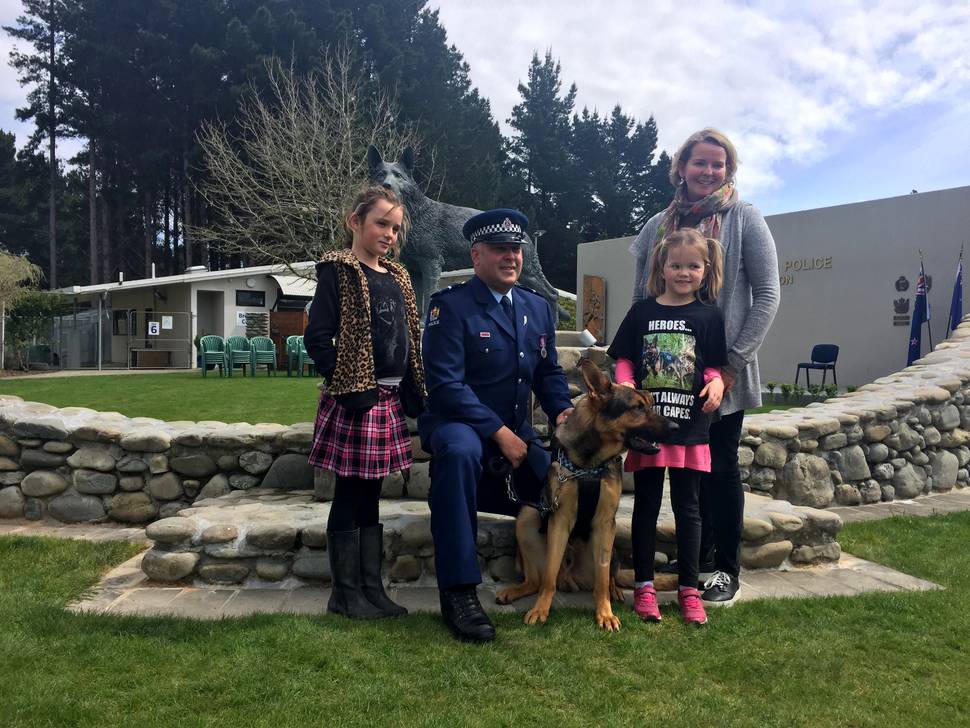 While the 44-year-old's death left a void in the lives of his wife, Allie Spence, and two daughters, aged 10 and 7, the family still feel a connection to Eddy through the dog they fostered together.
"He wanted to be a handler. That was his career goal in the police," said Spence.
"Fostering Gaze was the start of that, so while he obviously hasn't been able to live that dream, it's lovely to see Gaze finally going operational and graduating today.
"I just know how proud my husband, Graham, would be for us to be a part of it. It's very, very special.
"I just wish so much he was here," she said through tears.
The girls recall how Gaze was brought to their home unannounced - not even Spence knew they would be taking in another dog just two weeks after fostering another one.
"When we fostered him he was really special and our dad surprised us with him," said Maddie.
But it wasn't all roses. Gaze was not an easy dog to train, in the beginning.
"He kept on tipping over his water and so daddy didn't like it," said Scarlett.
"He was just a shambles of a dog," said handler Senior Constable Chay Andrews, who has grown close with the family since Eddy's death.
"He was dominant, dog aggressive ... a real handful."
Eddy and his family straightened him out, and that was recognised in yesterday's ceremony when Police Commissioner Mike Bush gave a certificate to the family to thank them for their help in raising Gaze.
Andrews takes Gaze to see the family every couple of months, and keeps them up to date with his training.
"You look at the values that you need to be a cop and that's part of it, isn't it? Look after people.
"I'm stoked that they're here. I'm not a man of many words, it's just good to see them here."
He hoped the children would be able to look back on the day in 10 or 15 years and feel happy.
"They've got photos and a little article. It will take the tears away."