An air force chopper has touched down at Lower Hutt school, giving the pupils a surprise.
For one child - 10-year-old Alex Bowmar - the unexpected landing was a dream come true.
The Year 5 student at Kelson Primary School had written to the Chief of Air Force to ask if helicopters were used to deliver aid to earthquake-stricken Kaikoura and evacuated residents.
The New Zealand Defence Force (NZDF) was originally scheduled to visit the school in March but the trip was postponed due to poor weather.
So when one of the choppers was on a scheduled training mission nearby this morning the crew decided to drop in on the school.
Alex and about 220 schoolmates clapped, waved and shrieked as it landed on their school's playground.
"When I wrote that letter I hoped to give everyone in school a surprise. I wished so much that they would read my letter and have one of the helicopters drop by for a visit. So I am very happy that they did," Alex said.
"Dreams really do come true, though I still cannot believe it's happening."
Air Vice-Marshal Tony Davies, the Chief of Air Force, was unable to come along, but wrote Alex a letter which the crew delivered.
"I have asked No 3 Squadron to drop into Kelson School with one of their helicopters to show you and your classmates around it," he wrote.
"I wish you all the best for the future and it would be great to see you and your classmates in the Air Force when you have finished school."
School principal Judy Pemberton said the staff were thrilled when the NZDF contacted them to arrange the visit in early March and struggled to keep it a secret from the pupils.
"We pinched ourselves daily. We couldn't wait for the visit and witness the delight and wonder on the children's faces when they hear and see the helicopter land.
"It is a highlight for our year and something the children, staff and wider school community will never forget. We are very proud of Alex for his initiative to write the letter."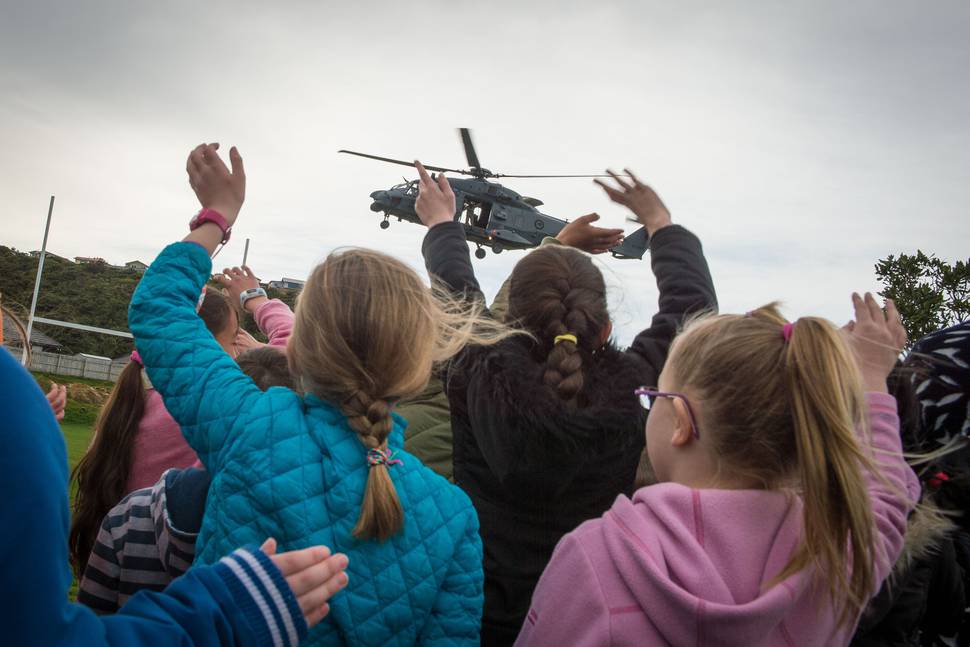 Air Component Commander Air Commodore Darryn Webb, who was on board the chopper, said he hoped the visit would encourage some of the students to consider joining the Air Force some day.
"It's great to inspire others and help to make people's wishes come true. My earliest memories are of aeroplanes and the excitement of living on an Air Force base, because my dad was also a pilot.
"It's great to be able to showcase the Air Force of today to the next generation and hopefully ignite the same aviation spark."
Alex said he and his younger brother James, 8, dreamed of becoming Air Force pilots some day.
"I'd like to fly planes and help people like they did in Kaikoura."