There is now a peppermint green fence dividing Wellington's Tory St into a footpath and an earthquake demolition war zone.
Part of the cordon there was lifted this morning since the last of the Reading Cinema car park building was brought down Tuesday.
It suffered severe damage in the November 14 earthquake and was deemed at imminent risk of collapse.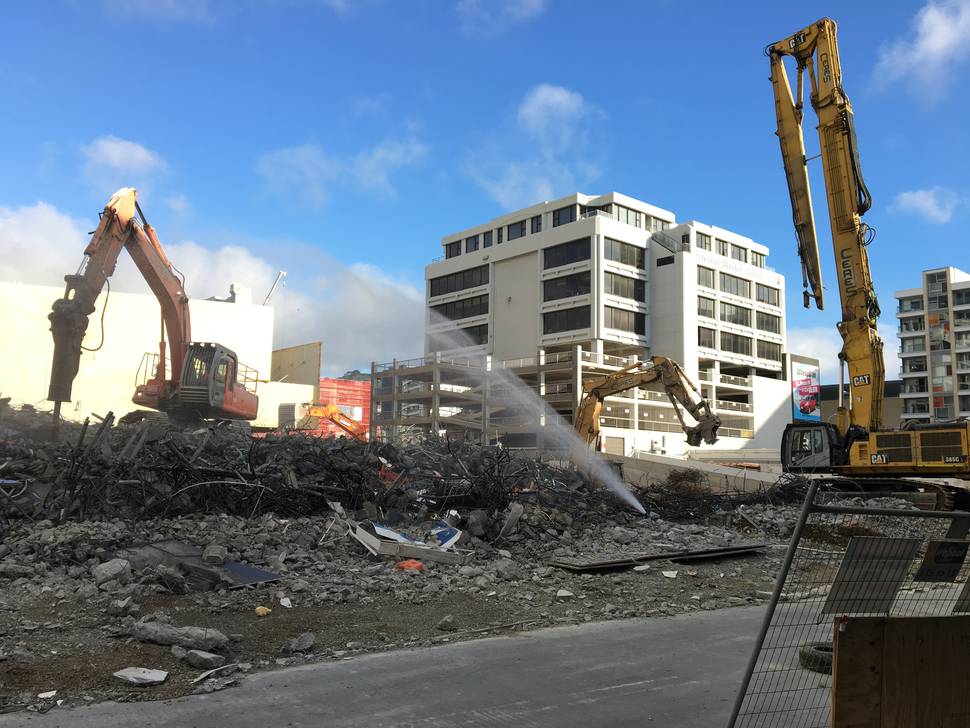 The east side of Tory St is now open to pedestrians and businesses.
Most wandered through as if the footpath had never been closed at all but it was hard to ignore the scene on the other side of the street.
Four demolition machines stood tall against a crisp blue sky, ready to pounce.
When they did, the sound was deafening.
A jackhammer pummelled concrete while diggers moved piles of rubble onto trucks.
With that, arms reached up over the peppermint green netted fence to get the best iPhone shot.
The side of an apartment block is probably just visible in the pictures they have taken.
Residents there are desperate to hear news they, too, will be allowed back into their building.
Over at 61 Molesworth the ground is smooth and flat.
A multi-storey office block used to be there. It was also severely damaged in the Kaikoura Earthquake.
All that remains is the Jim Allen mural that was saved from excavators in the name of protecting art.
Other artists have made their own mark on the plywood protecting the mural with some graffiti.
The site owner Eyal Aharoni would not comment on the fate of the mural.
Meanwhile, those demolishing Queensgate Shopping Centre expect the building to be completely brought down by the end of next week, weather permitting.
Just last week the cordon was reduced to allow one lane of traffic through to Waterloo Rd.