A couple whose car plummeted 40 metres down a steep cliff into dense bush and landed in a river have miraculously escaped death, according to one of their rescuers.
Firefighter Mark Tinworth of the Region 2 Line Rescue Team helped to winch the moderately injured woman passenger of the car up the steep embankment on a stretcher.
The acting area executive for the Waikato said it was a miracle the victim, and a male driver, had survived the crash 1km from the summit of the narrow and windy Tapu-Coroglen Rd on the Coromandel Peninsula.
"They're very lucky to be alive. Because it was very steep and their car went straight down the bank.
"It's not vertical but it's very steep. You couldn't walk down it. You need to be hanging onto things otherwise you're going to slide."
Initial reports put the drop at up to 200m but Tinworth said the rental car had come to a stop in a river about 40m down the bank.
The driver managed to clamber out of the car and call for help at 11.24am.
Fire brigades from Tairua, Tapu and Whitianga along with police and St John Ambulance staff were first on the scene.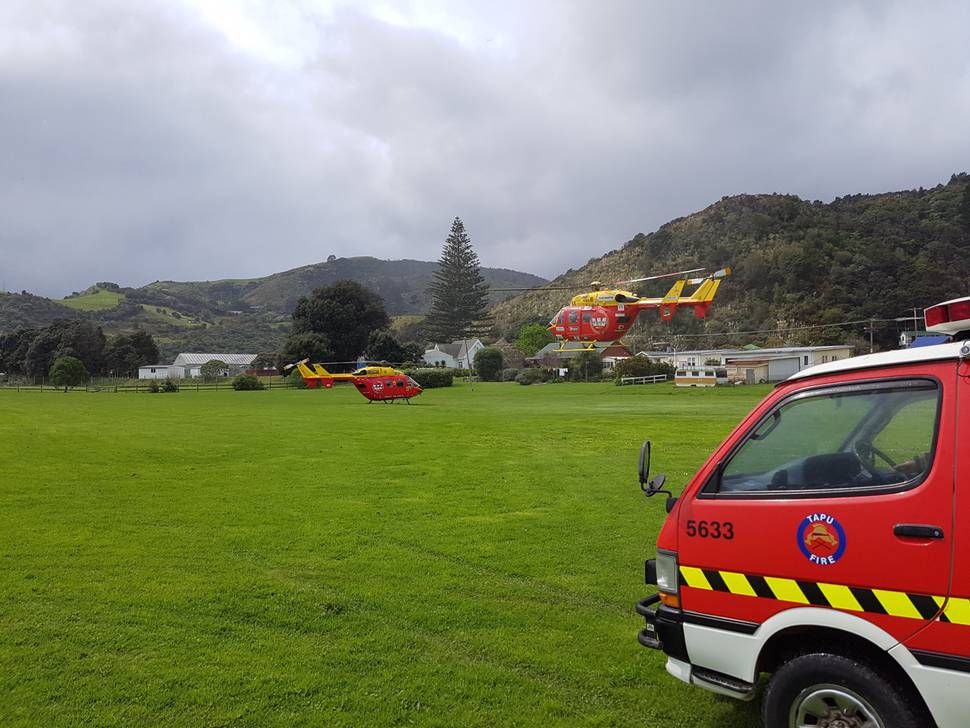 Two crews of specialist ropes rescue firefighters were sent from Hamilton via road and with the Westpac Waikato Air Ambulance.
Foggy weather forced the helicopter to land at Tapu, a seaside village north of Thames, and the high ropes team then drove to the scene.
"The volunteer fire brigades had stabilised the patient and had her in a stretcher by the time the team arrived," Tinworth said.
The rescuers comforted the victims and reassured them help was on the way.
A pulley system was rigged up so that the team could haul the patient and stretcher as well as an ambulance officer and firefighter up the cliff.
It took six firefighters including Tinworth to winch the trio up safely.
The driver of the car had managed to walk up another part of the bank but Tinworth said even that path was too steep to carry a stretcher up.
The couple were taken to Thames Hospital by ambulance.
It's not clear what caused the crash.