Do you know what to do in earthquake - and once it's over? Check out this advice.
The owner of a central Masterton apartment block evacuated after yesterday's severe earthquake has no idea when his tenants will be able to return to their homes.
The three-storey building on Queen Street is owned by the town's former mayor Garry Daniell.
About 15 people were told to leave the building, which was classed as a dangerous building, subject to inspection, after damage from the 6.2 quake which hit just before 4pm.
The tremor was centred 15km east of Eketahuna and 10km north of Castlepoint near Masterton at a depth of 33km.
Mr Daniell said the residents were "shaken'' by the event.
"Where there are domestic tenants, the council is obviously looking at (inspecting) those buildings as a priority.''
However, he had "no idea'' when more would be known about the status of the building.
A council spokesman said a meeting was underway at the moment to discuss when tenants would be able to return and when assessments would take place.
Inspection in the area were continuing today, he said.
- Aftershocks to keep a'rockin -
GeoNet duty seismologist Caroline Little said 319 earthquakes had occurred since yesterday's big quake but the majority were below magnitude 3.
"The was only 43 above magnitude 3,'' she said.
The strongest aftershock was a magnitude 4.5, which occurred just after 4pm yesterday, Ms Little said.
"We expect approximately two magnitude 5 to 5.9s in the first week of aftershocks, but it could be anywhere from 0 to 5.''
Up to 23 magnitude 4 to 4.9 quakes were also expected, she said.
- Damage 'fairly minor' -
Tararua Mayor Roly Ellis said most of the damage to buildings was contained in the area from Pahiatua to Eketahuna and east towards Castlepoint.
"There has been no major damage - there is minor structural damage but fairly minor so far.
"It's been more that people have lost china and paintings and all sorts of stuff in their house.''
Two roads remain closed with slumps in the tarmac, one into the Makuri Gorge and the other on Rimu Road on the other side of the gorge, south east of Pahiatua.
There were also some slips and rockfalls.
The main problem was trying to bring full power to dairy farms, which were only at half strength, Mr Ellis said.
Residents had all had their power reconnected, but the farmland was on a different grid.
The community had been "amazingly good'' in the quake's aftermath today, he said.
"It hasn't panicked or put a lot of fear into people. People are just getting on with their daily lives.''
- Damage claims lodged with EQC -
The Earthquake Commission is fielding numerous calls from people putting in claims for damage.
A spokeswoman did not have the number immediately but said "lots'' had been coming into the office.
"But what we do know is that people have three months to make claims and the final date for making claims is the 22 of April this year.''
Police, ambulance and the Fire Service were kept busy with a steady flow of callouts but no deaths or serious injuries were reported. Several roads, including the Manawatu Gorge road were closed or reduced to one lane, and power was out in some areas.
AA Insurance said it had received a "handful'' of claims for damage to home and contents following yesterday's earthquake and aftershocks and expected a small number to be made over the coming weeks.
The company decided against putting an exclusion zone in place for insurance in the areas affected by the tremor.
After the Canterbury and Wellington quakes, several insurance companies put exclusion zones in place that meant new policies were not available in the areas affected.
There was no deadline to make a claim with AA Insurance, head of customer affairs Suzanne Wolton said.
"But the sooner you let us know, the sooner we can help you.''
It was expected the majority of claims following yesterday's earthquake would be covered within the EQC cap of $115,000 for homes and $22,500 for contents, Ms Wolton said.
- 'I thought the whole ground was going to go' -
Immediately following yesterday's quake, people in the area spoke of their shock at the jolt.
Eketahuna farmer Paul Dickens was walking back from shearing his sheep when the quake struck "like a freight train''.
"I thought the whole hill was going to slide into the river.
"You know in the movies the ground opens up between you. I thought the whole ground was going to go. It was unbelievable.''
Eketahuna plumber Gary Groombridge was "flat out" 10 minutes after the quake.
"I'm trying to keep everyone happy but there's only me. I'm the only plumber here.''
The burst cylinders and pipes ripped from the supply had left people without hot water - or without water completely.
Jenny Holmes, manager of the Tui HQ events business, said there was broken glass and beer bottles throughout the brewery but aside from the chimney there was no other obvious damage.
Anders Crofoot, owner of Castlepoint Station on the east coast of Wairarapa, said it was "the best shake we've had in 15 years''.
- Trains back on track -
All commuter rail services have resumed this morning following a precautionary stand-down for all trains on the rail network in the lower North Island, KiwiRail said.
"We've run all services this morning and are continuing to do that,'' spokeswoman Jenni Austin said.
"We have one small section of rail between Woodville and Masterton that we have to do some inspections of and that's an area where we've been told there is some track damage.
"Now that's an area that has no passenger services at all and there is some freight [which] goes through there, but there is the alternative route through the Manawatu Gorge and then down the Kapiti coast.
"We'll have a clearer idea of what that damage is and what it will take to repair it a bit later on today.''
All trains were halted south of Taihape while track inspections were carried out to check for damage to the rail infrastructure at 4pm yesterday, Mr Austin said.
Yesterday's big quake struck at 3.52pm and was centred 15km east of Eketahuna and 10km north of Castlepoint near Masterton at a depth of 33km.
- Civil Defence: Watch out on the roads -
Civil Defence said there had been no major damage reported since the quake but staff would be briefed this morning where they would get a better picture of the impact of the quake.
There are no major road closures, with all state highways open to traffic.
The main road network was operating as normal, the New Zealand Transport Agency said.
However, motorists are advised to take extreme care when driving in the region, due to the large number of aftershocks which have followed yesterday's large jolt.
Tararua District Council said the closure of Pahiatua-Pongaroa Road was the only earthquake-related road closure this morning. It was reported to have been severely damaged.
There are a few minor slips in the area as well.
Motorists are advised to check the council's website for details and updates on road closures.
'I'm really surprised there's been no injuries'
Wairarapa Civil Defence controller Kevin Tunnell said it was a major shake for the area - the last big one he remembers was back in 1969.
"It's the biggest earthquake I've experienced for a long long time, I'm really surprised and hugely pleased that there's been no injuries reported and certainly no deaths and I just feel that we've probably dodged a bullet.''
Do you have quake photos or video to share? Send them to us here.
Many houses were damaged and 15 Masterton residents were told they could not return home last night after the Fire Service and Masterton District Council deemed their building unsafe.
Engineers were to make a more thorough check of the building today.
-'It was the worst thing I've ever felt'-
In Castlepoint near the epicentre of the quake, residents described the quake as "terrible".
"It shook the s*** out of us," said Lindsey Walker, the bar manager at the Whakataki Hotel.
Pat Heaton said: "It was the worst thing we've ever felt, that's the only way to describe it.
"I know it's a cliche, but we really are all shook up. It was quite nerve wracking. It was noisy, everything was banging, it was very intense."
View photos of the damage caused by the earthquake: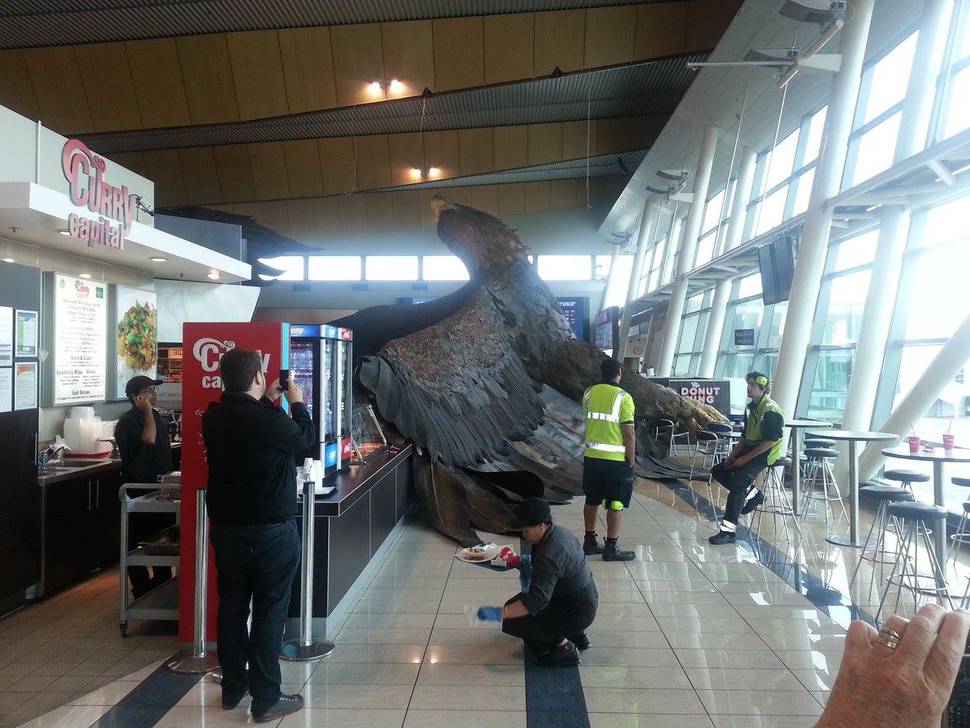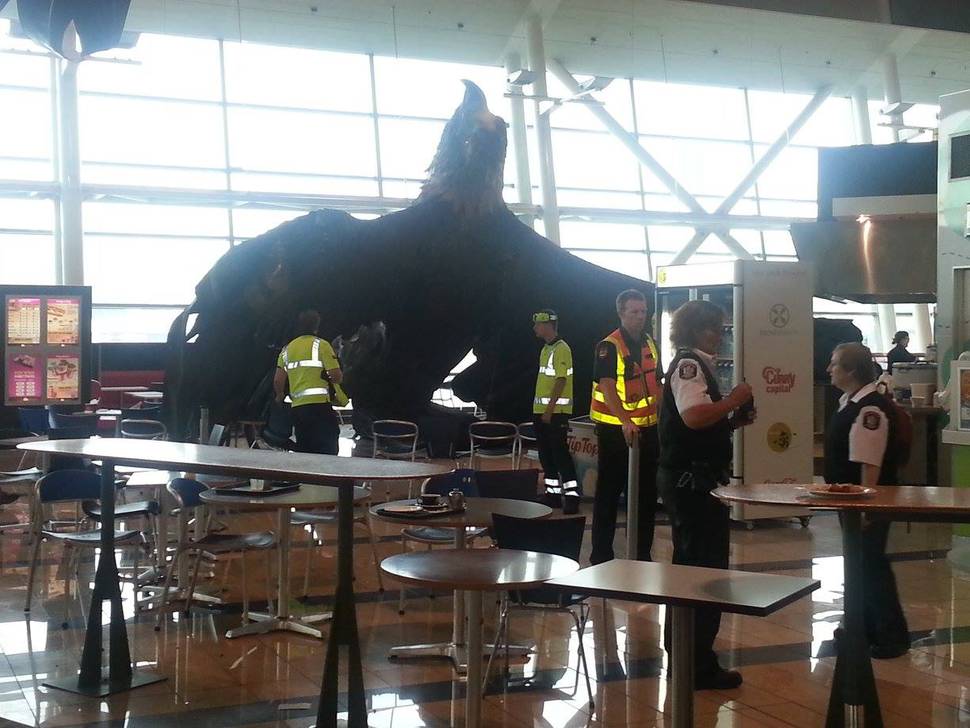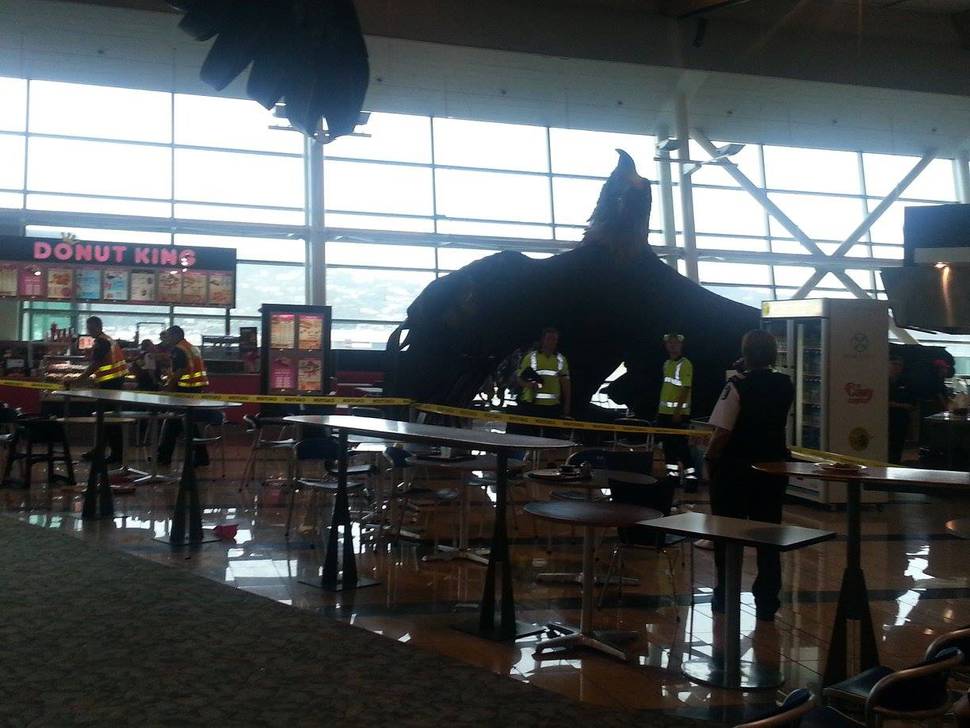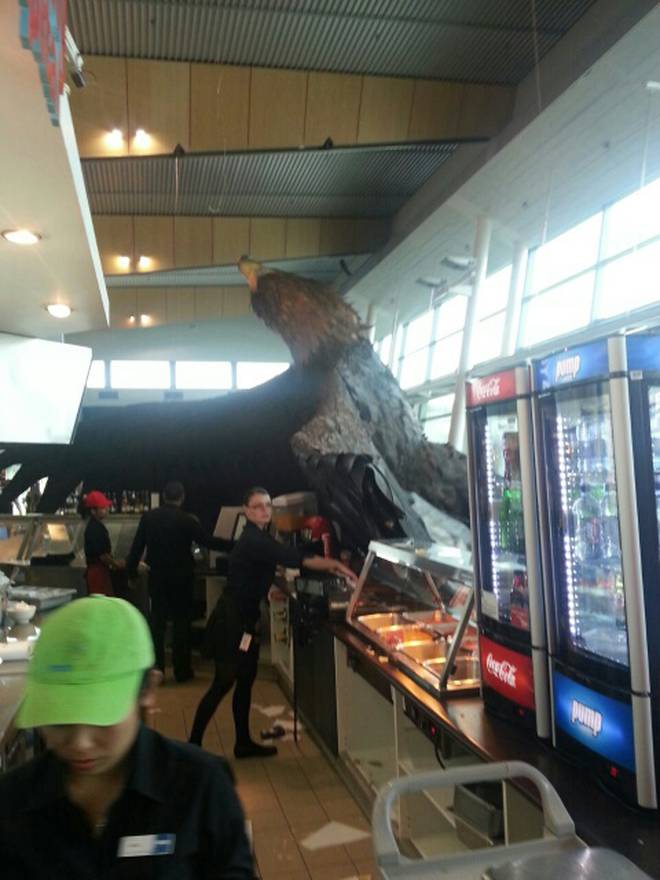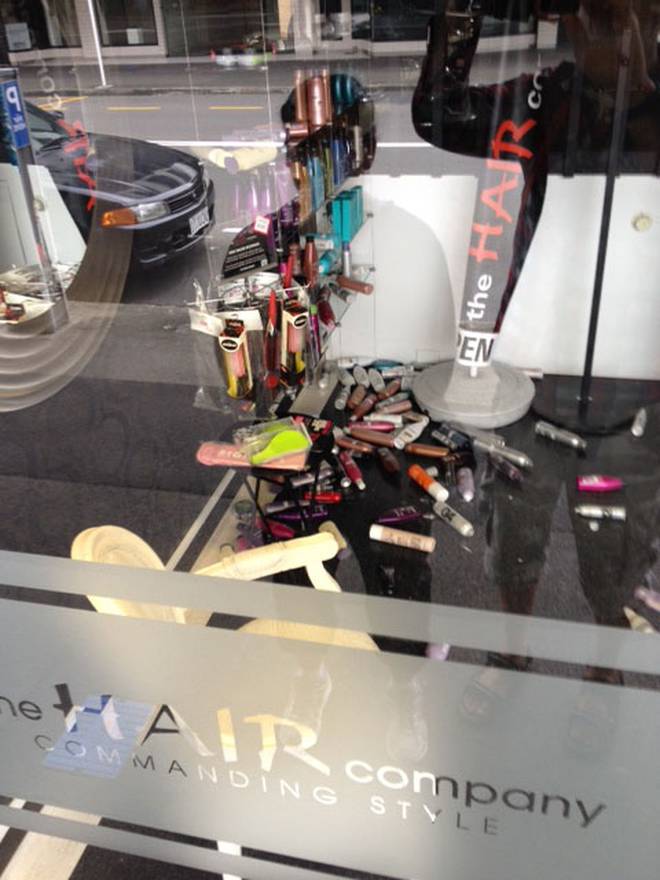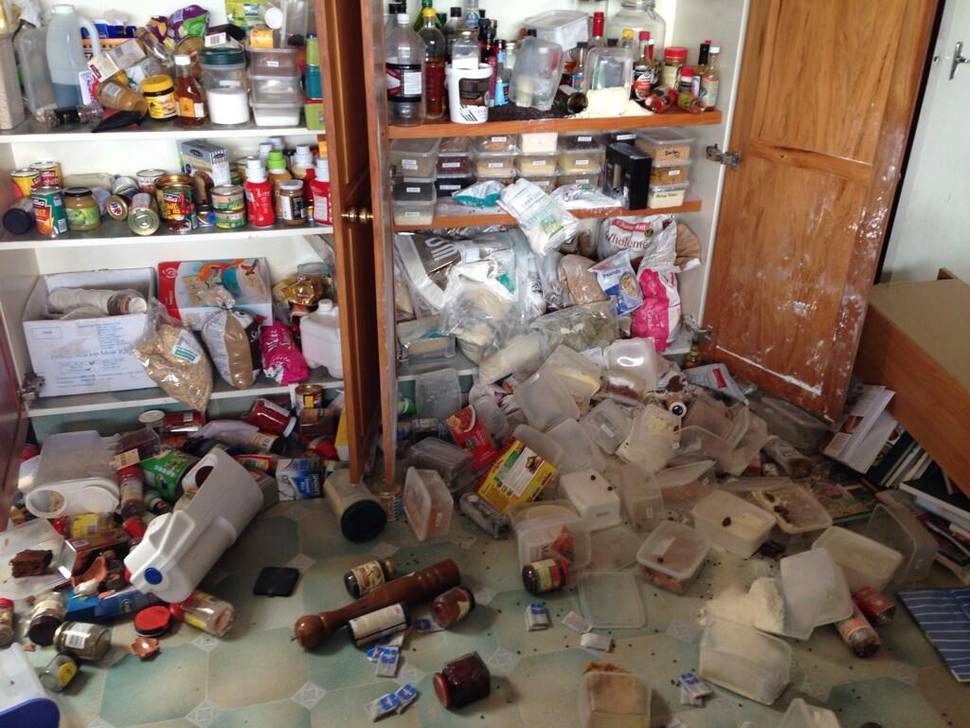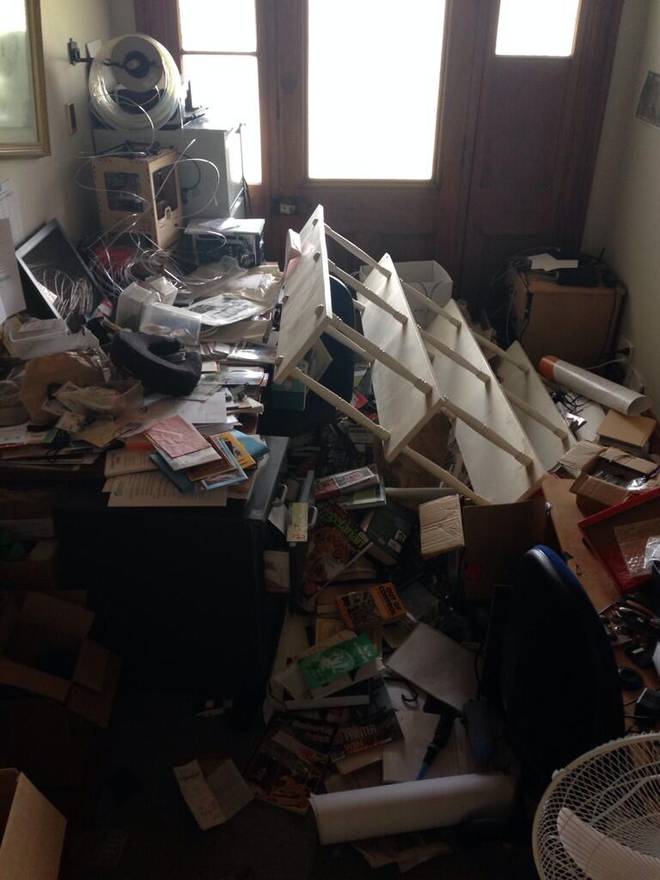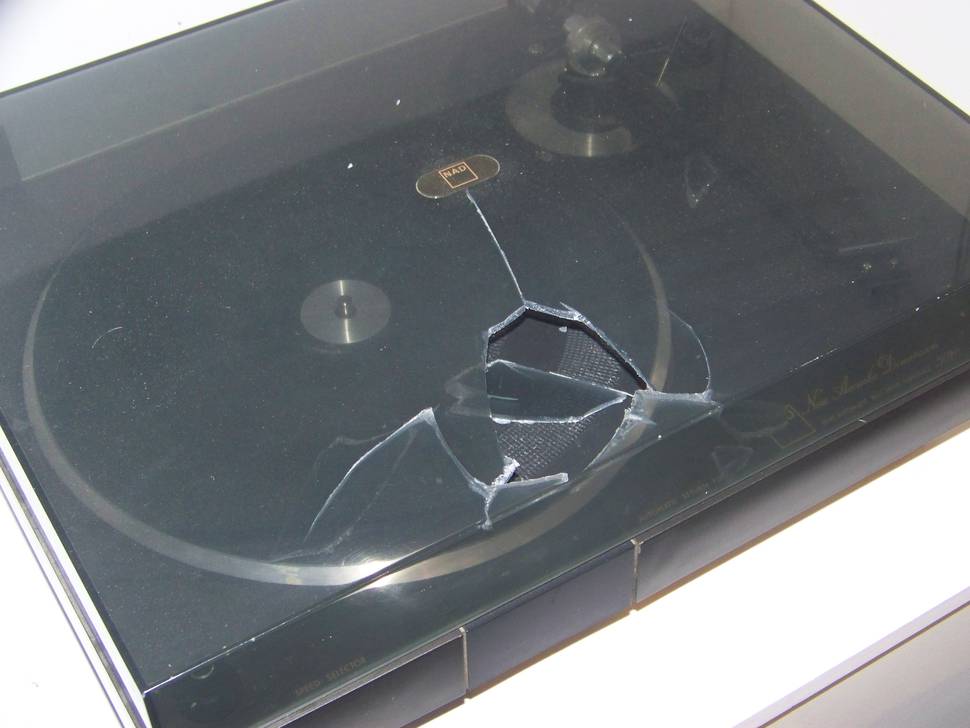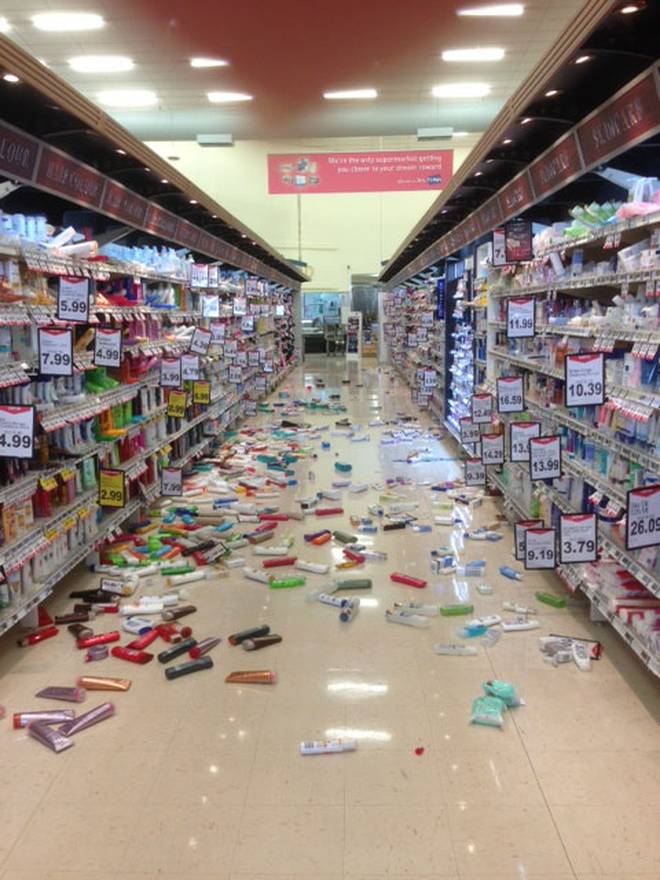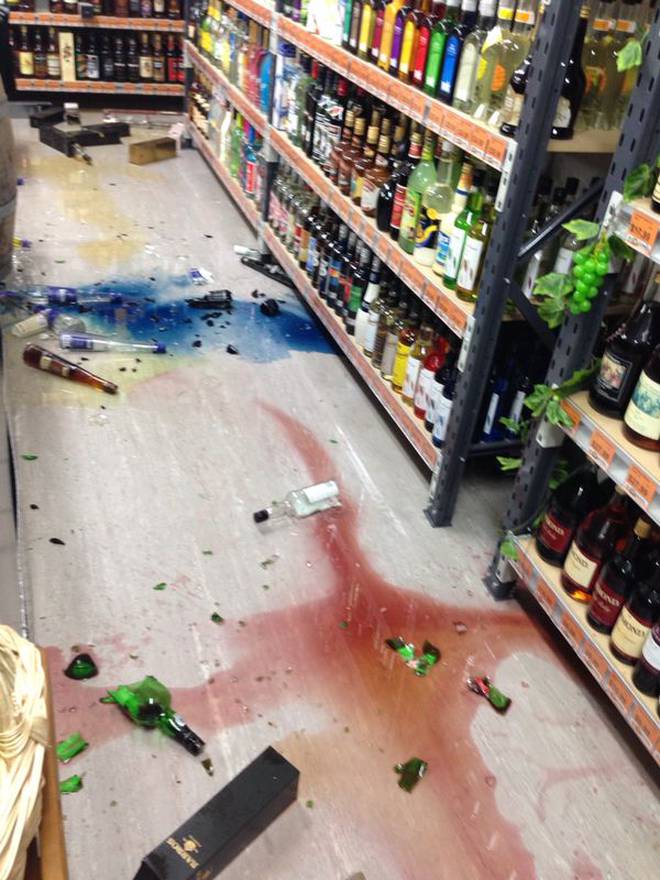 Chris Steffenson was driving but pulled over to take a photo just after the quake, when he saw a "massive cloud of dust" from the corner of his eye and realised a cliff had collapsed.
"We saw a massive wall of dust coming down the side of the hill and [being] thrown up in to the air," Mr Steffenson said.
Within 30 seconds of the earthquake he had run 50m towards the bank of the Rangitikei River to snap the photo, which features on today's front page.
Police, ambulance and the Fire Service were kept busy with a steady flow of callouts but no deaths or injuries were reported. Several roads, including the Manawatu Gorge road were closed or reduced to one lane, and power was out in some areas.
Inspector Mike Coleman said building damage was limited to broken windows, collapsed walls and fallen chimneys.
Cameryn Cowley, 10, was making a video of "one minute hairstyles" when the quake struck. The video, later posted to YouTube, shows Cameryn speaking to the camera before her expression turns to terror. "I was filming the video in my room and then it just started shaking everywhere," Cameryn told the Herald.
"I ran out of the room. I knew it was an earthquake, so I ran out to warn my sister and her friends. I was like, 'get outside' and mum was like 'no, get under the table'. It was scary. My sister was crying a lot and screaming."