As a child, my family made a lot of Thai food at home. Every week we'd have coconut curries, jasmin rice and stir-fries out of a large wok. But travelling to Thailand was when I really fell in love with what Thai food's about: fragrance, vibrancy, texture and layers of flavour.
Much of the way we eat and experience flavours is through our sense of smell. Thai culture is really good at balancing the complexities of aromatics - beyond food, too: If you've ever had a massage in Thailand you will have encountered this.
Before travelling down the eastern side of the west coast, through small fishing villages, beaches, floating markets and islands, we started in Bangkok. The food scene here is fantastic and, like any city, influenced by different religions and cultures. A memorable dish here was an incredible 13 herb salad. It had all these fragrant, punchy herbs that somehow made this stand-alone salad. It was topped off with little pieces of fried shallots, nuts and a light citrus and sesame dressing.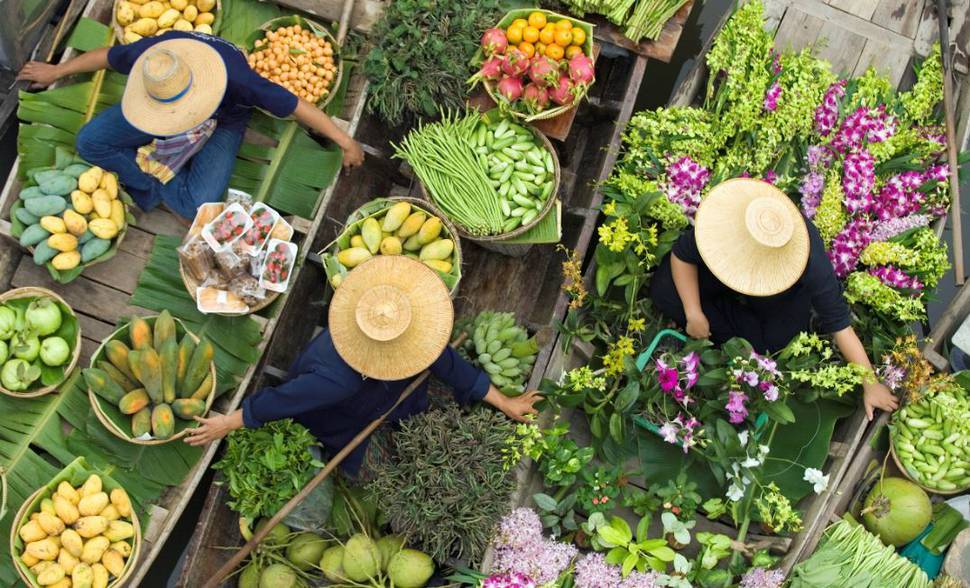 You can't go to Thailand without experiencing its street food. Full of an array of fruits, one of my all-time favourite dishes is mango sticky rice, which you'll find everywhere. A little more unique are the banana blossoms. We rode a motorcycle out to the countryside to eat a banana blossom and lemongrass salad. While the blossom itself doesn't taste like much, they added sour, salty flavours and herbs into the dish. It was amazing.
I love spicy food and there's a lot of it in Thailand. I had yum talay, a delicious fish dish, in many places. When I first travelled to Thailand I wasn't 100 per cent plant-based but found it a very vegetable-friendly place.
From how to build texture and infuse fragrance to the beauty of creating punchy flavours with fresh herbs, my travels in Thailand taught me a lot about the complexities of food and continue to inspire the dishes I create.
- Megan May is the creative director of Little Bird Organics
Thai Summer rolls with papaya, herbs and spicy dipping sauce
Chef's tip: You can replace bok choy with the more traditional rice-paper wraps.
Make time: 40 mins | Soak time: 2–12 hours | Makes: 16–20 small spring rolls | Equipment required: mandoline, blender
Summer rolls:
½ packet kelp noodles
½ cup tamari
½ cup filtered water
½ tsp toasted sesame oil
1 Tbsp grated fresh lemongrass
4 large heads bok choy
1 medium-sized carrot
1 telegraph cucumber
1 ripe papaya
2 cups bean sprouts
A handful of fresh mint, roughly torn or chopped
A handful of fresh coriander, roughly torn or chopped
A handful of Thai basil, roughly torn or chopped
A handful of fresh chives
½ cup cashews, roughly chopped
Dipping sauce:
3 Tbsp raw almond butter, or ¼ cup almonds soaked for 12 hours
¼ cup cashews, soaked for 2 hours
1 clove garlic, crushed and chopped
1 Tbsp chopped fresh ginger
1 kaffir lime leaf
1 Thai red chilli, seeds removed and finely chopped, or 1–2 tsp dried red chilli flakes
1½ Tbsp tamari
4 Tbsp lemon or lime juice
1 Tbsp brown rice vinegar
2 Tbsp coconut sugar or 1 Medjool date
pinch of sea salt
2 Tbsp tamarind water (optional)
¼–½ cup filtered water
Method:
Wash kelp noodles well in a sieve. Mix with tamari and water and leave to marinate for 30 minutes until soft. Drain tamari, water, rinse well. Add sesame oil and grated lemongrass, toss lightly and set aside.
Cut the very end of the base off the bok choy and separate all leaves – you'll only use the larger outer leaves that are able to be rolled. Place these in a bowl. Cover with hot water until the leaves become pliable. Submerge immediately in ice-cold water. You don't want to cook them – they should still be a vibrant green colour.
Use a mandoline or sharp knife to finely julienne the carrots and cucumber. Remove the papaya's outer skin, cut in half and remove seeds. Cut flesh into batons, around 1cm x 8cm. Save leftover bits of papaya for breakfast, or snack away while you're cooking.
To assemble rolls, lay out bok choy leaves so the base is closest to you and the inside of the leaf is facing up.
Place a small amount of carrot, cucumber and bean sprouts at the top of the base portion of the leaf. Add about 1 tablespoon of kelp noodles, a papaya baton, a couple of leaves of each herb and a sprinkle of crushed cashews. Roll the base of the bok choy leaf over the filling, tuck it into the rest of the leaf and roll up tightly.
To make the dipping sauce, rinse soaked nuts well. In a blender, combine almond butter or soaked almonds with cashews and remaining ingredients except water. Add ¼ cup of water, blend well. Add more water if needed, a little at a time, to get a consistency similar to mayonnaise. Make sure it's not too runny, or the flavours will be watered down.