A British mother who posted on a parenting forum seeking examples of 'upper class' baby names was flooded with suggestions — from Antigone to Ptolemy.
The woman, posting with the username lovetpwonder, took to Mumsnet to ask for advice on "well-to-do" baby monikers, the Daily Mail reports.
It prompted fellow parents to reply with the "poshest" children's names they'd come across, citing everything from Serephenia and Persephone for girls to Cuthbert and Peregrine for boys.
But one Mumsnet user insisted children from "genuinely" upper class backgrounds were far more likely to have traditional names such as James or Charles, which would ultimately be replaced by a "really strange" nickname.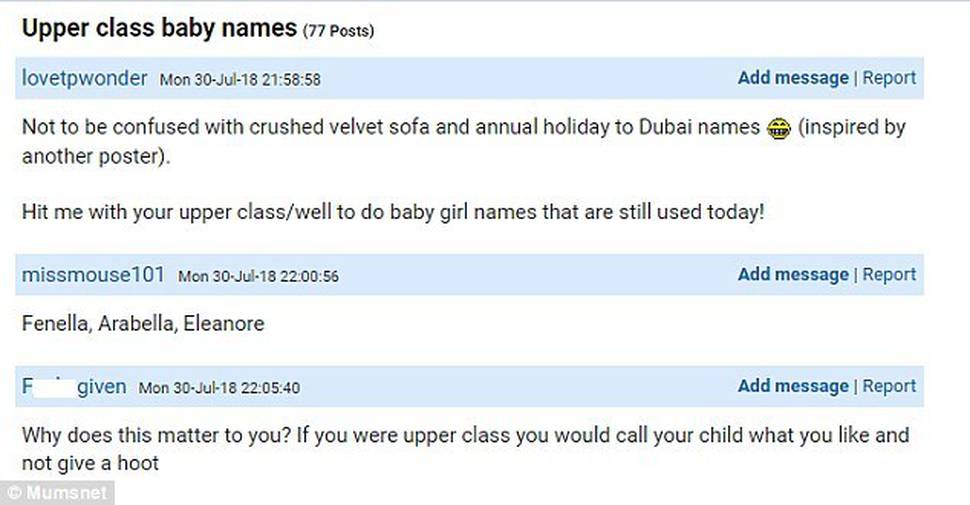 Kicking off the thread entitled "Upper class baby names", the mother wrote: "Hit me with your upper class/well to do baby girl names that are still used today!"
Starting with boy's names, one mother immediately replied: "Boys name with a 'wet' vibe. Cuthbert, Rupert, Peregrine, Timothy."
Another mother suggested Shakespeare-inspired names, citing Ophelia, before adding Serephenia and Persephone.
And when one woman suggested "Fenella, Arabella, Eleanore", another replied: "I've met a few Arabellas and they definitely have not fit the description."
She continued: "However the little Ophelia I knew certainly did! St John is one I feel speaks to a certain class. Maybe Tarquin? Girls names are much harder I think."
However some took the mother's request less seriously, finding ways to mock the thread.
One cheeky parent quipped: "Jocasta Le Plume Puffball and Cosima Urqhuart Upwardly Smytherooni," adding: "Hyphenate all three, job done. Nowt posher."
And there was split opinion as to whether the "upper classes" opted for outrageous or traditional names.
One said that the "traditional" name was far from posh, arguing: "The real upper classes have some bonkers names like Butter, Jet, and Bundle.
"Some have traditional names but the idea that you must use a dull traditional name is much more middle class."
However another added: "Most aristocrats have very classic names like Charles and James."
And another agreed, writing: "Really posh people have traditional names but then acquire some really strange nicknames.
"I think some of the names in the list here are a bit 'frilly' for that — more upper middle/arty/boho/try-hard."
Another added: "So agree with the child mispronunciation nick name! It doesn't matter what the official name is, you just use a nick name darling. Ducky, shrimpy, bumble, minty, button. You get the gist."
And a few boarding school teachers also got in on the action, revealing the names of children they had taught.
"I have taught Bunny, Clementine, Ophelia, Wren, Rupert, Peregrine, Caleb, Winter, Alexander and a Hugo," one wrote.