Fifty-six days have passed since Meghan Markle — one-time actress, philanthropist and the woman who captured Prince Harry's heart — was made a duchess.
Since joining The Firm on May 19, her diary has been jam-packed with royal events — including a day out at Ascot, a family wedding and, this week, her first foreign tour.
As any working woman knows, a busy schedule requires an ever-changing roster of outfits. And when your day job is being the Duchess of Sussex, it's essential to look the part.
In 15 high-profile outings since the wedding, Meghan has debuted 15 brand new looks, each one more ostentatious — and expensive — than the last.
Gone are the M&S jumpers and the little-known, affordable brands she favoured during her engagement. These days, Meghan's wardrobe contains only the best clothes from the world's top design houses: Dior, Givenchy, Prada and Chanel, to name a few.
So extravagant are her outfits that on her whirlwind trip to Dublin this week, she was revealed to have worn £28,000 ($54,774) worth of clothes in just 24 hours.
In fact, to date, she hasn't worn a single garment in public more than once.
All this begs the rather delicate question: who's footing the bill?
By way of comparison, the Duchess of Cambridge spent £119,000 ($232,793) on new outfits throughout the whole of 2017, and a more modest £100,000 ($195,624) in 2016.
Less than two months after joining the royal ranks, Meghan's clothing budget has already outstripped that. Indeed, if she continues at her current rate, she could spend almost £1 million by the end of the year.
Here, The Daily Mail has totalled up the Duchess's very expensive wardrobe...
That pretty pink hat? £885 = NZD $1731
Despite raising eyebrows for exposing her shoulders in a royal carriage procession, Meghan beamed as she took to the streets of London during the Trooping the Colour to mark the Queen's 92nd birthday.
Dressed in a bespoke, blush, Carolina Herrera top and skirt (estimated at £1,000/$1956) and matching clutch (£933/$1825), she looked every inch the dazzling Duchess.
To finish the look, she chose a pink hat from the Royals' favourite milliner Philip Treacy (£885/$1731) and a pair of yellow gold and opal earrings (£850/$1662) and a diamond ring (£1,752/$3427), both by Canadian brand Birks.
Cost: £5,420 = NZD $10602

£10,000 outfit fit for the Queen
For her first solo outing with the Queen in Chester last month, Meghan turned to tried-and-tested designer Clare Waight Keller for Givenchy — the woman behind her wedding dress — to help her feel at ease.
This custom-made cream sheath dress with an attached cape is estimated to have cost around £4,000 ($7824), and label-loving Meghan paired it with a pricey Givenchy black belt (£350/$684) and a £900 ($1760) cross-body bag.
Her shoes, by U.S. designer Sarah Flint, cost £270 ($528), while her diamond and pearl earrings — a gift from Her Majesty — are believed to be worth £4,275 ($8362).
Diamonds with a big price tag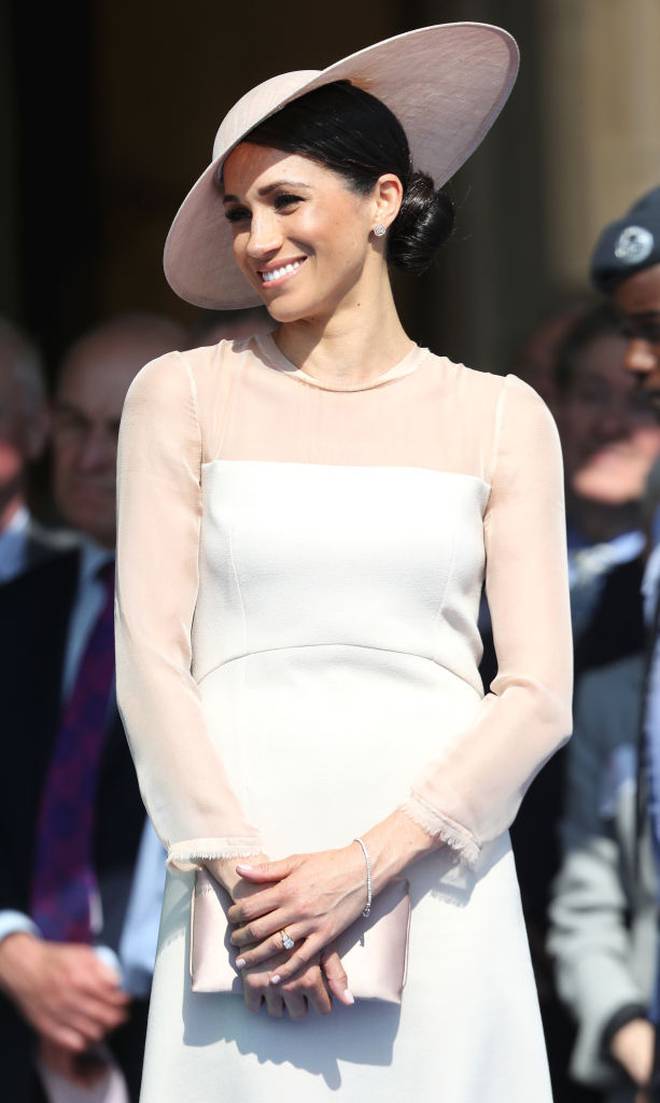 On her first post-wedding appearance, at Prince Charles's 70th birthday celebrations, Meghan was already upping the sartorial stakes.
She looked elegant in a pale pink dress by British brand Goat (£590/$1154), a bespoke Philip Treacy hat (£885/$1731), a silk clutch by Wilbur & Gussie (£205/$401) and blush-coloured leather courts by Tamara Mellon (£350/$684).
On closer inspection, her understated jewellery was far from low-key: £1,400 ($2738) diamond rose-shaped earrings by Belgian designer Vanessa Tugendhaft and a £17,700 ($34,625) Cartier tennis bracelet thought to have been a gift from her doting prince.
Cost: £21,130 = NZD $41,335

Splashing out for the Spencers
Floating across the Lincolnshire countryside in this floral Oscar de la Renta dress (£3,922/$7672), Meghan looked fabulously feminine as she joined Harry and his family for the wedding of his cousin, Celia McCorquodale.
Though some thought the dress too large for her petite frame, she styled it out with the help of a Carolina Herrera clutch bag (£410/$802), glittering studs by Birks (£1,350/$2640) and the same Aquazzura stilettos she wore at her wedding reception (£470/$919).
Meghan made a rare nod to the High Street with a white pillbox fascinator, believed to be a £29.50 ($57.70) number from Marks & Spencer.
Cost: £6,182 = NZD $12,093

My fair lady in Givenchy
The Duchess was compared to Eliza Doolittle from the hit musical My Fair Lady in this all-white get-up at Royal Ascot last month.
Once again, she opted for Clare Waight Keller at Givenchy with this bespoke white shirt-dress (estimated at £4,200/$8216), and accessorised with a Givenchy belt (£340/$665), satin box clutch (£1,500/$2934) and black leather courts (£500/$978).
Her eye-catching hat is a Philip Treacy design, thought to cost around £1,950 ($3814).
Cost: £8,490 = NZD $16,608

Preened in Prada
Another date with Her Majesty — this time with Harry in tow — at the Young Leaders Awards Ceremony at Buckingham Palace, and once again, the Duchess turned to a suitably high-end designer.
Her double-breasted, belted blouse and her matching skirt are both by Prada, totalling £2,100 ($4108), as is her black clutch bag, which retails for £1,280 ($2503).
Her black suede stilettos are by Aquazzura (£490/$958).
And no outfit would be complete without a bit of subtle bling: Meghan finished her look with gold and diamond earrings by Vanessa Tugendhaft (£900/$1760), as well as a diamond cross bracelet by the same designer (£525/$1027), a token to mark her Church of England baptism earlier in the year.
Cost: £5,295 = NZD $10,358

Dressed down... in Chanel pumps
Technically not a 'public' event, the Audi Polo Challenge at Coworth Park in Ascot — in which Harry was competing — saw Meghan looking rather more dressed-down than usual.
However, her choice of outfits reflects the change in her wardrobe since joining the Royal Family: even off-duty, it seems, she can't resist the allure of labels.
On day one, she wore a belted gingham dress by New York designer Shoshanna (£298/$582), paired with leather sandals by Sarah Flint (£185/$361) and a quirky Panama hat by U.S. brand Madewell (£55/$107).
Day two saw the return of her trademark white-shirt-and-trousers look, as she sported a £52 ($101) J. Crew top, £185 ($361) jeans by Welsh brand Hiut Denim — and £567 ($1109) black Chanel pumps.
Cost: £1,132 = NZD $2,214

All eyes on her sunshine dress
Radiant in a canary yellow midi-dress by Brandon Maxwell, an American designer who works as a stylist to the singer Lady Gaga, Meghan made sure all eyes were on her at a swish London reception for young people from around the Commonwealth.
She wore the £1,150 ($2249) dress with a pair of nude heels by Manolo Blahnik, worth £445 ($870).
Though her wrists, neck and fingers were bare (save for her wedding and engagement rings), the Duchess chose diamond earrings by Californian brand Adina Reyter (£380/$743) for added sparkle.
Cost: £1,975 = NZD $3,863

Subtle style comes at a cost
Supposedly selected so she wouldn't outshine Kate, this olive green dress by Ralph Lauren seemed the perfect choice for the christening of Prince Louis this week.
But the price tags make it anything but discreet. The dress alone costs £1,600 ($3129), plus a £695 ($1359) Mulberry clutch bag, £95 ($185) gloves by Cornelia James and a pair of £700 ($1369) Manolo Blahnik stilettos.
Her hat, by milliner Stephen Jones, is around £600 ($1173), while those glinting Galanterie de Cartier studs, thought to be a pre-wedding gift from Harry, are estimated at £60,000 ($117,374).
Cost: £63,690 = NZD $124,593

French frock for RAF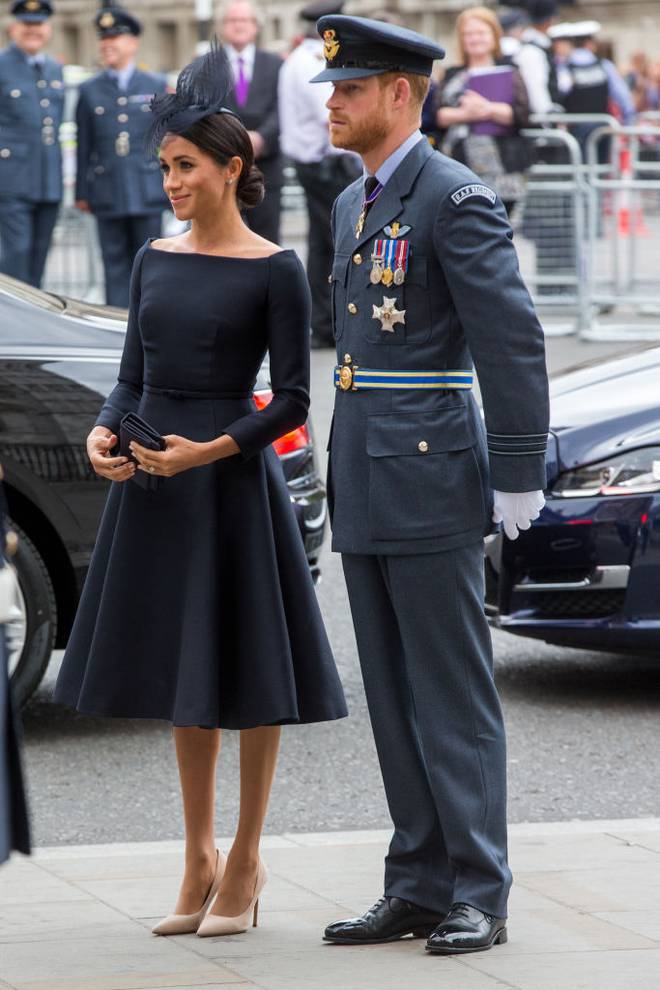 Stepping out for the RAF centenary celebrations, Meghan plumped for a £2,000 ($3912) Dior couture dress.
Paying no heed to suggestions that she might have chosen a British designer for this patriotic occasion, she dressed almost entirely in the French fashion brand, wearing £520 ($1017) suede pumps and carrying a £1,200 ($2347) satin clutch bag. Her swirl-shaped fascinator, by Stephen Jones, is believed to cost around £300 ($586).
Cost: £4,020 = NZD $7,864

Meghan's one-woman catwalk in Ireland
On arrival, she looked smart in a short-sleeved top (£600/$1173) and skirt (£1,199/$2345), both by Givenchy, paired with a £575 Strathberry tote and tan courts by Paul Andrew (£495/$968). Later, the Duchess slipped into a black belted dress by Emilia Wickstead (£1,600/$3129).
She accessorised with a Givenchy clutch (£1,500/$2934), Aquazzura heels (£490/$958) and diamond drop earrings by Birks (£2,600/$5086). The following day, she wore a £1,800 ($3521) Roland Mouret dress — somewhat spoilt by an ill-fitting bra — with a Fendi handbag (£3,580/$7003), Paul Andrew pumps (£465/$909) and white gold and diamond earrings by Birks (£9,000/$17,606).
Her final look was a Givenchy trouser-suit (£1,885/$3687), with a gold-buckle belt (£350/$684) and leather bag (£1,765/$3452), Sarah Flint heels (£300/$586) and a Madewell T-shirt (£32/$62).
Total cost: £28,236 = NZD $55,236

GRAND TOTAL AS DUCHESS: £155,575 = NZD $304,343