It's a union still deemed illegal in their own country, but two Australian women have found refuge here in New Zealand, where they were able to make a vow of love in a bittersweet ceremony boycotted by some of their family.
Bride Charity Turner, who wed her partner Phoebe Cox at wedding venue Sudbury in Peka Peka, north of Wellington said the pair "felt at peace" upon finding the setting.
Their wedding journey was filmed for the television series Bride and Prejudice: the Forbidden Weddings, which follows five couples whose families don't support their unions.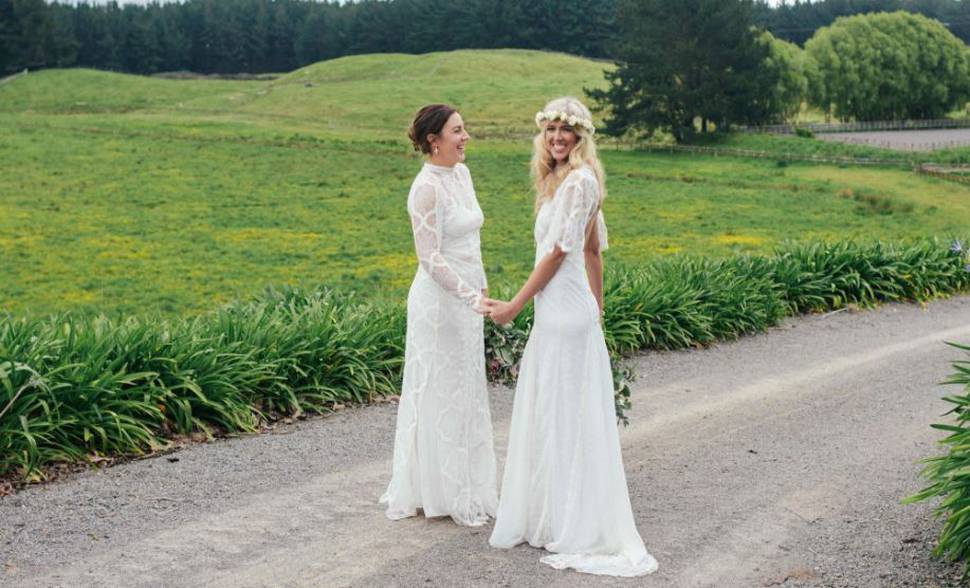 Turner, a singer-songwriter who grew up in a Pentecostal Christian family, has also shared her story on mamamia.com, detailing the frustration over being a same-sex couple wanting to wed in Australia.
"Telling someone their love doesn't deserve the same recognition as yours, is, I believe, not loving.
"After all, I'm just a girl that so happens to love another girl. It's not matter of religion. It's not a matter of politics. It's really quite plain and simple. It's just about love."
But Turner's family doesn't hold the same view.
She made a final plea to her parents via video, telling them: "This is who I am. I can't change. We leave for New Zealand now. It would make me really happy if you came, and that door is always open."
While Cox's mother supported the nuptials, Turner's parents and one of her four siblings refused to attend the ceremony.
When she asked her sister-in-law and old best friend why she wouldn't come to the wedding, she was told: "We all make choices in life" and that "comparing their relationship and mine is not a valid comparison because one is legal and the other is not."
But in a ceremony overlooking the countryside and attended by about 70 guests, the Cronulla-based couple were pronounced "wives for life".