A female cyclist exacted her revenge on a catcaller in a van who pestered her at an intersection by chasing after him and ripping off his wing mirror.
The incident in central London was caught by a GoPro camera attached to the helmet of a nearby moped rider, according to the Daily Mail.
As the trio of vehicles all stop at a red light on a junction with Tottenham Court Road, one of the men inside the van can be heard asking: "Alright, want my number?"
The girl tells them to go away and slaps the side of their van, at which point the man express their surprise at her reaction and begin winding her up.
"That's not very ladylike, is it?" he asks her. "What charm school did you go to, eh?"
He adds: "Shut up, you old dog. You on your period?" before again trying to touch her on the shoulder and get her number.
Just as the situation is about to come to a head, the light turns green and the van drives off, as she holds up her middle finger.
But, the matter is not finished there, as the three all head down the same side street.
She furiously pedals after the men in a bid to catch them up, and spots her opportunity as the men pull over.
Making a very abrupt stop next to the grey vehicle, she quickly rips the wing mirror off and continues on her way.
"That's exactly what you deserve you scum," the filmer declares before he too drives away.
And the majority of Facebook seemed to be overwhelmingly taking the cyclist's side.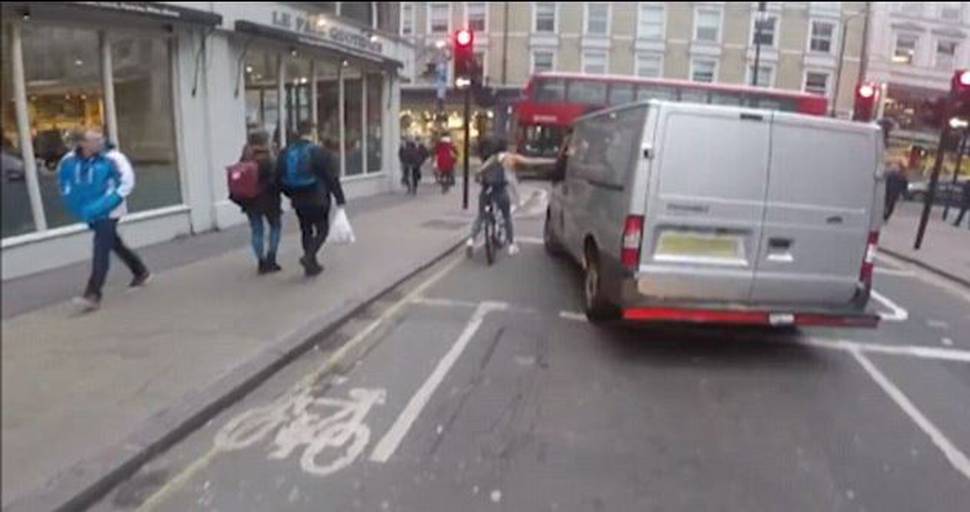 Domenic Dimonte said: "The girl is 100% in the right and if you disagree you were probably in the truck."
Joanne Hurtubise McDonald added: Good for her! Maybe next time they'll think twice before treating someone like that!
Carla-Ann Gibson posted: "'You on your period?' Sure, because the only possible explanation for this (or any) woman not swooning at your car door from your disgusting, sexually predatory actions and words is her menstrual cycle."