These astonishing photos of a thrill-seeker's sky-high catwalk show have turned her into a social media sensation.
Daredevil Angelina Nikolau, 23, from Russia, has spent weeks travelling around China and Hong Kong, in addition to her hometown of Moscow, to take her most recent jaw-dropping self portraits from hundreds of feet above the ground.
But it's not just selfies, she also has fellow skyscraper-wandering friends photograph her performing vertigo-inducing gymnastic stunts just inches from the edge of some of the world's tallest buildings, the Daily Mail reports.
Angelina is described by Russian media as "self-taught photographer, adventurer and roofer from Moscow."
Roofing - also known as rooftopping - is where people get as close as possible to the edge of a skyscraper's highest point to take photos.
Angelina's dizzying combination of good looks, high-fashion poses and sheer nerve have won her an army of fans from around the world and nearly 90,000 Instagram followers.
One snap of her relaxing in shorts and a top as she sunbathes just inches away from a sheer drop to the ground is captioned: "Enjoy every moment."
In another - as she stands on another rooftop ledge in a billowing dress - she says: "My life will never be the same again." Take one step forward and you'll be right about that.
Others on the account show her dancing on top of a building overlooking the Kremlin in her home town.
Another shows her posing in front of a cityscape at night as she stands precariously balanced on a guard rail.
One Russian social media user identified as "nataliamnagles" said: "I seriously don't get how this girl does this."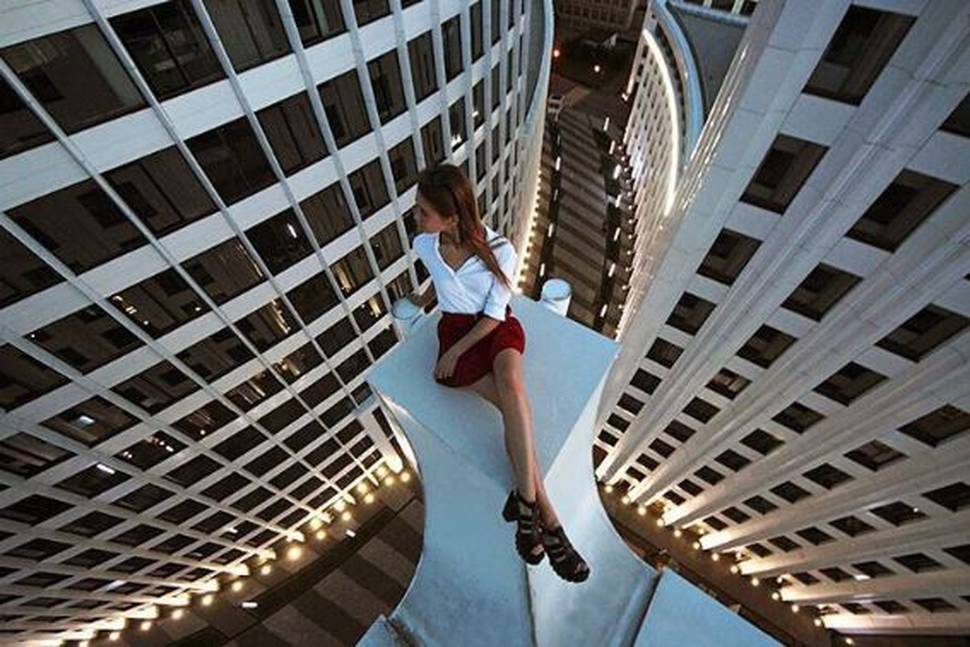 But another - "just-joslyn" - added: "Please stop doing this you're influencing others and you might get hurt. You're too young and pretty. It's not worth your life."