The Christmas holidays sees heaps of Kiwis hitting the road, searching for a stress-free break. Ironically, roadtrips are often anything but chilled out thanks to traffic, navigational difficulties and whiny kids. Feeling your pain, we've unearthed a bunch of gadgets to help take the grief out of the roadie.
1. Navman GPS $RRP $183.20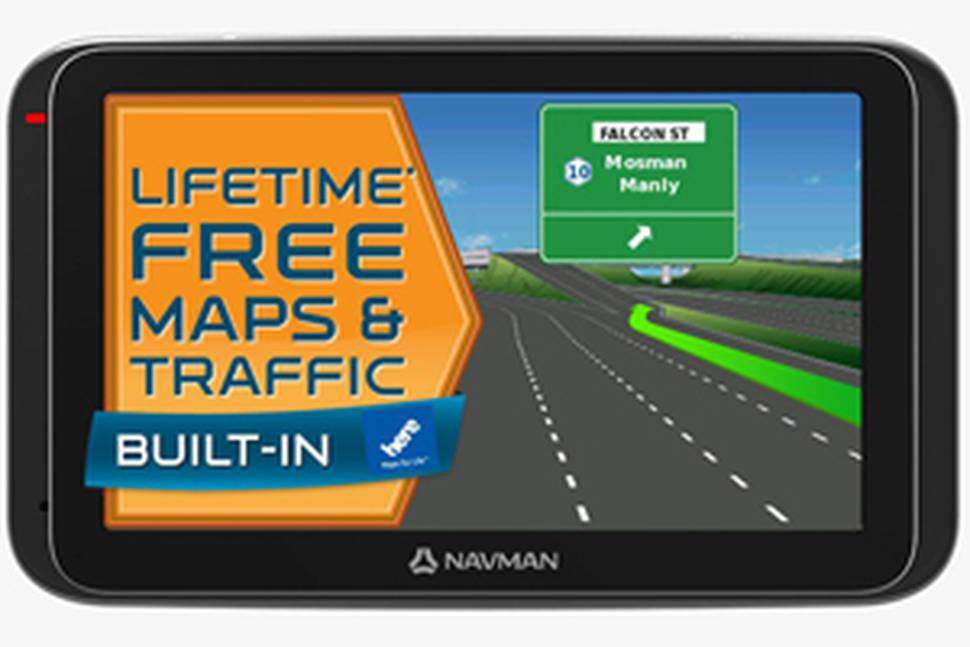 Getting lost or having a passenger navigate can put even the most loving relationships under strain. Thankfully, there's a way around this torment. The Navman MY400LMT GPS makes getting off the beaten track next to impossible.
The MY400LMT has buildings and landmarks stored on it and will use them to deliver easy-to-follow directions such as "turn left by the windmill". Fixed Speed and Red Light Cameras are also stored on it, and could save you a bundle. Keeping safety in mind the MY400LMT also has Bluetooth connectivity and will act as a speakerphone for incoming calls so you can focus on driving. Navman will also keep you covered with up to four map updates a year making it even harder to take a wrong turn.
2. Nokia 1020 RRP$149 (Telecom Ultra Mobile $139 24 month term)
No roadtrip is complete without posting pictures online, showing-off to envious friends and followers. It used to be a case of lugging your camera around then plugging in to a PC. But nowadays, thanks to Nokia's 41 Megapixel monster top of the line 1020 smartphone, you're ready to snap and social network.
Its massive 41Mp image sensor, Zeiss optics and a Xenon and LED flash makes many point-and-shoot cameras, not to mention other phone cameras look decidedly average by comparison. Combined with Nokia's Pro Cam app, the 1020's camera is a stunner and the level detail able to be captured is incredible. The 1020 also comes loaded with apps including Maps, Drive+, Music, Cinemagraph and Creative Studio. Being a Nokia, its build quality is also rock solid.
3. Philips PD7006B/79 In Car DVD Player RRP$ $199.00
Any parent who's hit the road with children knows the dread that comes with the "are we there yet?" question. Keeping kids happy on the road can really reduce travel stress.
The Philips PD7006B/79 portable DVD player makes keeping the wee ones entertained far easier. Sporting its own fold-down screen, the PD7006B/79 just needs to be plugged into a cigarette lighter socket. Load a disc, insert headphones and you're away. The PD7006B/79 will also play nice with MP3-CDs, which is dead handy for long trips as a single CD can store up to 10 hours of music.
When another gadget is hogging the cigarette lighter, the PD7006B/79 comes with a built-in rechargeable battery for up to three hours of use. The PD7006B/79 also has a spill-proof design and is easy to clean.
4. PlayStation Vita RRP$329.95
Movies are great, but some kids are harder to please than others and this is precisely where a good portable games console is worth its weight in gold.
Enter stage left the Sony Vita, the handheld answer to a PlayStation addicts dreams. Featuring a 5 inch OLED touch-screen with front and rear cameras, games can be purchased from the PlayStation store using Wi-Fi before you travel. Dual Analogue Sticks and access to Sony's gaming titles not only make the Vita a great games machine, but are also practically guaranteed to secure some peace and quiet during your trip.
5. Coolfreeze CF-18 Portable Fridge/Freezer RRP$763.56
Transporting cold stuff so you can enjoy a glass of chilled Sauvignon Blanc when you arrive at your destination is no longer a mission impossible with the CoolFreeze CF-18 portable fridge freezer.
Essentially the size of a chilli bin, the CF-18 is designed to use 12V or 24V power sources. Aside from being an extremely cool piece of tech, it is also extremely portable.
Read more: Why roadtripping rules (+perfect roadie playlist)
6. Kobo e-Reader RRP$179.00
Travelling light is an incredibly difficult thing to achieve. Especially when books can quickly consume vast amounts of valuable luggage space, weighing a tonne.
Thankfully data weighs nothing so you can have hundreds of e-books stored on a single lightweight e-reader. Using an e-ink display, the Kobo Glo lasts for ages between charges and has a backlight so you read at night without waking everyone and burning your retinas.
7. Twin Cigarette lighter socket adapter RRP$16.98
With many of these roadtrip gadgets being battery powered, access to in-car power is incredibly useful, especially for extended roadies. Trouble is, most cars only have a single cigarette lighter socket which can quickly lead to arguments about who gets power and who doesn't.
Solving potential arguments is this twin lighter socket adaptor. Featuring an adjustable angle for easier access, the cigarette lighter double adaptor has can take two separate lighter plugs and an in-built 10A fuse to protect your car's wiring.
8. Bose Noise Cancelling Headphones RRP$499.95
Silence is golden and can be so incredibly difficult to find when on holiday.
Bose have the answer with their tiny in-ear noise cancelling buds. Popping the Bose noise-cancelling buds in sees outside niggles vanish thanks to a clever system that listens to environmental noise and cancels out regular droning sounds (such as spouses and kids) while allowing you to listen music or revel in sweet silence.
9. Belkin Bluetooth Stereo adaptor RRP$113.85
Even if your car stereo can only play cassettes or single CDs, Belkin have got it covered with their CarAudio Connect FM Bluetooth that lets you stream the music stored on your phone over your car stereo.
The CarAudio Connect also has a microphone in its Call/Play button which will transform your car stereo into a hands-free speaker phone. If music is playing when a call comes in, the tunes fade out and are replaced with the incoming call.
10. Verbatim Media Share adapter RRP$109.00
Having game devices and portable DVD players are all very good, but what if the kids all want to watch the same movie? Verbatim's MediaShare could be the answer. This wireless, portable piece the size of a deck of playing cards, allows up to five Wi-Fi enabled tablets and smartphones to access data stored on connected SD cards or USB hard drives.
When travelling, the MediaShare makes heaps of sense - it's pretty small and highly portable due to a built-in battery. Kids can access movies and music on smartphones and tablets using free iOS and Android apps, downloadable from the iOS app store and Google Play.
- www.nzherald.co.nz