It was the stunning location — on a cliff-top overlooking the gulf — that drew Philippa Potter and her late husband John to their Devonport home nearly 44 years ago.
"My husband was a keen sailor and wanted a view of the water," says Philippa, "and this place was in such a wonderful spot."
There was a slight problem though. The placement of the windows in the living room meant that when the couple were sitting down, they couldn't see that breathtaking view.
"The windows were too high, and if you wanted to see the water, you had to stand up," says Philippa. "It was rather frustrating."
A major renovation rectified the problem. A curved wall of floor-to-ceiling glass was installed, making the most of the outlook and it's now a lovely place to sit and watch the activity on the water.
Badly-placed windows weren't the only issue the Potters faced when they bought the home back in 1975. Built of brick and stucco in around 1917, it was in what Philippa politely describes a "rather frightful condition".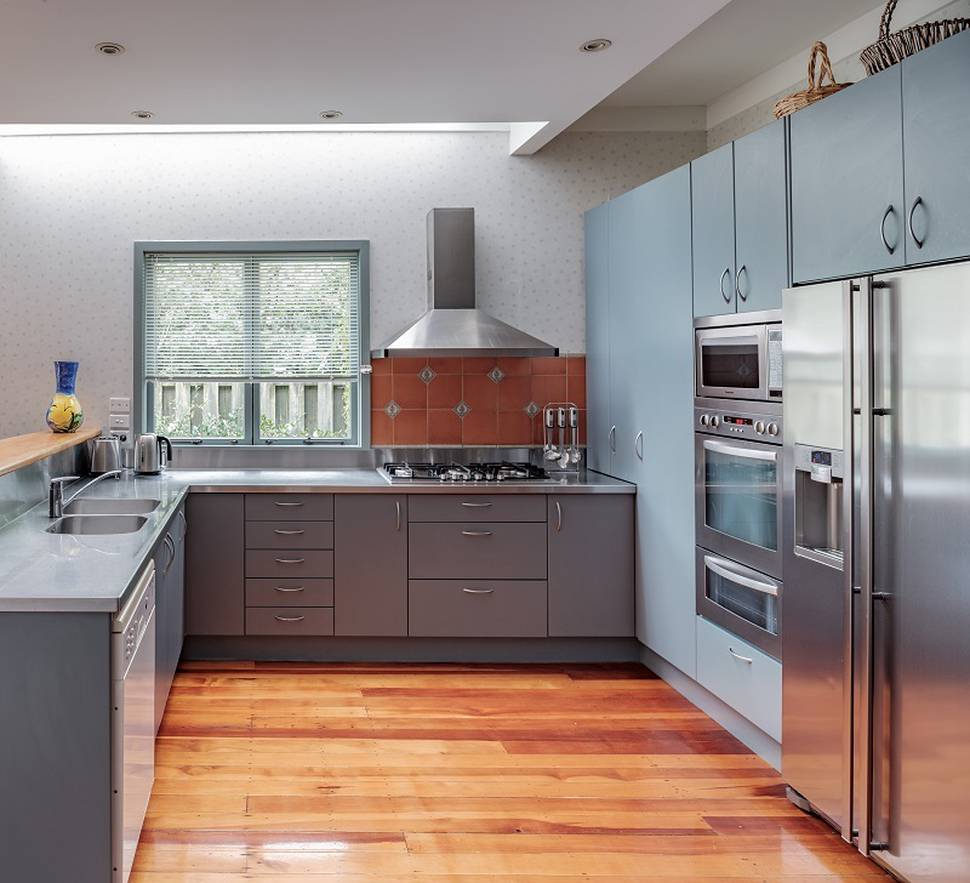 "It still had scrim on the walls and a lead floor in the bathroom. It was dreadful, but that was the only way we could afford to buy a cliff-top property," says Philippa.
The day after they bought it at auction her father visited for the first time, looked around and said, "Well, I'm glad you're young and fit!"
The renovations were carried out in three separate lots in the 70s, 80s and 90s. A new kitchen with plenty of storage was one of the first things to be done, much to the relief of Philippa, who had been cooking on a hob on top of a wooden stand. The area next to it was extended to create an informal dining space and family room opening out to a sheltered patio and garden that gets the afternoon sun.
The adjoining formal dining room has plenty of space for the large rosewood table Philippa and John brought back from Singapore after living there for three years, and has been great for entertaining.
The huge living room next door is now the piece de resistance of the home, with its bay windows framing the views and french doors leading out to a patio. This room boasts many of the original character features of the house, including leadlight windows.
The ground floor master bedroom was also given an extensive makeover, with big bay windows installed to capitalise on the view. A generous dressing room and en suite were also added. There's access to a room next door which was used as a nursery when Philippa had each of her three sons, but more recently has been a very handy study. It also retains original features such as a board and batten ceiling.
Also on this level is a roomy laundry, a bathroom and plenty of cupboards. Ample storage was a must with three children, says Philippa.
An upper story was added in the 80s, providing three bedrooms, including a particularly generous one with a built-in corner desk that has fantastic water views.
Popular with sons William, Richard and Michael when they lived at home, this room is also ideal for guests.
There are two bathrooms and a separate shower upstairs, and even more storage tucked into the eaves.
The double garage is a handyman's dream, with one wall devoted to a workbench. There are also two carports.
The grounds include several lawns, lots of established trees and a lower terrace which was originally earmarked as the site for a swimming pool.
"We had the hole dug but then the rest of the family got into boats so we never put the pool in," says Philippa. New owners could do that, or turn it into a sunken garden.
Steps lead down the cliff to the water, where Philippa still swims most days when its warm enough. When the tide's in she swims off the rocks; when it's out there is a strip of sand creating a private beach.
It was a wonderful place to bring up the boys and holds many happy memories, but the time has come for Philippa to move on and give another family the chance to enjoy such a special home.
122 VAUXHALL RD, DEVONPORT
• 4 bedrooms, 4 bathroom, 6 parking spaces.
• House: 320sq m, land 2023sq m.
• Sale: By negotiation.
• Inspect: Sat 1.15-2pm.
• Schools: Vauxhall School, Belmont Intermediate, Takapuna Grammar.
• Contact: Lynda Betts, Bayleys, 021 278 3024, Helen Michell, 021 210 3228.