Recently completed, 218A Lake Road is a sensational cedar-clad waterfront home. Set on a generous 1431sq m site, down a private, gated driveway it shares with several other high-end properties, it's clear that no expense has been spared in creating the ultimate hideaway, with 388sq m of living space and direct access to Takapuna Beach.
Developers Tony Bunting and Elaine Tassie explain Tony owned the land — which was previously a tennis court attached to a giant neighbouring homestead, for about 10 years, before deciding on the best way to use it.
"It originally belonged to a well-known business family, and we understand some very big international big names played there," says Tony. "We also know that it was used as a setting in the 1991 film based on Bruce Mason's play, The End of the Golden Weather."
When the time was right, Tony and Elaine engaged top architect John Cornthwaite to design a home that was perfectly in keeping with the picturesque environment, and subsequently they assembled an expert building team to cover the various parts involved in bringing their plans to life.
"We don't do a lot of developments because we like the ones we complete to be truly exceptional," says Elaine. "We spend a lot of time on them."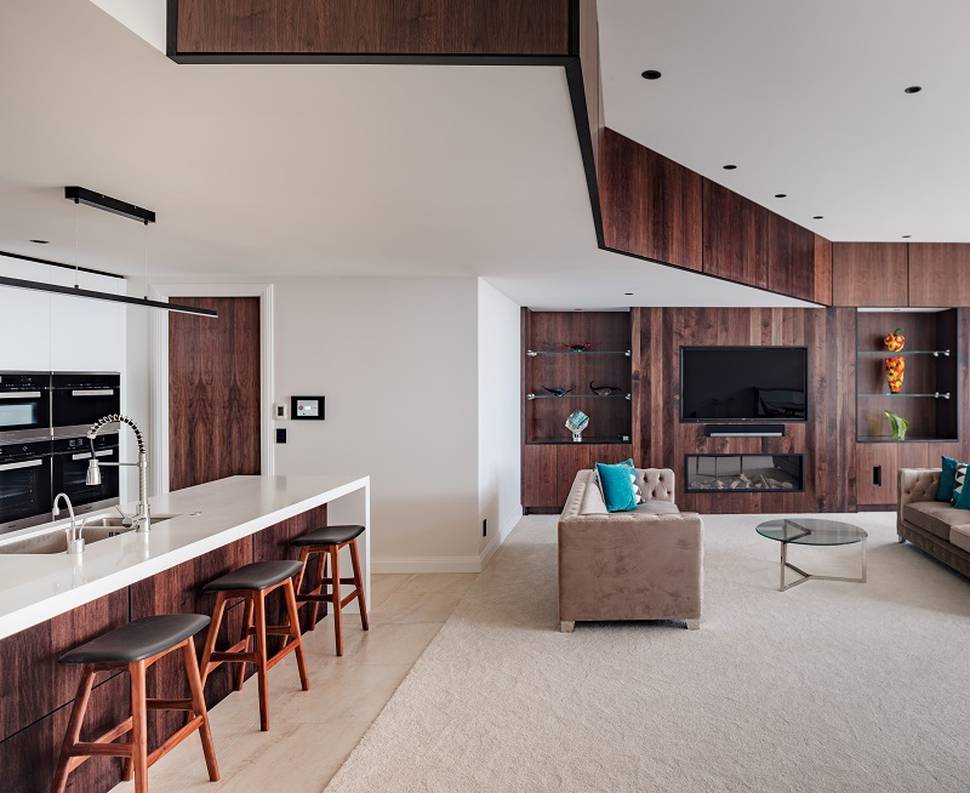 Quality is essential to us and we always create properties that we would be more than happy to live in ourselves."
The resulting build is definitely of a very high calibre.
Tony says that the piles go down 16 metres.
"It was a big site so we made everything on it big, as well," he says.
"We've included a generous three-car garage — plus a turntable on the driveway to make getting in and out easy and there's a lift between the garage and the house."
On the ground floor, the house boasts a simply gigantic kitchen, dining and light-filled living space, which still feels comfortable and relaxed, despite its size and the high studs.
The kitchen has no fewer than four Miele ovens, each serving different purposes including microwaving and steaming, plus an integrated fridge/freezer, two dishwashers and extensive cupboard space.
There's a large scullery-come-pantry which, is really a semi-second kitchen — designed and located to keep food preparation out of sight while owners are entertaining. It's equipped with a gas hob, sink and a wine fridge.
American black walnut is Tony and Elaine's signature timber, having been used throughout the interior — in the kitchen, and in the sensational living and dining space with its extensive built-in joinery, and Escea gas fire.
Beyond electronic blinds, the terrace outside enjoys glorious sun and sea views, towards Rangitoto. It's a vista that's ever-changing, throughout the day, and with the seasons.
There are other sunny spots for outdoor living, including a paved patio surrounded by sub-tropical plantings.
The master suite is also located on the ground floor and needless to say, it is sumptuous — with a walk-in wardrobe and a bathroom that would look right at home in a 5-Star hotel.
On the next level, two bedrooms share an en suite, while the fourth bedroom has its own bathroom.
In terms of location the house is perfectly situated and a bonus is the fact that you can also reach it via Clifton Rd, thereby avoiding busy Lake Road.
Tony and Elaine are rightfully very proud of the home which includes smart-wiring for air-conditioning, security and sound. It can be bought complete with furniture, should a buyer desire.
"The new owners will love walking along the beach to Takapuna," says Elaine.
"This really is a very special place."
218A LAKE ROAD, TAKAPUNA
• 4 bedrooms, 3 bathroom, 3 parking spaces.
• Home: 388sq m, land 1431sq m.
• Expression of Interest: Close Wed 27 March (unless sold prior).
• Inspect: Sat/Sun 3.15-4pm and by appointment.
• Schools: Belmont School, Hauraki School, Takapuna Grammar.
• Contact: Carole Thomas, Premium, 021 539 553.