Adrian Bosch and his wife Michelle Tod-Bosch got the idea for their front security gate from a feature they saw in a champagne bar in Macau, China. "We decided to recreate it, but it was a true labour of love as the circles we had cut locally all had sharp edges and Adrian spent about 200 hours filing them down," says Michelle.
"Anyway, it's become known as the 'bubble gate' and everybody in the neighbourhood recognises it."
Behind the striking entrance, what was originally a state house is virtually unrecognisable, having doubled in size during the couple's 10 years in residence, along with their three children, Lachie 14, Sasha, 10, and Chloe, 7.
"We've practically rebuilt it all, but we still kept original elements wherever we could," says Michelle.

Quality was king throughout the whole project, she says. "Adrian has a good eye for fine detail and everything is very high-spec."
On the ground floor is the double garage, with laundry and internal access, and three bedrooms, one of which is used as a home office. There's also a family bathroom with a restored claw-foot bath.
Behind this is the open plan kitchen, dining and living area.
The kitchen is especially luxurious with seemingly endless bench space and cupboards.


FOR MORE PROPERTY NEWS AND LISTINGS GO TO ONEROOF.CO.NZ

It has the bonus of a walk-in pantry or scullery, and even a bar with fridge and shelves for glasses and bottles.
"Between us we have a lot of family — and friends — so we tend to entertain quite frequently and this is ideal for doing that," says Michelle.
A covered deck lies beyond the interior living space and because Adrian was involved in building the Cloud venue on Auckland's waterfront, he's formed his own mini version, with a fabric roof, right here.
The pool is an absolute magnet to children in the neighbourhood. The treehouse is popular too.
The pool house also has a workshop and could be converted to a home office as it is fully wired for technology.
Back inside, upstairs lies another whole level of luxury. First there's the master suite with its floating wall behind the headboard and glorious views.
"We so lucky here that we back on to the local bowling, tennis and croquet clubs, so there's lots of green space," says Michelle.
A giant walk-in wardrobe and full bathroom means the couple are self-contained in their own private part of the house.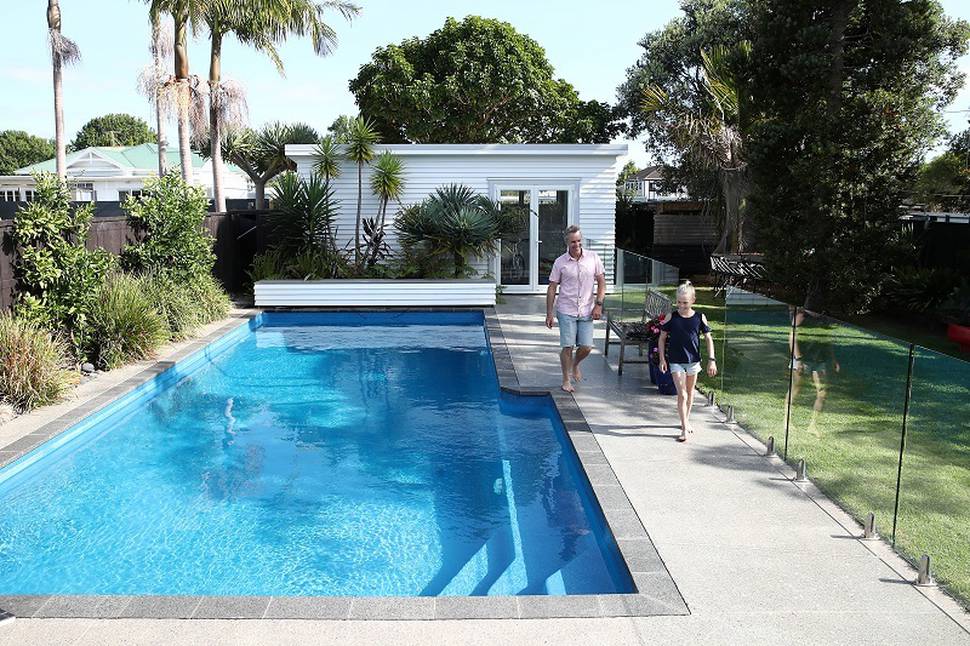 Then there's a further bathroom and a large rumpus or media room, plus Lachie's bedroom.
"If a new family had an au pair, they could use this space as it's been carefully designed to be flexible," says Michelle.
Because they both own businesses on the North Shore, Adrian and Michelle have reluctantly made the decision to sell here, in this quiet, friendly street with the girls' primary school immediately across the road.
"I'm just spending too much of my life in the car, battling traffic, and I simply want more time with the kids," says Michelle.
"We're very proud of what we've done here and this was going to be our 'forever' home.
"Now it can be somebody else's and we just hope that they'll love it as much as we do."
34 TE RA RD, PT CHEVALIER
• 5 bedrooms, 3 bathroom, 2 parking spaces.
• Floor: 292sq m, land 622sq m.
• Price: By negotiation
• Inspect: Sun 2.15-2.45pm or by appointment.
• Schools: Pt Chevalier School, Western Springs College.
• Contact: Derek von Sturmer, Professionals, 0275 337357.