In the past nine years, Grant Sanderson has renovated "many, many" apartments.
So when it came to a city pad of his own, he knew how to make one bought off the plans into a stylish, elegant haven.
Grant was initially attracted to the Oasis Apartments in Poynton Tce, because of the great views and location.
The building borders Myers Park so it can't be built out, is handy to the CBD, and is a stone's throw from Karangahape Rd and its eateries, including those in the refurbished St Kevin's Arcade.
Grant bought a sub-penthouse that runs the length of the Oasis building and faces north-west.
He liked what the developer had come up with but could see plenty of ways of enhancing it further.
This included additions like extra storage, ceiling fans and power points with USB chargers, along with installing a breakfast bar in the kitchen.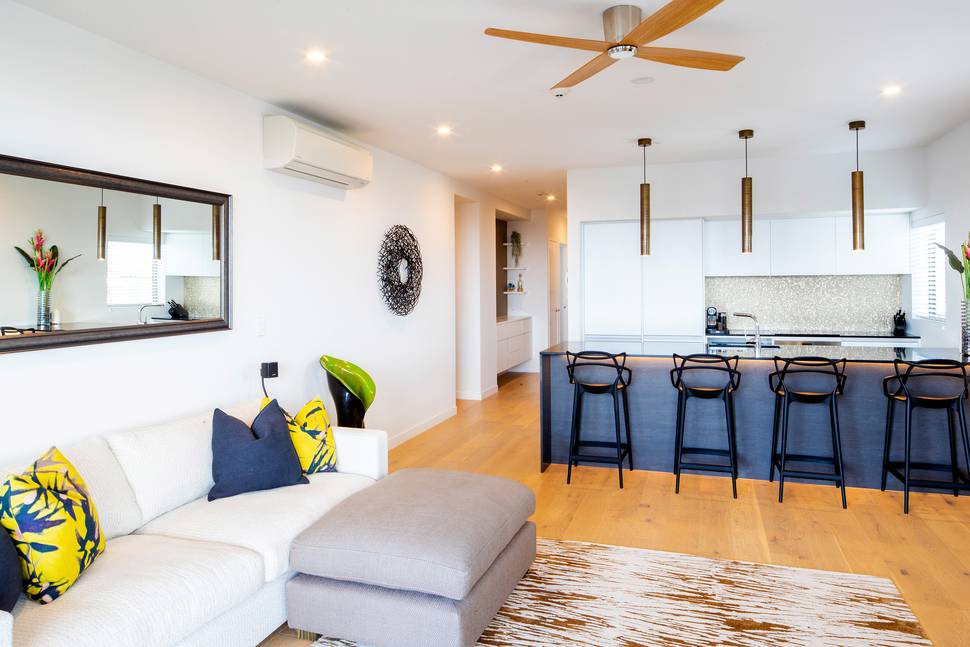 He also took the decor to the next level, hiring interior designer Christine Morris from Urban Lounge Interiors to work her magic.
"I had worked with Christine before on a job in Mt Maunganui and even though renovating apartments is what I do for a living, I knew it would be worth bringing her in because she is so good at what she does," says Grant.
"I wanted that touch of sophistication and I was very happy with the outcome. She's done a fantastic job."
Christine came up with a neutral palette of colours for the interiors, along with tasteful wallpapers for feature walls in the bedrooms and entrance way.
Grant is a fan of Italian style, and the apartment has many fixtures and fittings imported from Italy, including a striking brass splashback and brass pendant lights in the kitchen.
The blackout drapes are also Italian, as are the sheer curtains that soften the outlook over the city.
The 3.7m stud gives the home a feeling of spaciousness and the many windows flood it with light. "The three windows on the western wall let in the afternoon sun, and it is really beautiful," says Grant.
One of the bonuses is the covered balcony. At 20sq m, it is great for entertaining and can be used year-round.
"It gets the sun coming in in winter, and in summer, being covered, it gives you shade," says Grant.

"There are not many apartments in the city that have a usable covered balcony where the outdoor furniture can stay out all the time."
There is also a balcony off the master bedroom.
Oasis has just 25 apartments and stunning design elements in communal areas, including a striking art deco-style spiral staircase and gold tiles in the foyer.
The apartment comes with one car park, which is accessed via a stacking system. Grant says the apartment turned out even better than he expected, but a change in business means he is moving on.
9A/26 POYNTON TCE, AUCKLAND CITY
• 2 bedrooms, 2 bathroom, 1 parking spaces.
• 88sqm
• Set date sale: 27 Feb.
• Inspect: Phone for viewing times
• Schools: Freemans Bay, Ponsonby Intermediate, Auckland Girls Grammar, Western Springs.
• Contact: Blair Haddow, Bayleys, 021 544 555.