Neville Singh wanted his girls to be close to a great school when the family moved to Auckland from Napier a couple of years ago.
Neville, who is in retail, couldn't have been happier when he found this luxury lifestyle property with five paddocks.
He loved the house had the feel of a French farmhouse in the country while still being only 10 minutes from both the motorway and ACG Strathallan school.
FOR MORE PROPERTY NEWS AND LISTINGS GO TO ONEROOF.CO.NZ
From the extra-high stud to the exquisite antique doors, the house breathes quality, he says.
While Neville won't give names, he says it was built for a well-known designer and therefore the quality shows in every detail.
"This was her house. She wasn't the architect but she did the kitchen, she did the bathrooms."
One way to get a fantastic kitchen, he says, is to buy a house that belonged to a kitchen designer. "The kitchen and bathroom are the highlight of this house."
The kitchen has a scullery with a gas cook top and a sink, plus a dishwasher.
"The main kitchen has two sinks and two dishwashers and the scullery has another dishwasher — that's three dishwashers."
The high studs and high windows contribute to the house feeling light and sunny — there is sunshine "all around the house every day", Neville says.
Upstairs are three bedrooms with the master bedroom with en suite, walk-in wardrobe and its own living area on the ground floor.
Outside there is separate, self-contained accommodation where Neville's parents lived.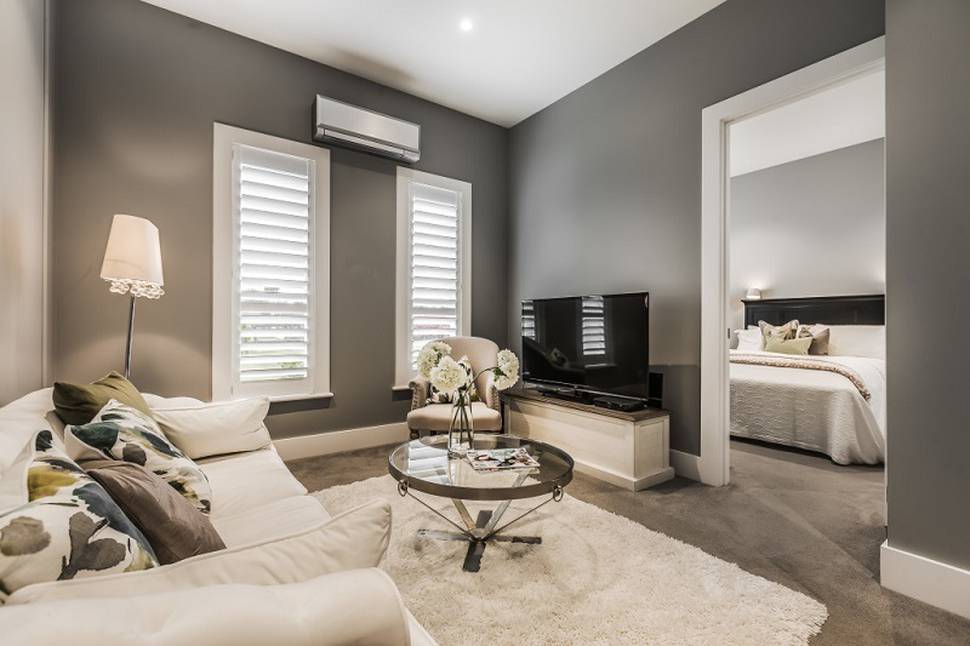 The cottage, a converted barn, has two floors, with the living area and kitchenette on the ground floor and upstairs has a rumpus room where his daughters' friends used to come for sleep-overs.
"There's tons of room. We used to have a pool table there."
Neville has kept the grounds and gardens "subtle" so as not to detract from the house and says there is great outdoor living with a covered area which means you can still be outdoors with the gas fire even if the weather turns.
The family has had some great gatherings outside, including children's birthdays and Easter egg hunts.
Also important for Neville was the peace and quiet of the countryside and the sense of safety and space there is — you know exactly how many houses there are and how many cars are coming, he says.
"The kids can enjoy their bikes. It's very safe. This is such a beautiful road where everyone knows everyone.
It's a great property for animals, too. "Of the 12-and-a-half acres there are five paddocks with water and fencing all the way down."
"Karaka is a horse town. We have a lot of olive trees and feijoa trees on the property."

However, it's time to downsize.
His parents have moved to Christchurch and his oldest daughter will soon leave for university.
49 WHATAPAKA RD, KARAKA
• 4+1 bedrooms, 2+1 bathroom, 2 parking spaces.
• Land 4.8ha, floor area 370sq m for main house, plus 200sq m for self-contained barn.
• Inspect: Today 3.30-4.30pm, or by appointment.
• Auction: Nov 3.
• Schools: Te Hihi School, ACG Strathallan, Rosehill College.
• Contact: Lynn Lockhart, 0275 354 024, Harcourts, harcourts.co.nz/KAK180903