Mark and Melissa McLean bought their big Vine St property in Auckland's St Marys Bay sight unseen off the internet. Even though they never visited it, they knew it would make the ideal family home for the future.
Melissa is Australian, Mark a Kiwi. While living in Melbourne, they often sampled the vibrant Ponsonby social scene when they returned for holidays to catch up with Mark's New Zealand family and friends.
So when Mark's work called them back to Auckland 11 years ago, they knew this was where they wanted to live.
FOR MORE PROPERTY NEWS AND LISTINGS GO TO ONEROOF.CO.NZ
"We loved the area," says Melissa.
"At that stage, we didn't have children. It was all about the cafes, restaurants and bars, and being able to walk everywhere.
"We saw it on the net and couldn't get back to see the property. So, our friends checked it out and told us it was great."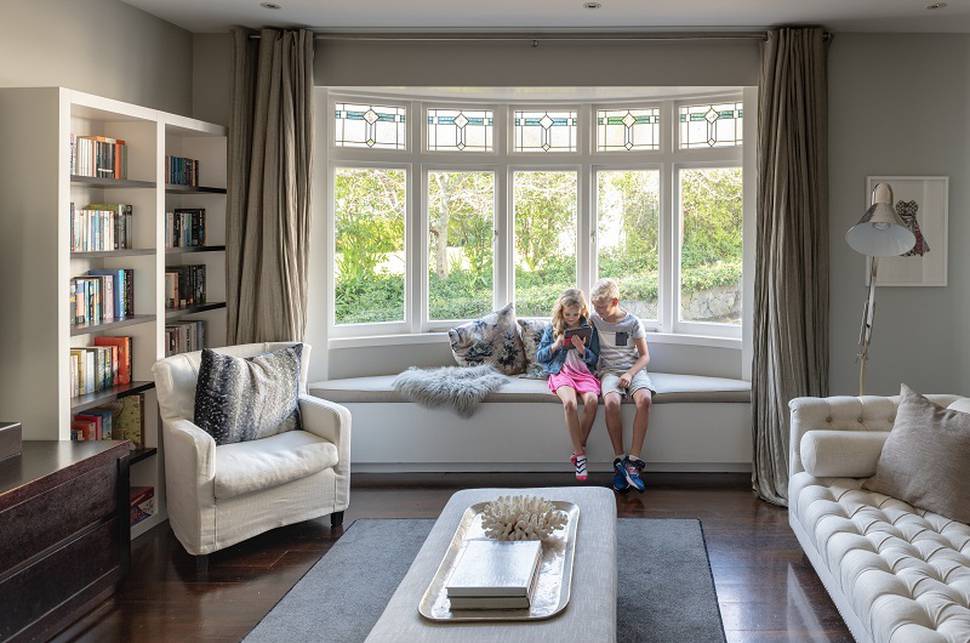 Set on three levels with extra space above triple car garaging, the home boasted elegant traditional character and expansive living possibilities.
"As one of the biggest sections left in St Marys Bay at the end of a quiet, no-exit street, the harbour views are amazing," adds Melissa.
Around six months after they moved in, they gained consent to transform the home that had grown from a single level bungalow.
The plan was to make it more cohesive and better suited to the lifestyle they envisaged.
Moving into the cottage above the garage, they were definitely thinking big, anticipating a large brood, lots of indoor outdoor entertaining as well as hosting family who lived elsewhere.
Says Mark: "The renovations were substantial and builders worked full-time for over a year to complete them. Yet the layout and structure remained basically the same."
Everything was upgraded to make it super-comfortable.
Accommodating a guest bedroom suite, office, separate lounge and bathroom, the lower level was previously "damp and smelly". Mark and Melissa had it waterproofed so all the rooms are warm and dry with ramps in the bathroom creating easy access for Melissa's disabled sister when she comes to stay.
The lower lounge extends outdoors to a patio and a vast lawn where the two children, Tom and Erin, love to play in a treehouse and sandpit.
Dedicated to entertaining, the entry level above features a huge light-filled area flowing from the wide entry and stairwell to a large kitchen (with laundry/scullery) and dining space.
It expands into the lounge, "great for entertaining", says Mark. It reaches north across the view and opens through bifolds to an elevated deck, now strengthened and widened with outdoor heating in the ceiling.
To enhance the kitchen, they installed a massive U-shaped stone bench. Not a simple task, it turned out. "The hefty weight of the stone necessitated major reinforcing from underneath," says Mark.
Upstairs, they added a partition wall to the enormous master suite, creating yet another bedroom "which could easily be removed if new owners want to reinstate the larger room", says Mark. The main suite is still generous with a fitted dressing room the size of the average bedroom.
There are plenty of options for guests in this home, including a huge, renovated suite above the garaging that overlooks a pool, which was retiled and switched to salt water.
The garden transformation by Humphreys Landscaping was dramatic. Lighting was added along the reconstructed driveway, for a stately feeling as you head towards the house.
The property has been turned into a city retreat for both parents and children. The McLeans even negotiated an easement through Westwood Tce, so the children can walk to Ponsonby Primary via Shelly Beach Rd in just minutes.
But with other plans in the wings, they've decided the property is now too large.
30 VINE ST ST MARYS BAY
• 5 bedrooms, 4 bathrooms, 3 parking spaces.
• Land 1489sq m, house 417sq m.
• Sale price: CV $6,100,000.
• Inspect: Phone for times.
• Tender: Closes Aug 16, 4pm unless sold prior by private treaty.
• Schools: Ponsonby Primary, Ponsonby Intermediate, St Marys College, Western Springs College, Auckland Girls'.
• Contact: Pene Milne, Sotheby's, 021919940, oneroof.co.nz