Buying a property to complement a second-hand business they owned led to Mike and Kay Lowry owning a big house, big garaging and a whopping section size rarely seen in central Pukekohe.
Mike says: "We're on 2041sq m. It's rare to find a property with this much land around here now as they've mostly been developed."
These days McNally Rd is typically residential but when the Lowrys bought here 30 years ago properties had acre (4046sq m) sections.
Mike says: "We were running a big second-hand shop in Tuakau back then and we wanted a home which had enough space to park our trucks each night."
FOR MORE PROPERTY NEWS AND LISTINGS GO TO ONEROOF.CO.NZ
The couple later subdivided the back half of their land but retained more than 2000sq m for their family, unlike most neighbouring properties which developed more intensively.
Kay says: "With this amount of land featuring some native bush, it feels like a little oasis in the middle of town now."
When the couple — now semi-retired after investing in properties early — bought, there was a small circa 1965 house here. They extended either end creating a 404sq m family homewhere they raised their two now adult sons.
Mike says: "It's a functional, practical family home which is great for entertaining."
Kay says: "Because it's got the swimming pool, the spa and the theatrette, our boys had all their friends round as they were growing up."
The property is 10-minute stroll or two-minute drive from Pukekohe's main shops. The bus to ACG Strathallan, where the Lowry boys went, leaves from around the corner.
Yet it has a private setting, attracting tui and wood pigeon thanks to trees along the driveway.
Kay says: "It's very quiet and we like that no one knows from the street if you're home."
This two-storey brick, cedar and block home has king-sized garaging. They created an internal-access double garage below. A side driveway accesses a separate rear triple garage-double carport-workshop with extensive off-street parking out front.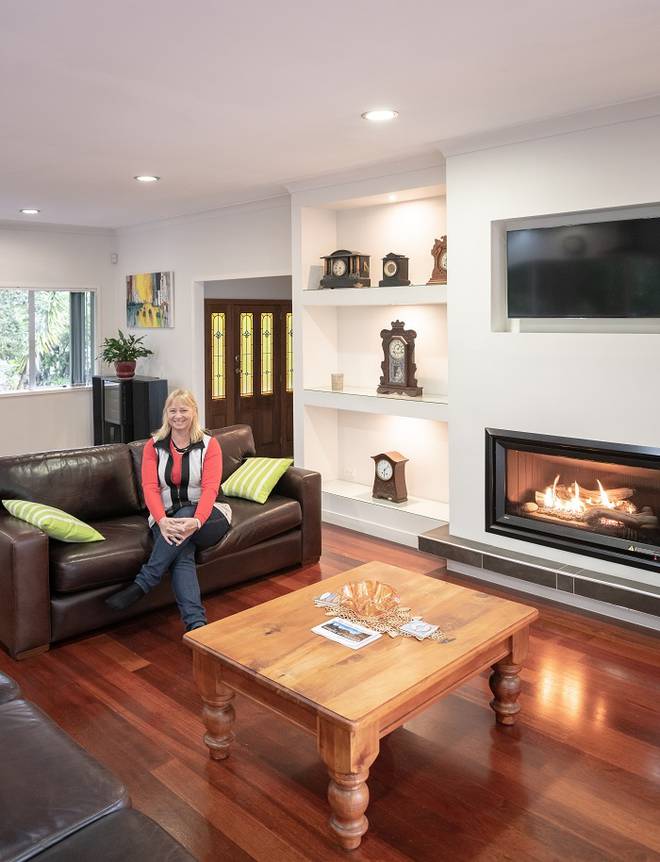 This served their former business plus Mike's beloved hotrod, a 55 F100 truck.
The home's main living is upstairs in a big open plan living-dining-kitchen with 25mm thick kwila flooring and Rinnai gas fire. It opens to decks which run right along the north-facing rear.
Kay says of the smart renovated kitchen with double oven and two sinks: "It's so good for cooking and entertaining, we've replicated this kitchen in our new house."
A neighbouring media room-theatrette is opposite a study, prefacing the bedroom wing.
This culminates in a spacious master suite opening to the deck boasting a big dressing room, toilet and double shower bathroom.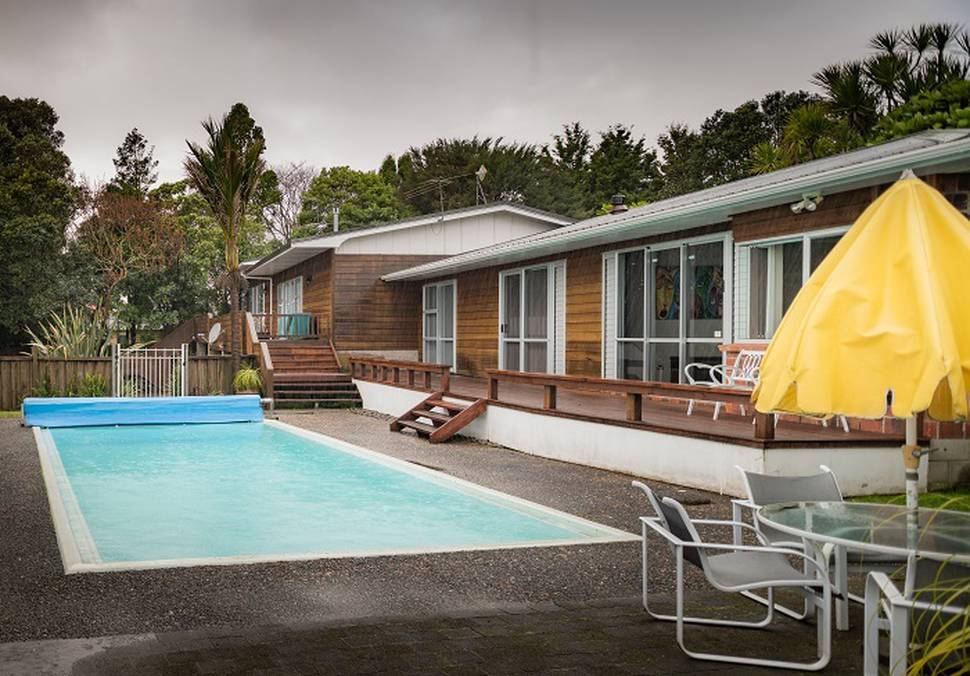 Mike explains they soundproofed the master with hush glass, double gib and extra wall insulation so they could sleep peacefully if their sons were watching movies in the media room or listening to the stereo.
A family bathroom and toilet accompany three more double bedrooms with double wardrobes. Two of these bedrooms open to the deck.
Downstairs, there's a bathroom and laundry off the big games room which houses their pool table and incorporates a kitchenette. This made a good teen retreat and might suit transformation into a guest wing or granny flat.
The deck steps down to the fenced swimming pool and a bure containing a spa.
The couple know future owners may explore the potential to subdivide further. But with this house larger than they need now their sons have left, they've built new on their Patumahoe farm.
9 MCNALLY RD PUKEKOHE
• 4 bedrooms, 3 bathrooms, 7 parking spaces.
• Land 2041sq m, house 404sqm.
• Inspect: Sat/Sun 2-2.30pm.
• Schools: Pukekohe Hill School, Pukekohe Intermediate School, Pukekohe High School.
• Contact: William Tyndall, Barfoot & Thompson, 027 295 6356, barfoot.co.nz/758270