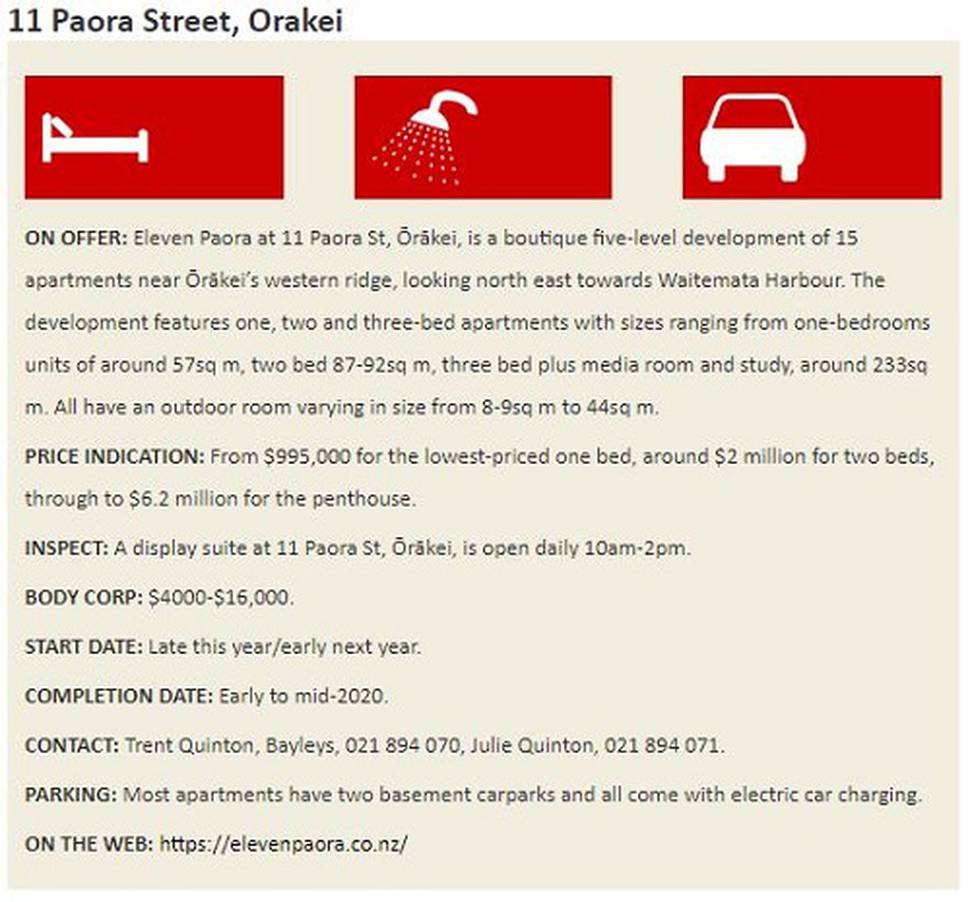 If you want great harbour views but not the hustle of the CBD, architect and developer Greg Boyden may have the answer. He is behind a boutique development in Ōrākei due for completion in 2020.
Once the "fantastic" site on the corner of Paora St and Tautari St was secured, Boyden and Peddle Thorp architects set about working out the right type of apartment for the location.
"What we identified was it needed to be something quite boutique, something special, because the site is probably one of the better ones if you don't want to be in the CBD.
"It has a quiet sort of neighbourhood, great views and it's very near Tāmaki Drive so it's part of the new breed of apartment buildings that are in a more suburban setting."
The development also needed to be high-quality to fit for what is a "great little neighbourhood".
"You've got the local shops there which have a couple of cafes, a bar, a green grocer, a hairdresser, all of those things you need from a convenience point of view, and you've got the sunny aspect and the outlook and the proximity to the city."
The area will become only more sought-after as people realise how convenient it is, says Boyden, who has an urban development company called BUD Living.
One thing he particularly wanted was planter boxes to soften the exterior of the building.
He did this with a previous development in Ponsonby and says they gave the building a more approachable feel.
Eleven Paora will have similar boxes, which he describes as a bit like window boxes around the edge of "outdoor rooms".
"I think one of the features of the building is what we're calling outdoor rooms, so these are rooms that are like a balcony but they have these floor-to-ceiling glass screens that can be slid into position if the wind's blowing or it's a cold winter's day — so you get this room that can be used all year round.
"That's also fitted with a radiant heater, so if it is one of those autumn or spring days that is a bit chilly, you can turn the heater on and raise the temperature."
It's important people like the aesthetics of their building, so this one will feature quality materials such as architectural terracotta, which doesn't need to be painted or resurfaced.
"The combination of the reinforced concrete planters with the architectural terracotta and the anodised aluminium fins gives the building a kind of richness and a sense of quality."
"We've worked pretty hard and we're pleased with the way it's come up. A fairly soft use of colours will also fit into the materials that are used in that Ōrākei neighbourhood."
The interiors are also about quality, Boyden says.
"We've got 240mm-wide french oak floorboards right through the kitchen, dining, living areas and we've got timber decking."
The kitchen features granite bench tops — no corners were cut, he says.
All the apartments are spacious and most will have sea views with the higher levels getting fabulous views of Rangitoto, Devonport and Coromandel.
"I think the key aspect of this building is it's a boutique building," says Boyden. "It's got only 15 apartments so you've got a boutique feel and you probably know most of your fellow apartment owners, which makes life easier when it comes to things like body corporates."
The location is the other fantastic aspect with the shops next door and Tāmaki Drive and the waterfront only a stroll away.
"It's a well-situated apartment. I think it's going to be hard to find a better site than this. You're almost in the dress circle of looking over the Waitematā Harbour. There are not too many better locations."
Also nearby is a supermarket, the Parnell Baths and the train station is walkable.
Boyden envisages retired downsizers will be interested in the larger apartments and professionals or singles in the still spacious smaller apartments — and for anyone hesitating about getting into an apartment he advises them to make the move sooner rather than later.
A former managing director of architectural firm Jasmax, Boyden says he understands apartments. He lives in one he designed and developed in Newmarket. "I think my understanding of architecture and the building process delivers a higher attention to detail than you might get in some of the other apartments."