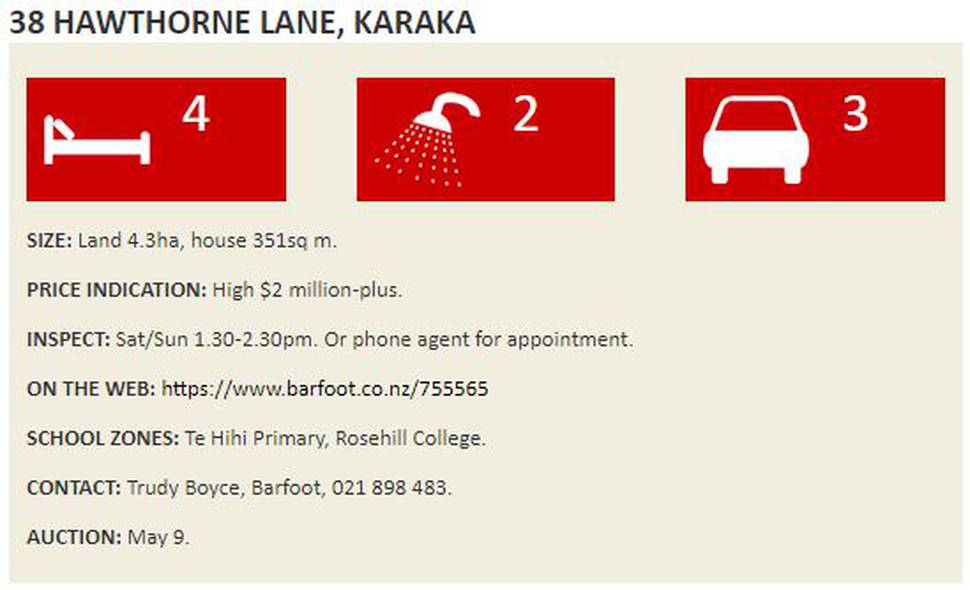 Leanne and Paul Richards' motto is that they never want to die wondering what's around the corner. It has applied to Paul's career as a jockey, now horse trainer, and it applies to their life on the home straight, too.
Four years ago, their finish line was 4ha of land in Mosgiel, near Dunedin, where they intended to build the modern, single-level home that was taking shape on their architect's drawing board.
In the middle of it all, the born-and-bred South Islanders decided to move north to better horse-related business opportunities at Byerley Park in Karaka, which also brought them closer to their two north-based adult children.
It didn't matter that they had unfinished house plans underway. "We got the architect to complete the plans to consent stage and told him that we'd be building the house in Auckland," says Leanne, who is a bank mortgage manager.
The design job completed, they rolled the plans into a cardboard tube and stacked them on the boxes of household contents for the 1400km trip north in June 2015.
Then they went hunting for grazing land for their horses and flat land for their home.
Regular Sunday drives ultimately led them to this enclave of lifestyle blocks and to this second-to-last undeveloped site.
"We thought 'This will do us'," says Leanne. Had it been built down south, their house would have looked out towards the hills of Middlemarch. Here the outlook is across rural pastures on which Paul grazes horses and fattens cattle. "It is the most beautiful view," says Leanne.
Inside, the house is almost as originally designed, with central living areas flanked by the two bedroom/bathroom wings.
The granite/timber veneer kitchen was altered slightly to create a discreet hallway with a bench for bar service and a shortcut through the laundry
from the garage for anyone carrying groceries into the scullery.
Within the main living area, the ducted fireplace and its concrete-tiled fascia is a significant focal point. "We are sporting and racing-watching people and this is our main hub," says Leanne.
"This is a house we designed for us, rather than for anyone else, and we wanted it to be not quite so open plan and more family orientated, with the dining area split off. When we have visitors they spill over into the separate sitting room. That's also where I love to sit and read the morning paper."
Their choice of exterior accent cladding alongside the plastered brick is slightly different, too. "If we'd built down south we'd probably have gone with more of the schist look that we'd had in our previous homes. Here we've gone with cedar and it has worked beautifully," says Leanne.
They are choices that reflect the warmer climate and the associated lifestyle changes which they've revelled in over the past 18 months. "We've got a heated pool that we've never actually needed to heat," she says.
Leanne and Paul are planning to shift to Matamata where their son Jamie is a horse trainer. Leanne is more sad about leaving "our beautiful neighbourhood" than their house, with its fuchsia-pink front door that matches their racing colours.
But they still have those floorplans and they'll likely adapt them for their next home, depending on what's around the corner.