Talk home renovations with Sally Hall and she'll talk about "colour, pattern, light, texture, ambiance, soul, and cosiness". She gives equal weight to each and together with husband Graeme puts them together to complete the picture of a warm and welcoming family home.
This is how they have approached each of the three previous homes they've owned together, whether it has needed their decorative touch or a more major overhaul.
"We've loved them all, and when we move in we've thrown everything at it and when we finish, we always say we're never going to leave," says Sally.
"Then we get settled and after a while we start getting that little itch and thinking it'd be nice to have some fun and do it all again."
In June 2014, they looked beyond the eastern suburbs to appease their restless creativity and found this late 1890s renovated villa in the city fringe.
By the time they took in the views from the veranda beyond Westhaven to Rangitoto Island and the city skyline, they were committed.
By the time they'd taken in the single-level layout with its front and rear indoor and outdoor living and the water views down the hallway, they were each thinking "fabric, wallpaper, colour, antique and modern."
Theirs is a truly collaborative project. "We love pattern and we choose wallpapers and fabric together," says Sally. She credits Graeme's impatience and organisational skills for their fearless, non-stop transformations.
"He's just like that," she says. "We love it. We're never doing it for other people. We're doing it for us. Some people say you have to live in a place first, but we can visualise it all and we just go for it."
When Sally, Graeme and two of their blended family of five children moved in here after a five-month settlement, they had the major decisions ticked off. New wool/sisal carpet, a bespoke hall mat, fabrics, wallpaper and lights were ordered.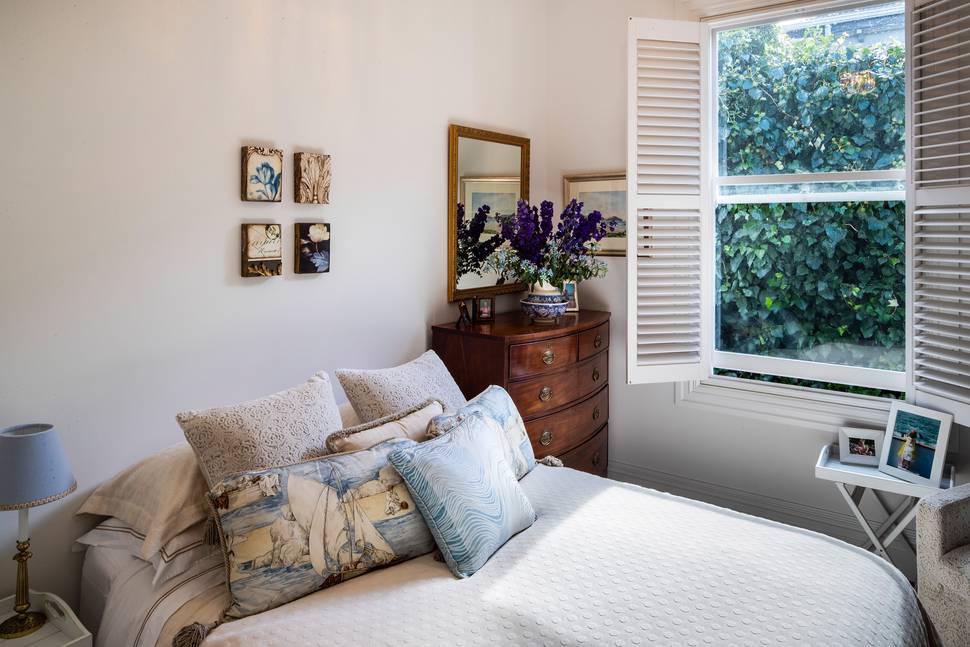 Kitchen cabinetry alterations, the new black and gold granite bench, built-in lounge furniture and the adjacent hand-carved stone fire surround were all underway off-site.
Three months after that, the all-white interior, brown carpet, concrete courtyard, wooden steps and rear white fence had gone.
In its place was a European-style transformation that touched every surface, from the new travertine front steps, to the landscaped 17m Italian-style pool and gardens and every room inside.
"Tradesmen were piling in on top of each other," says Sally. "Don't think for one minute it was easy living here through it all because it wasn't. But the more the hurt, the nicer it is when it is done."
The front sitting room has the soft green link to the veranda and deck through bi-fold doors. The master bedroom has a velvet pattern to its neutral wallpaper that complements the tiled en suite.
Wallpaper for the lounge, dining and kitchen (with adjacent scullery/laundry), with its tree trunks and golden pears, plays up the high villa stud. Around the fireplace, their choice was silver/brown speckled cork-themed wallpaper.
For the next owners, this visionary home comes with all the lights, except the two in the sitting room and the hallway. Graeme and Sally are taking these newly-minted family heirlooms with them to their next project, in Ponsonby.
"We've left beautiful lights in every other house we've done and that's what we want to do here," says Sally.