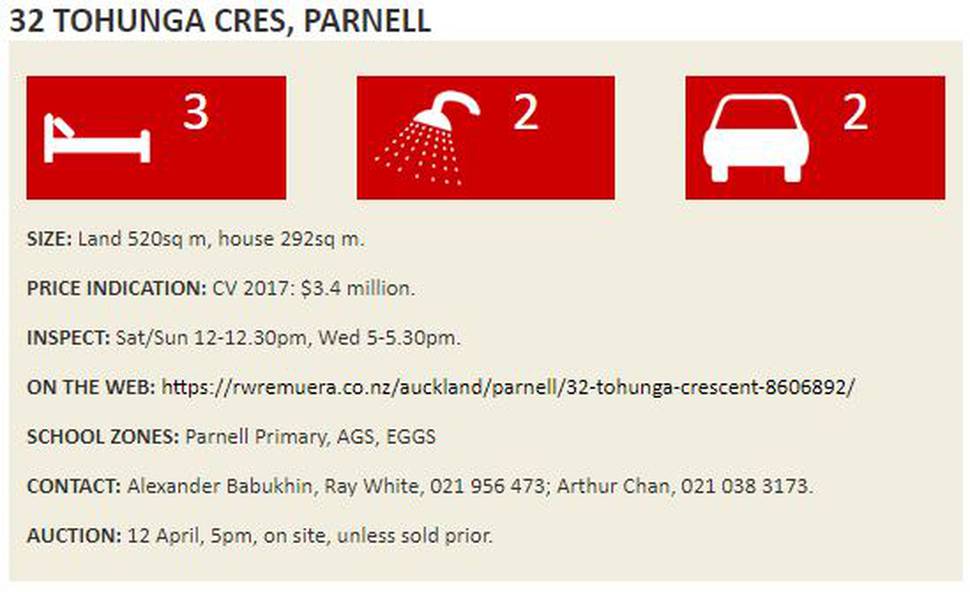 Fresh from a terrace house in Sydney's Paddington, where they'd lived for a number of years, Carlyn and Stephen Mockett were finding property shopping in Auckland stressful in the middle of a particularly cold, wet winter, nine years ago.
"It was a ghastly day, weather-wise, when I arrived at this newly completed house," says Carlyn. "But as soon as I saw the bright interior and felt the warmth throughout it, I knew that I was home."
The smart concrete block and cedar property, with under-floor heating and double glazing, designed by Leuschke Architects, is set over four levels on a steep, narrow section, which is around 520sq m but feels significantly larger, partly due to the lush, semi-sub-tropical garden Carlyn has created and nurtured.
A smart and unassuming street-front facade opens, via a handsome front door, into the hallway, beside the double garage with its internal access.
The first set of stairs takes you up to the main floor. Here lies the kitchen, replaced two years ago with a shiny new model. There's a huge expanse of stone benchtop, cupboards galore, and a handy scullery-come-laundry beside it.
The central island is a magnet to family members, including the couple's daughters, Elise, 20 and Alana, 17, with an open, sunny, slightly more formal dining space adjacent.
This opens out to the enormous courtyard in which, says Carlyn , you can grow almost anything. It has a louvered roof, which can be used to regulate light and contend with inclement weather, and there's a cosy outdoor fireplace.
"We're so well-contained here, we rarely have to deal with wind. Only when it's a north-easterly," says Stephen.
The family room at the front, with gas fireplace and facing the street, has a peek of the sea through a huge pohutukawa and can be closed off from the rest of the floor with a sliding wall.
The Mocketts have used it variously as a media room, guest bedroom and party room.
"I've had about 10 or 12 friends staying in there," says Elise.
At the other end of this main level, beyond the dining space and to the rear of the property, is a comfortable formal lounge with another gas fireplace.
It has a concealed wine fridge, among other inbuilt storage. Behind this is a guest powder room and Stephen's office.
The third floor has essentially belonged to the two girls. Elise's room is especially bright and sunny, while Alana's is similarly so, and has its own courtyard outside. The pair share a spacious bathroom.
Carlyn and Stephen's suite is at the pinnacle of the property, on the fourth level. It's big, yet cosy, with a generous walk-in wardrobe for her, a spacious cupboard for him, and a shared his and hers bathroom, with bath.
"We're nearly self-contained up here," says Carlyn. "We have a coffee maker and we can read the Herald on our phones in the morning, so it's the height of luxury!"
With just 250 steps down to Hobson Bay, this quiet, green, no-exit street has been perfect for Stephen, a keen paddle-boarder. Though the location feels private and secluded it's not far from shops, cafes and other amenities at Parnell and Newmarket. Plus, it's in the double grammar school zone.
"Elise is at university and Alana starts next year, so it feels like a crossroads has come for us and we think we'd like to try something just a little smaller," says Carlyn.
Just where that will be hasn't been decided, but she and Stephen say that it will definitely be close to the sea.