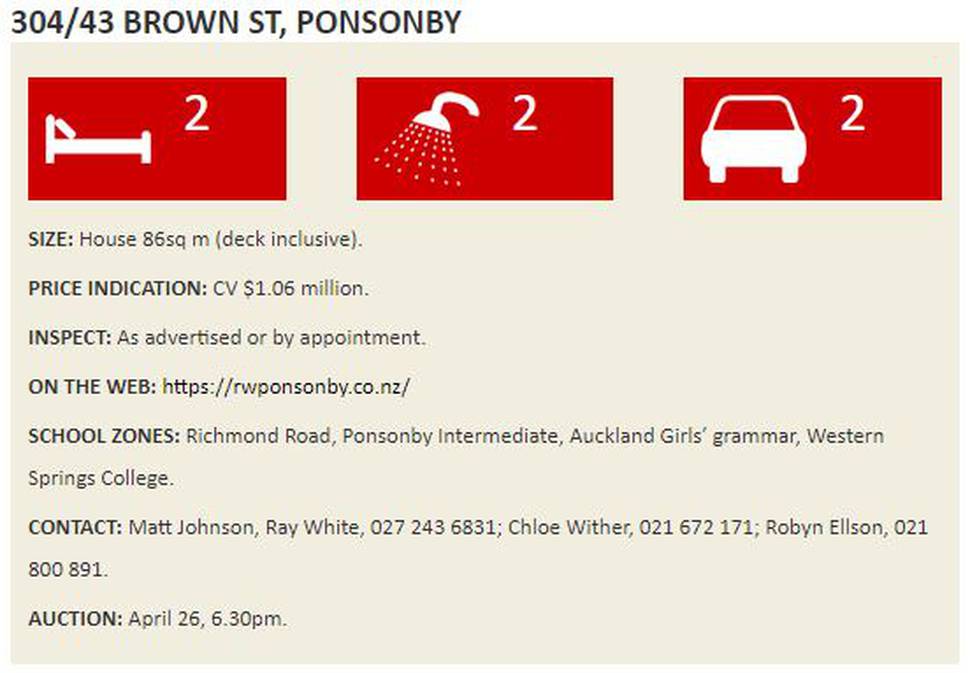 Having experienced the benefits of the apartment lifestyle in big cities in North America, Australia, Africa and Europe, Kirsten Muxlow and husband Pete McCaffrey were keen to downsize to a similar home in Ponsonby when their two children were old enough to leave.
Kirsten, who works at FHE art gallery in Ponsonby Rd, wanted to walk to work. And, as a camera operator on feature films, Pete often spends months away.
So he was also looking forward to a lock-up-and-leave lifestyle where he could ditch the car and walk everywhere.
"In somewhere like Surry Hills in Sydney," says Pete, "apartment living has existed for ages. But we're only just starting to have that lifestyle. We knew what we were looking for.
It's the lifestyle the rest of the world has had for decades."
Having been there before, they had specific requirements not just for the location of their new apartment but for the design.
It had to be on the top floor of a new build, specifically in a small pocket north of Richmond Rd, which, at the time, didn't have apartments.
"There's not a lot new that's gone into this area," says Pete. But in 2014, they found a penthouse apartment in a boutique complex of 14 just a block from Ponsonby Central.
Kirsten and Pete appreciated the sense of space, the clean lines, natural materials and exposed structure of this two-bedroom, two-bathroom home with its strong industrial aesthetic.
While it already had many great features, such as covered access from basement parking right to their door, buying off the plan meant they could tweak things to make it more efficient.
"For a compact apartment, it packs a lot of punch as far as living goes," says Pete. "Being on the top floor you get a huge sense of space with limitless sky. Light bounces off the building opposite and views from the balcony go on forever to the city skyline and the Waitakeres."
Little things like extra storage make a huge difference too, says Pete. Against the high stud of the living area, a large cavity space above the two normal height bathrooms was turned into storage for suitcases and the Christmas tree.
In the dark timber kitchen they added an extra deep row of pull-up, handle-free kitchen cabinets. And they extended the kitchen bench into a workspace with a narrow coat cupboard beside it to stash the Dyson vacuum cleaner.
Instead of the usual door to the second bedroom, three sliding doors make entry to it more inviting — to the point where it could double as a TV room or office with a pull-out sofa bed.
Structural beams high above the living and bedroom walls are used for books and small artworks.
Installing a gas bayonet on the balcony saves having to carry gas bottles back and forth, and an external tap makes it easy to water pot plants.
The smart thinking even applies to a custom-designed laundry cupboard that houses Miele whiteware.
When they moved from a bungalow in the burbs, Kirsten and Pete expected to lose the feeling of community. That's also something that surprised them.
"This kind of building attracts like-minded people so we all get on with each other," says Pete.
"We bump into people on the terrace outside our door, which becomes a sheltered suntrap in the afternoon.
"We sit out here and have a chin wag. Not a lot of apartments have that.
"Last Christmas we had drinks in everyone's apartments and carried our drinks through, finishing up here."
With its customised features, this well-located apartment has been absolutely brilliant, says Pete.
"We're only leaving to free things up for what might become our next move."