A built-in wine cellar might not be the top reason for buying a house but it helped clinch the deal for wine marketer Emily Camblin and her husband, lawyer James Doughty three years ago.
"We were expecting to find a villa, but this felt like a California treehouse from home," says Emily. "I don't think the wine room had ever been used for wine, but with the cooling system and being under-ground it was perfect. And James got his man/bike space so he was happy."
The couple who, between them, have lived in Dubai, California, Argentina and Scotland, were moving from Westmere to be closer to James' family. At that stage they had just one daughter Georgina, now 8, but they have since added daughter Rylie, 3, and son Mackenzie, 1.
For several months each year, they are joined by Emily's American parents and family. As well as being suitable for young and old, the house had to accommodate office for Emily and plenty of space for keen triathlete James' bikes and gear.
It is the demands of business and family that is prompting the sale of this property, as they've found a house with a self-contained annex for visitors and room for their businesses, including the upscale bike storage containers, Velohawk, they launched this summer.
The three-level house was designed by Schulze Poursoltan Architects, a German couple that designs healthy buildings to integrate energy efficiency and natural heating and cooling of the sun and breezes — a given for new builds today, but well ahead of its time for this early 1990s home.
But the building is beautiful as well as practical, with a palette of handmade bricks, crafted cedar joinery (including every door) and copper trims treatment.
The building circulates around a round brick tower, the steel and timber staircase lit from above by skylights. Entry to the house is at the mid-level, after guests have been enticed through a series of board walks and steps up and around to the grand front door.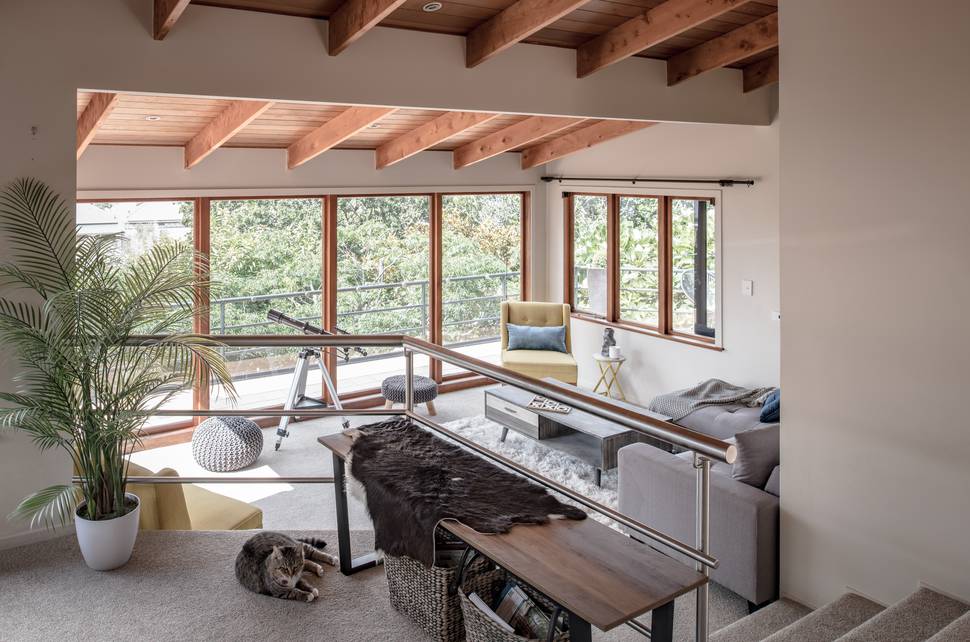 One of the home's original owners was a landscape architect, who mixed dramatic sub tropicals with native plants, framed by the neighbourhood's mature trees, so the garden is a delight to explore, no space wasted.
The house is tucked down a right of way, making it private, an unexpected green haven just around the corner from Devonport's King Edward Pde.
James and Emily did not have to do much to make the property child-friendly, installing a discreet sliding gate that closes off the paved parking court from the private right of way driveway to create a safe play space for the youngsters.
There's still plenty of room for the family boat, even a clothesline tucked away on its own brick patio.
All around the house are charming paths and sunny sitting areas, with enough lawn and garden for the children to clamber through. In one nook under a tree there's a spa pool for family soaks, while a play house made for the children by James' parents is on another sunny corner.
Inside, the original smart paint colours stayed, the carpet has been replaced only recently, but there was no other work needed for the busy young family.
The flow of the house has worked well. On the entry level are the three bedrooms and a family room (it could be a fifth bedroom) with easy access for the children to run in and out to the garden.
Each room has tree-top or garden views, the front two bedrooms and sitting room sharing a north facing balcony, the third having a charming juliet balcony. James and Emily added glass to the steel balustrades for safety that doesn't interrupt the views.
There's a family bathroom with a separate loo, and, like the rest of the house, a ton of well-organised storage.
Living is on the top floor, where the architects have used split levels to create interesting ceiling heights and separation of rooms without obstructing the stunning views through trees and Devonport rooftops to the harbour and the city.
"When we can, we love sitting out here watching the cruise ships, the ferries, everything happening on the harbour," says Emily. "James loves the bird life and kingfishers, tui all feed on the trees."
The granite-benched kitchen is tucked off to one side, making it an efficient work triangle, Emily says. She's fond of the Gaggenau oven and the generous gas burners, and one wall uses the curve of the stairwell behind to slip in extra storage.
The couple's master suite is also on this floor. Their en suite in the tower is flooded with light from the skylight, with a deep oval bathtub repeating the curves. It is the children's favourite bathroom to pile into.
And beside their master suite, Emily's office opens to the deck, so she can work keeping an eye on that harbour view.
Emily has fitted out the wine cellar with cooling and ventilation, and there's a table and chairs for tastings.
A workshop between each of the carpeted garages is home to James' sports gear and storage for his precious bikes. There's plenty of room for more practical storage and a good walk-in laundry here.
The couple have loved their modern treetop home, unexpected in a street of villas. It's an amazing home that has been crafted in one of Auckland's best locations.