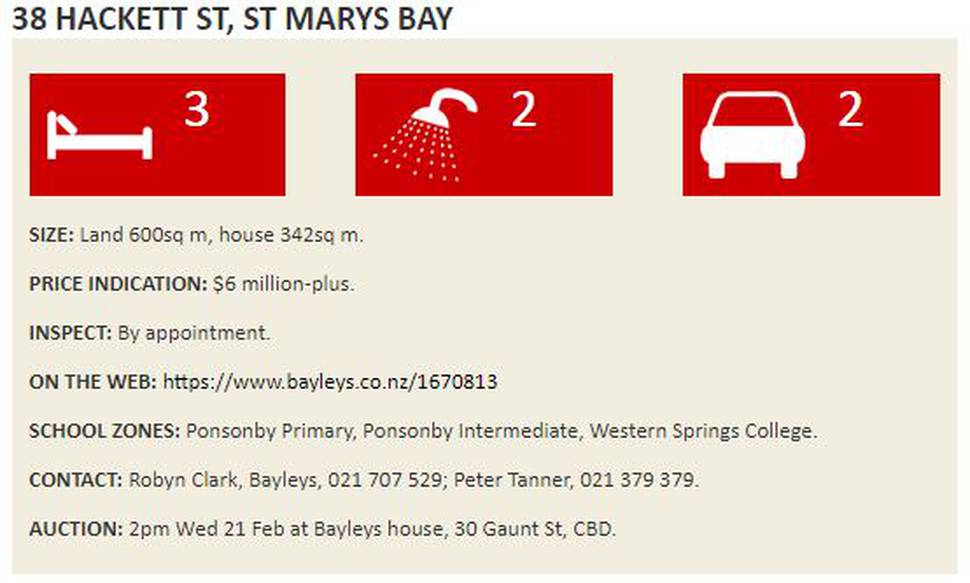 When Ian Webster and Jianni Felpas have a party, something they do frequently, and can't face washing up afterwards, they simply close their state-of-the-art kitchen away behind a huge, glossy, white sliding wall and deal with it in the morning.
This is just one of the remarkable design features the pair have incorporated into their cutting-edge, St Marys Bay dream home.
Their adventure started nearly 10 years ago, when — after months of searching — they found the ideal section on popular Hackett St, with a grandstand view of Auckland's harbour and the CBD skyline.
Planning the cedar and concrete block house took about a year and the pair carefully attended to every single tiny detail, along with architect Andrew Patterson and a team of builders. The build itself took about 18 months.
"Since we were doing it, we wanted to do it well," says Jianni, a busy physiotherapist with his own business, which includes a Pilates studio. He oversaw much of the interior design, and chose the furnishings.
Spread over three levels, the house features a stunning master suite on the main floor with a full-size bathroom, dressing room and a laundry cleverly tucked away. There's also an elegant powder room on this level, and huge doors open to the pool and deck that has a louvred roof, making it usable in all seasons.
"We made all the areas inside the house from combinations of concrete — in a variety of finishes — and tiles, so there's a certain likeness throughout," says Ian, who started the Verge fashion label and sold it a few years ago.
Downstairs is a home office with a wall bed, which saves space while making it a possible third bedroom.
The main spare bedroom has its own bathroom and laundry, and on the bottom level is the huge double garage, with loads of storage. It has an elevator which Ian and Jianni use as a dumb waiter — sending groceries up to the kitchen from their cars.
Both fit and active, they prefer using the stairs for general access throughout the house, but the lift offers a way of saving time and effort, they say.
With lots of automated features, including lighting and security, this is a true 21st-century property. The extensive fencing and tall hedges make it private, something that was important to the couple.
It goes without saying that Ian and Jianni enjoy spending time relaxing at home and soaking in the views.
"Plus, we love the fact that we can walk to town in just 15 minutes, and having all the shops and restaurants nearby at Ponsonby is a bonus," says Ian.
About a year ago the couple took stock of their lives and the fact that they now travel much more than they used to. Reluctantly, they decided it was time to downsize.
"That's not to say that this isn't a low-maintenance, lock-and-leave home that's ideal for travellers — because it is. But we have realised that we don't need this much space for the two of us," says Ian.
"It's been a great experience and an enjoyable home to live in, but it's someone else's turn now."