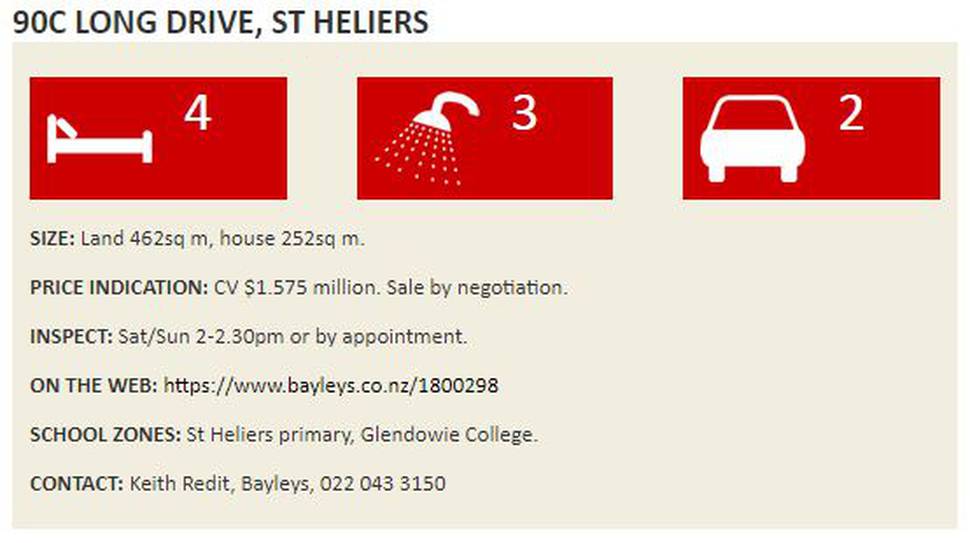 For Christine Wilkinson and Kevin Cantwell, this double-storey home has been the perfect middle ground for them and their extended family.
It's a step down from the five-bedroom home that they lived in for 20 years while raising their four sons. It's also a step up from the three-bedroom home that they subsequently downsized to when their children had left home and which proved to be a mistake.
When family came to stay, it was clear that the maths didn't stack up. "Everyone was tripping over everyone else and we'd be queuing for the bathroom. We downsized too early really," says Christine.
They decided to keep an eye out for something better. Smaller than five and larger than three turned out to be this four-bedroom home that has delivered the perfect equation.
The flared schist pillars that flank the curve of the entrance hint at the traditional elements throughout. Elsewhere, curves are in the atrium entry, the picture window in the lounge and in the curved roofline of the sheltered deck off the upstairs landing that is Christine's office. Lined with books on two sides, she calls it their library.
Downstairs, the combined spacious formal lounge and dining room open via cavity sliding doors from the kitchen/family room on one side and the entrance on the other.
Big picture windows are finished with roman blinds and lush drapes. The gas fireplace is the winter focal point; the full-length deck and traditional garden, fountain and grotto the
drawcard in warmer months.
The interconnected living areas get all-day sun and the family room is one of Christine's favourite places to relax in when she arrives home from her job as the PA to the head of Auckland Grammar. "The sun just pours in here in the afternoons. We get the sun here first thing in the morning and then it sets behind us."
Style-wise, the original owner's choice of golden granite benches in the kitchen and in the cream/white bathrooms has been easy to live with. "I'm not much into white," says Christine. "I like a bit more colour."
The golden tones feature in the timber floors in the entrance, the kitchen and family room and the downstairs powder room. That same timber is used as a border around the carpeted living areas and the guest bedroom downstairs adds to the sense of flow.
Christine and Kevin, who runs a computer hardware support company, are looking for a home with all of this warmth, but without the stairs. Sadly, Christine who was a former Wellington rep netballer, now has compromised mobility as the result of a severe illness.
There is a lot that she will miss here. "It's just the generosity of the home," she says.
"It is a giving home. Every corner gives and that has been great. I can't really fault it."