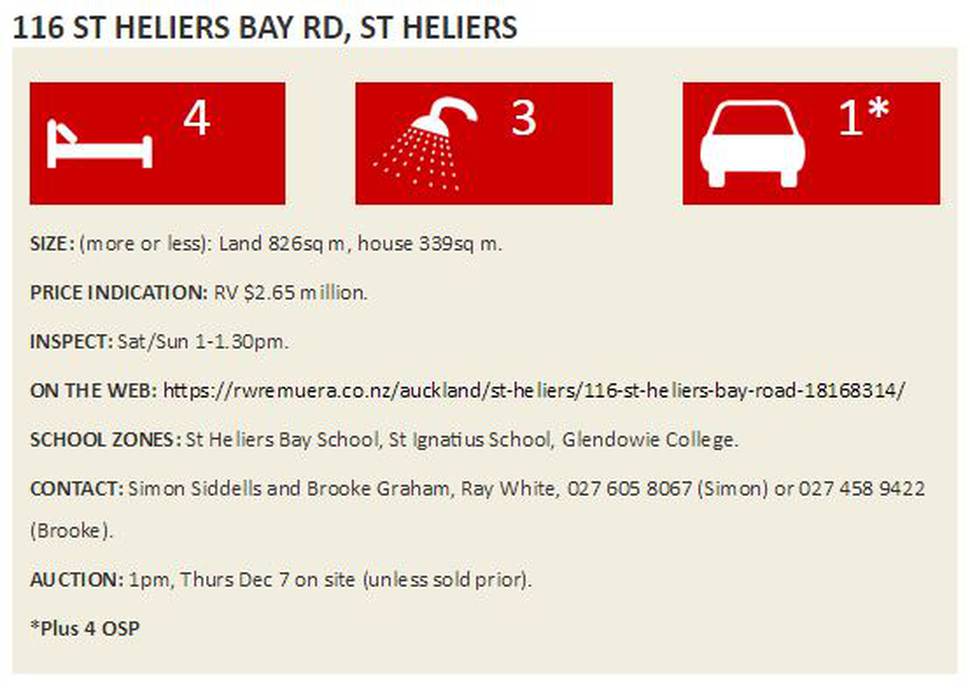 There are some houses that immediately tug at your heartstrings. That was the case for Kate and Anthony Healy when they first spotted the house they've lived in for the past nine years.
"We were house-hunting over a weekend, and it was the last place we saw," says Kate. "The minute we walked in the door it felt like a home, not just a house."
The couple, who are both from Australia but have been based in New Zealand on and off for many years, were also drawn to the area, having lived near the eastern beaches before.
"It's been great having the St Heliers shops and the beach at the end of the road," says Kate. "And it's easy to get into the city from here. We really like the location."
Tucked away behind a high wall, the gracious two-storey home dates back to about 1915-1920. The Healys could immediately see that it would make a great family home for them and their children, Patrick and Caroline, and appreciated the fact that it didn't need any structural work.
They have, however, upgraded and carried out repairs where necessary, such as replacing windows, and redecorated throughout, with the help of interior designer Hilary Skinner.
"Hilary has been excellent," says Kate. "She came up with some great ideas, like the feature wallpaper in the children's bedrooms. It has definitely been worth getting her on board."
They put in a new kitchen about seven years ago and new bathrooms a year later. A downstairs bedroom became a study with the addition of built-in shelving and desks, while more built-in shelving and cupboards helped to transform the lounge.
"We've got a lot of shelving and also drawers for school bags and shoes, which helps to keep things tidy."
Kate describes their style as "grown-up relaxed ... We're not fussy people, we like to keep things simple."
So they made changes that included swapping Roman blinds for stylish plantation shutters in some of the rooms. The shutters give a whole new look to the formal dining room, which opens out to the swimming pool. It adjoins the lounge, which is cosy in winter thanks to the gas fire.
There's an informal living and dining room at the rear of the house, alongside the kitchen, which has a large pantry and Bosch appliances. This part of the home opens up via bifold glass doors to a rear courtyard with an outdoor gas fire, which is a great spot for entertaining.
A separate outdoor room has been updated and over the years used as a playroom, art studio and gym. "If we had been staying we would have got it plumbed and turned it into an outdoor kitchen," says Kate.
Also outside is a compact garden area with raised vegetable bed and fruit trees.
The swimming pool at the front of the property is heated; Kate and Anthony replaced the original 1960s concrete pool with a fibreglass version.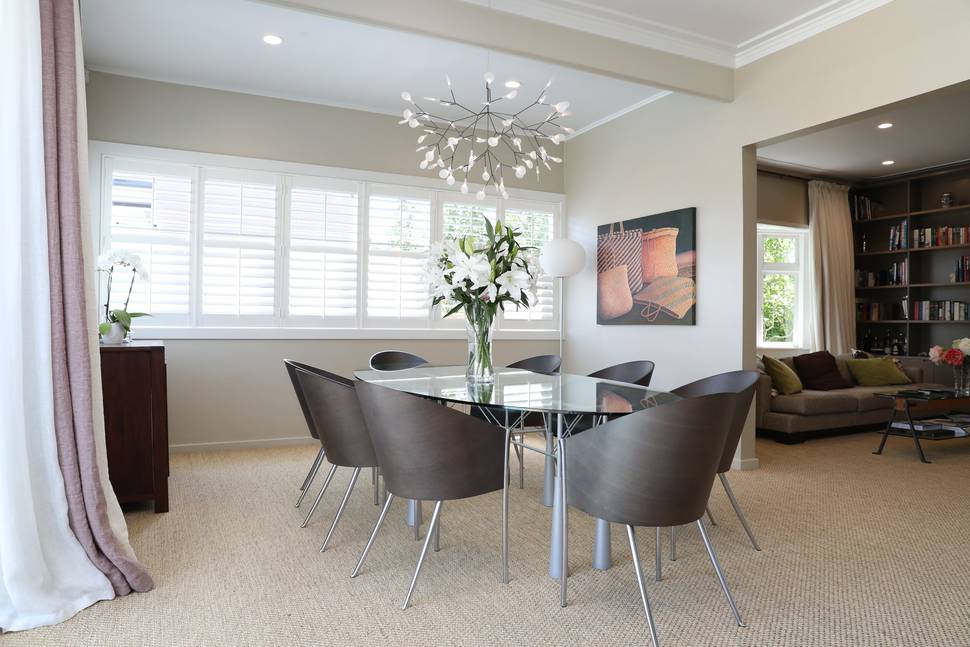 Next to the pool is an underground room that has been used for storage, but had they been staying, the Healys would have put in an air-conditioning unit to turn it into a large temperature-controlled wine cellar.
They already have a wine cellar in the house, using the "Harry Potter room" (the cupboard under the stairs) to store more than 400 bottles of wine. "It actually stays a good temperature in there," says Kate.
Upstairs is the family bathroom and four bedrooms, which all have good storage. The large master bedroom has a walk-in closet and built-in wardrobes, along with an en suite, views of Rangitoto and a nook with a window seat.
"It's a lovely place to sit and watch the world go by," says Kate.
Soon they'll be watching the world go by from the other side of the Ditch — they're moving to Melbourne for Anthony's work.
"We just wish we could take the house with us," says Kate. "It's such a great family home."