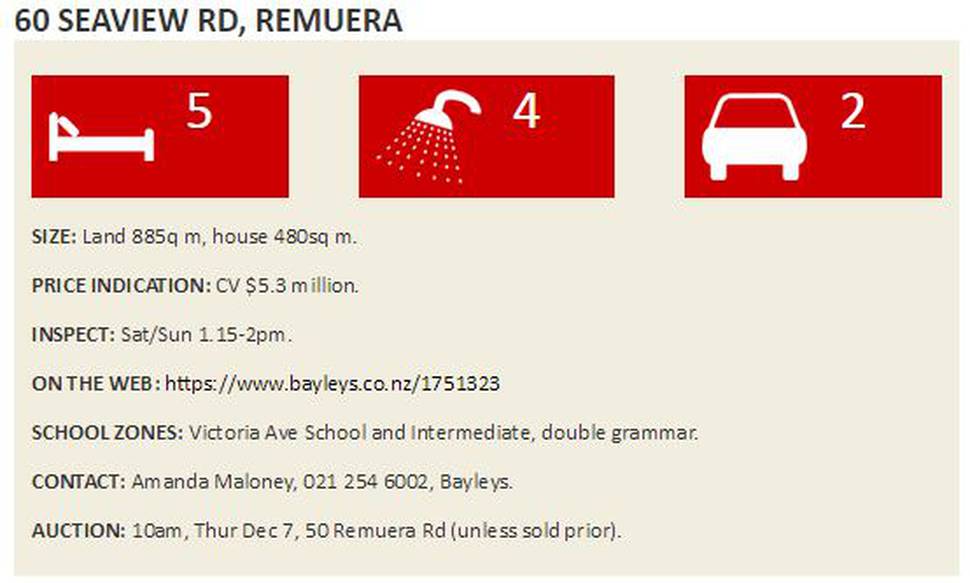 It was a case of third time lucky when it came to the Lodge family and this Remuera bungalow, which has been revamped and expanded into a large contemporary home.
Their busy family of five — seven if you count ageing shih-tzus Rocco and Bella — rented temporarily after someone door-knocked them, convincing them to sell their previous Arney Rd home.
Dean Lodge, who's long owned pubs, and wife Kellie wanted to buy again in Remuera for schooling for their sons, Maddex (9) and Aston (6) and eventually for daughter Mila (3).
An agent had suggested this property to Kellie, a mum who's studying naturopathy, but she discounted it when a drive-by gave her the mistaken impression it wasn't overly large.
Dean says: "When you come in you realise this place is huge."
Then they gauged the modernised circa-1930s bungalow's 480sq m size on the internet and decided to come through.
Kellie says: "We knew we wanted a great family home with good indoor-outdoor flow and a pool, which this had."
Still, some things didn't gel on first inspection. They couldn't see the formerly detailed classical gardens suiting their youngsters, thought some trees darkened the grounds plus felt some decor didn't fit their tastes.
They went away and, after some mulling, figured out changes they'd make to suit them better, buying here on their third approach in March last year. They cut back trees, opened up the front courtyard and garden-pool spaces and revamped decor that wasn't quite them.
Dean teases his wife, reminding her that she said it was their best home and had joked that if he ever thought of selling it she'd divorce him.
However, the sun-loving family usually holiday on the Gold Coast a couple of times a year. And so, during this year's long, drizzly winter, Kellie started seeing the appeal of selling here to buy another home, which would allow them to also buy a holiday home there.
Dean used Complete Construction, who he prefers for his pub fit-outs and construction, for revamping this home.
A new front fence includes a separate security gate for the home's sizeable self-contained lower level apartment. They opened up and paved the entry courtyard neighbouring the internal-access double garage.
Dean thinks the bungalow's big reinvention, retaining a couple of original features such as front lead lights, was done eight to 10 years ago.
The lofty double-height entry foyer accesses a formal lounge and there's an office (used as a supplementary kids' playroom) nearby.
Living opens up at the northwest-facing rear of the home, optimising its far-reaching green vista.
Kellie says: "It's so green and peaceful looking out there."
They've revamped the entertainer's kitchen, which boasts Miele appliances and scullery.
It's open-plan with dining, a homework area and the large family room opening up to big new decks where the kids play. There's a deck-side outdoor fireplace, too.
Decks overlook the large, heated infinity pool they've converted to salt water.
Kellie says the neighbouring decks and lawn which step down to another lawned level offer complete privacy.
Central heating complements the two main lounge's fireplaces.
This level's master with walk-through wardrobe to its en suite accompanies Mila's en suited bedroom plus a powder room.
Upstairs the boys have their two bedrooms, bathroom and own lounge, where they prefer computer games over its harbour view.
Kellie's used downstairs' smart self-contained studio with its own entrance and courtyard, living-kitchen, bathroom and bedroom as her treadmill room.
The chuted laundry room and their much-loved media room, outfitted for movies, boast abundant storage, as is typical throughout the home.