Adding outdoor entertaining spaces was an essential change the new owners of this Herne Bay workers' cottage made to their property, as they had missed having decent outdoor space when they were living in London.
Branding agency Unsworth Shepherd partner Richard Unsworth says: "We wanted all the things here we couldn't have in London."
English-born Richard and his wife Sarah Meakin, a human resources manager, grew weary after a decade living in a small London flat on a busy road an hour's commute from their jobs.
Sarah had experienced a gap year in New Zealand and their intention to take a trip here morphed into making Auckland home.
After renting in Freemans Bay and nearby in Kelmarna Ave they wanted to continue living centrally when they went house hunting in 2008.
Richard says: "We knew we loved this area but it's amazing, hardly anyone seems to know this street is here.
"Even taxi drivers use their sat-navs to find it.
"It's a brilliant location to walk to Bayfield School or to the Jervois Road shops within minutes. It's central but family-orientated. Steps at the end of our no-exit street go down to Cox's Bay Park where the kids go to the playground and learnt to ride and play football."
Number 14 kicks off a series of workers' cottages, charming with a front picket fence and bougainvillea along its fretwork. The couple fenced the property.
Richard's parents moved up the English property ladder through renovation. He saw potential with this property as he had watched his parents improve everything from barn conversions to Victorian chapel conversions.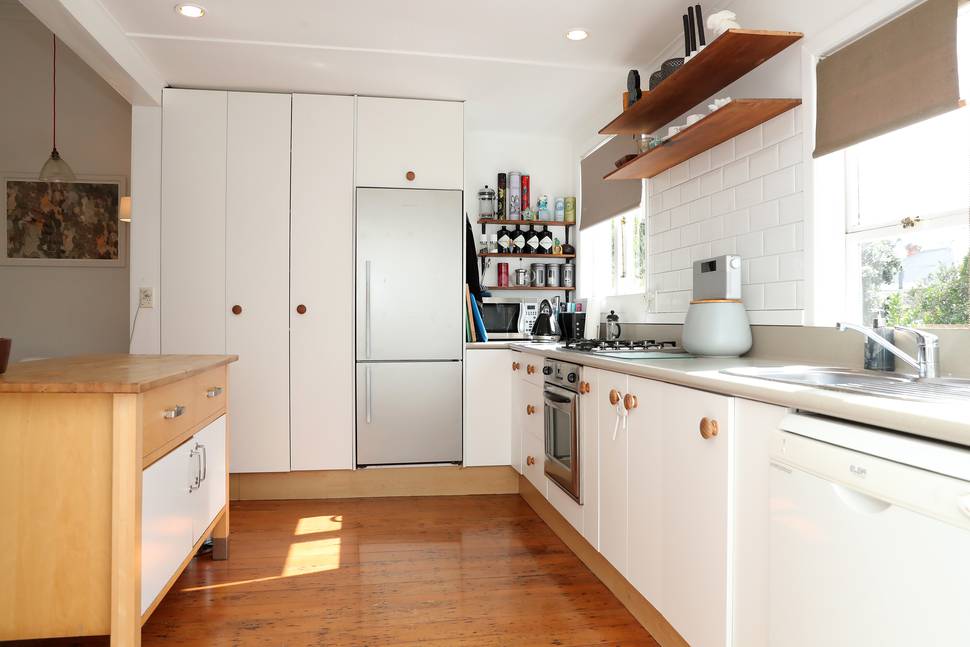 "Back then, there was a mishmash of styles with changes made in the 70s and 80s including lowered ceilings.
"Because the house is two-storey, sitting so far forward on its site, it felt like a good amount of land out the back. However, it was sloping and not very usable so sorting that out has been our major project."
In terms of renovating their house, Richard says: "We like to think we've captured some of the modern era, combining it with the home's heritage without detracting from it."
Children Ruby, aged 8, and Jake, 4, share a front bedroom opposite another with a flocked wallpaper feature wall. These rooms now boast good wardrobing and are serviced by the upstairs bathroom.
At the end of the hallway, the kauri-floored, insulated home opens into an open plan living-dining-kitchen with the high ceiling restored.
It harbours a New Zealand-made Studio woodburner, often favoured by architects and designers, plus a heat-pump for morning warmth.
"When you're sitting in this lounge looking out at the cabbage trees out the back, it feels like you're in the tree-tops," he says.
Two sets of french doors open to a covered upper deck from where you start to understand what unfolds at the rear of the property.
Looking down you can see the 70sq m of deck Richard designed, a combination outdoor entertaining and play area with a pergola and shade-sail.
Gated steps lead down past retaining to another level of grounds with level lawn and vege patches, where Richard can envisage a studio.
He says: "People see this place from the street and don't expect all this out the back."
The downstairs master bedroom opening to the lower deck has also been used as Richard's office and a second living area.
Its separation makes it good guest accommodation. This level's renovated bathroom and cupboard laundry is accompanied by storage including a storage room and an enclosed outdoor storage area which is the equivalent of Richard's man cave.
The family treasure memories of their children's first years in this home but are moving to a Mt Albert townhouse being built for them.