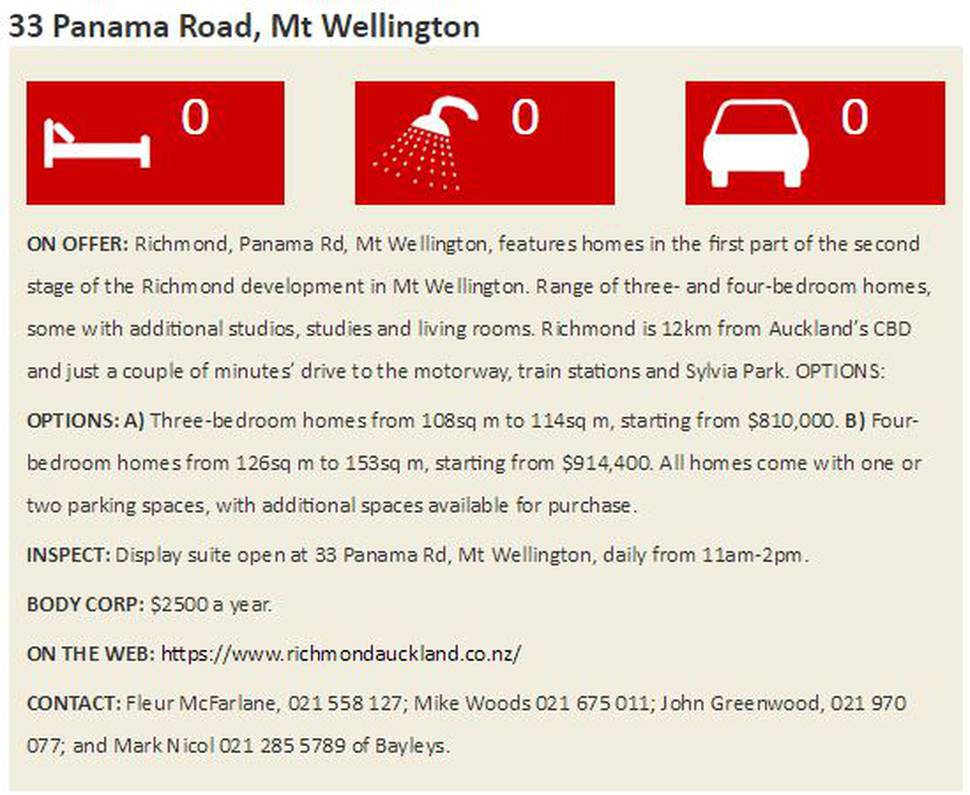 Pocket parks are becoming popular in many of the new developments springing up around the city, with developers realising extra outdoor space is a big plus for buyers of medium and high-density homes.
The team behind a new Mt Wellington neighbourhood that will eventually comprise 600 to 700 homes has already included compact green spaces in the first stage of its development. Now it has upped the ante when it comes to the second stage by including a park that's much more than pocket-sized.
The green space to be included in the first area of stage two at Richmond in Panama Rd is the same size as half of the pitch at Eden Park. Developer The Wilshire Group hopes it will provide a popular gathering point for residents.
"One of things we're very keen to do is encourage a strong sense of community," says Richmond's sales manager Christie Wrightson.
Although the terraced homes in this second stage will all have their own outdoor space in the form of a courtyard, the park will be somewhere children can play and kick a ball around. Parents can get together around a large concrete table and watch them having fun while they enjoy a natter.
"Hopefully it will be sociable," says Christie.
As well as providing green space, Wilshire has a clever plan to keep traffic flow in the area to a minimum. Thanks to the sloping topography, the homes have been designed so car spaces are underneath the houses, and accessed by several entrance ways. That means there will be fewer cars on the roads in this part of Richmond.
He says this frees up the area mainly for pedestrians "which is a slightly different approach," says Christie. "Because most of the cars coming in are pushed underneath the buildings, that opens up a lot of space."
This makes the area safer for children, and quieter. But because there will be times when the area needs to be accessed by vehicles that don't belong to residents - for example, Uber and delivery drivers or visitors - there are also be parking bays for those cars.
There are 38 houses available to buy in stage two, including seven that, because of the slope of the land, have additional space on the lower ground level for a bedroom/studio. These have another four bedrooms, and three bathrooms.
Other four-bedroom homes have a slightly different layout. Some come with one bedroom, with its own courtyard, on the lower ground floor, two bedrooms on the first floor, and a top floor housing the master bedroom, en suite and a study.
There are also three-bedroom homes available, along with three-bedroom-plus-study homes, and some with three bedrooms plus a second living area on the top floor alongside the master bedroom.
All the Richmond houses feature contemporary design and high-quality materials, particularly in the bathrooms and kitchens.
Purchasers can choose from a range of four colour palettes.
They can also rest assured that the homes are being built with sustainability in mind, and will have double glazing, full insulation, water-conserving taps and passive solar design.
The first stage has proved popular with families, and the fact Panama Rd is so close to Sylvia Park retail centre and train station, the Southern Motorway and Mt Richmond Domain has been a drawcard for buyers who got in fast and bought houses in stage one.
Wilshire is expecting similar interest in stage two, says Christie.
"People are realising all the area has to offer."
Stage two of Richmond is due for completion by summer 2019.