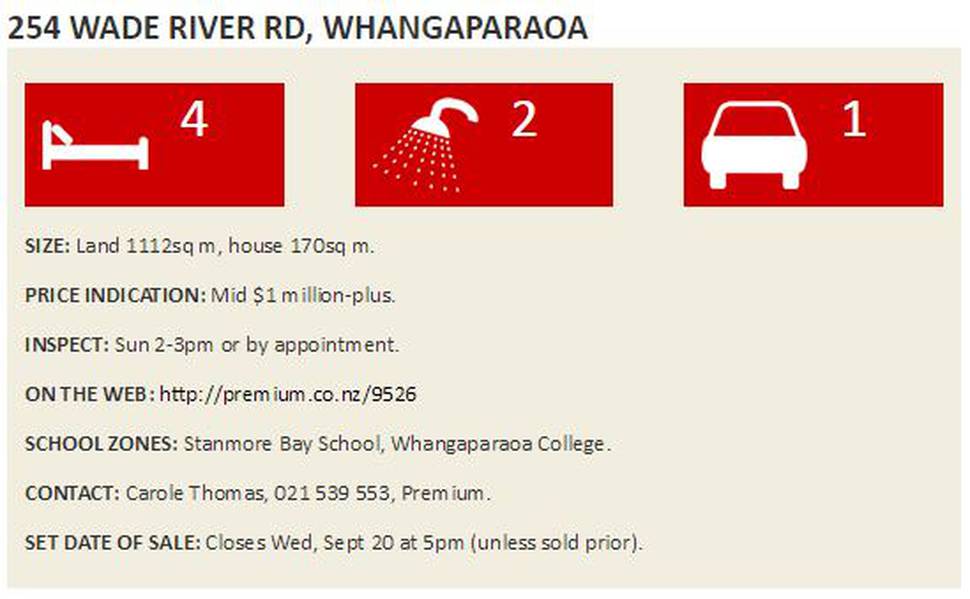 Henry Epskamp says the waterfront home he shares with partner Alison Drum is "like a bach on steroids".
"By which I mean it's got an incredible sense of connection to the water with that bachy sense of tranquillity but with more luxury thrown in."
Their three-level cedar home swathed in decks sits eyeballing the water to the west of Arkles Bay on the Whangaparaoa Peninsula, near where the Weiti River flows into the Hauraki Gulf.
Henry says: "It's incredibly peaceful here but also ever-changing. There's always something to see in 'our back yard'."
'Our back yard' refers to the glistening water they gaze on to from every room. Standing on any of their decks they can watch painterly sunsets, passing boats, swooping birdlife and marine life, such as big fish and stingray, swimming past.
"The channel's just out there so our neighbour's got a rod holder on his deck."
Henry understands the seaside home was designed by an architect and once owned by an artist.
The house and its single garage sit on a 1112sq m section, largely bush-covered so initially tricky to traverse.
Henry reckons picking up a spade to investigate making walkways was his Forrest Gump moment, but instead of running for years he formed extensive landscaped pathways - with Alison's help.
These access two of their other creations: a Hawaiian-inspired bush-set tiki bar and a separate water's-edge deck, complete with outdoor shower and power.
Henry says: "On a Friday night we'll often take a bottle of wine and Bluetooth speaker to the tiki bar to talk and watch boats go past."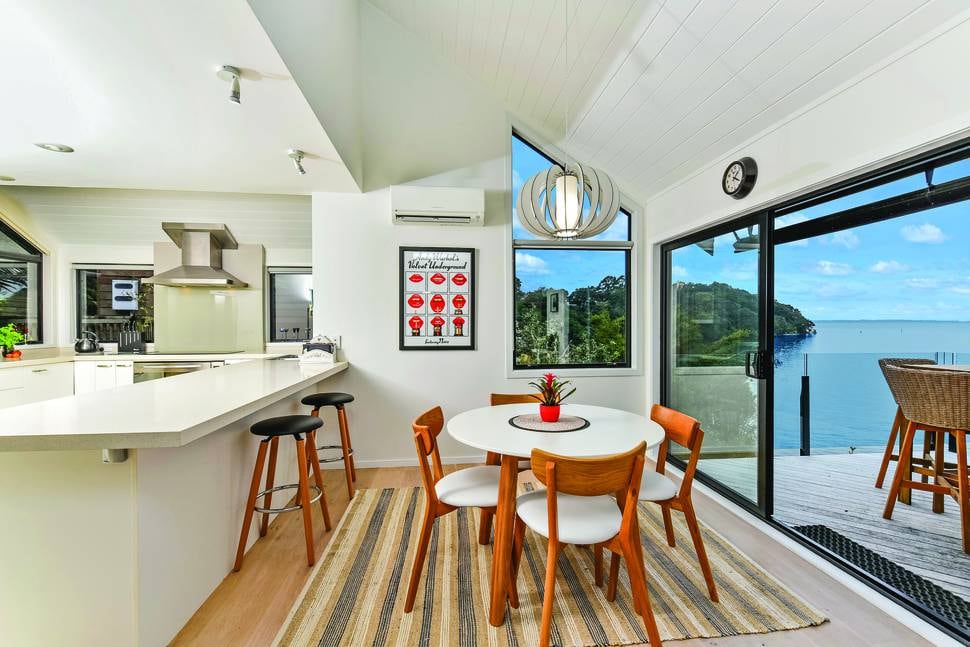 They bought the circa-1980s home in early 2013 keen to enhance it, beginning with nurturing its cedar exterior with several coats of oil.
"We thought, 'Well, if we're going to the expense of putting scaffolding up all around the house we may as well do a few extra things'."
They replaced tired-looking joinery with new double-glazed aluminium joinery featuring larger glass panels for unrestricted views. They also replaced the guttering.
There's a red front door on the upper level but, alternatively, brick steps lead to mid-level sliding doors into a foyer. This has Velux skylights above and a sheltered inland courtyard garden outside.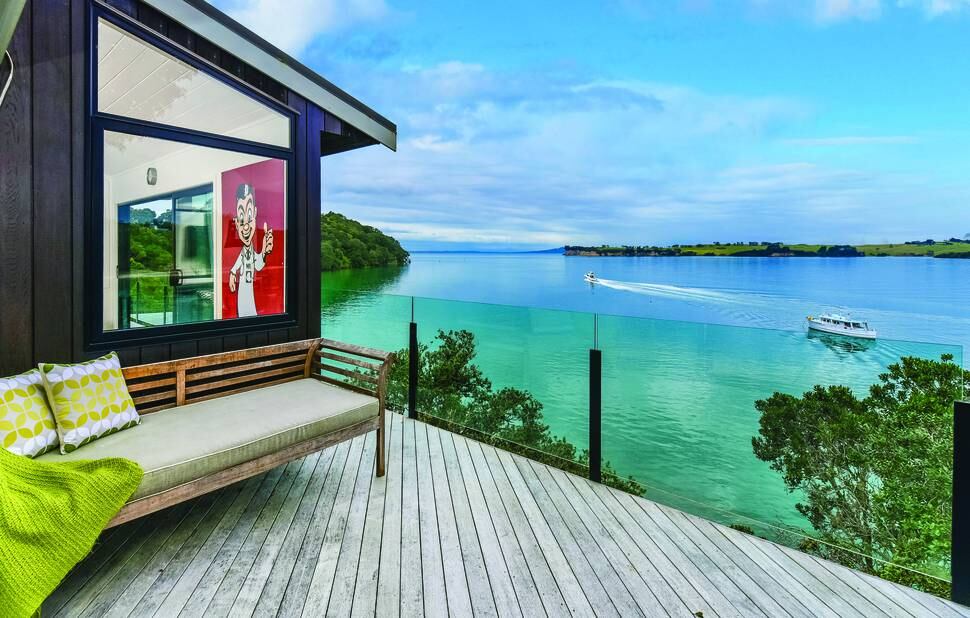 Decks wrap around this level's living, which consists of kitchen, dining and lounge laid out open-plan under soaring vaulted ceilings with a heat pump.
The couple's extensive redecoration included re-flooring with solid Amsterdam oak, upgrading internal doors to black panelled ones and complementing mainly white decor with wallpapered feature walls in a grey hessian pattern.
This level also has a bedroom opening to the front deck, a bathroom with a bath positioned to watch wood pigeons in a big puriri tree outside, a laundry and storage.
The couple each have two children and Alison's son initially lived in one of the upper level's two bedrooms. The other bedroom has an upper wall of louvres which can be closed off or opened to highlight the view.
They've also refurbished the semi-self-contained downstairs with its own entrance, bedroom, kitchenette, bathroom facilities and deck (harbouring a sauna, which stays).
Henry says: "This place is brilliant for giving everyone their own space.
"There's been an insurgence of good cafes along the peninsula since we've moved here.
There's a supermarket handy and a movie theatre two minutes' drive away so we don't often feel the need to leave the Hibiscus Coast at the weekend."
The couple is selling the property ready for a new direction, which will include some travelling around New Zealand and may eventually include another home improvement project.