Toni Rowell pushed the boat out when she bought her Grey Lynn villa back in 2005. But she knew she had a goodie, a grand 1905 villa with much of its original features intact.
"I'd moved back to New Zealand after seven years living in London, and it was my first time living in Auckland," she says. "I wanted to live centrally, and be able to walk to work in the city.
"Back then, it was a street of villas in ugly pastel blue, pink on the neighbours' house, pub swirl carpet, the lot."
Way back in the 1980s the house had been carved into flats, the owner living downstairs and fairly rumpty, but still original, rooms upstairs.
The kitchen and bathroom were in an odd lean-to at the back, the back deck so rotten that when husband Mike - whom Tony met 18 months after buying the property - finally demolished it, it collapsed with a few blows.
The self-contained ground floor flat came in handy when the couple renovated earlier this year and, just this month, got official paperwork completed with the council.
It has a new kitchen, with smart granite benches and wood-look lino floors, a new bathroom and two bedrooms.
Bonus is a carpark off-street and a charming north-facing patio, complete with vege beds. Not surprisingly, they've never had gaps in renters, but it would do equally well as a granny or teen flat, home office or holiday rental.
Upstairs Toni and Mike gradually worked their way around some cosmetic changes for a decade or so while they plotted the big renovation.
The nasty carpets were ripped up to reveal kauri, which was filled and oiled with a Danish blonde colour, cool and Scandi tones that work well with the all-white walls.
Heavy white plantation shutters finish the square bay window in one front bedroom and the original french doors and sash windows in the other three bedrooms.
Somehow the battened ceilings, ceiling roses, architraves and doors had survived and the couple were thrilled that two bedrooms still had original fire surrounds and dressy tiles.
They finally started work on the renovations in January 2015, living through them with two kids during a filthy winter (new baby Mac, now 2, came home to a campsite in one bedroom, toddler Jordan was 2 when they started).
Toni and Mike briefed architectural designer Rachel Higgs, of Integrado, to make a clear demarcation between old house and new.
She rearranged the weird configuration of wet rooms at the back of the old house into a pair of luxurious bathrooms - a generous family bathroom and a striking black mosaic lined en suite.
She encourage the couple to use quality fittings and tiles, the striking striated brown vanity top is a Siena stone, the vanity an American white oak. Naturally underfloor heating was added.
The walk-in robe has a wall of glass to add light and the impression of more room.
The family bathroom features walls and floors of more marble, this time Alarti.
Next to it, Rachel tucked in both a roomy laundry behind doors and an entire storage closet for extra freezer, vacuum cleaner and more - a bonus Toni had sorely missed for 10 years.
There is more extensive storage under the house, and the Rowells have fed plumbing and electricals into the basement and done all the ground work so future owners could convert it to a rumpus room without much difficulty (they even have some of the fixtures ready to install).
The front deck was replaced with a new extended deck for street-side sitting, and every one of the balustrades was hand carved, a final touch to bring the grand old villa to life for the street. Three off-street parks are a bonus in Grey Lynn.
But it is the new open plan living, kitchen and dining room that has delighted Toni and Mike in the year since the house was finished.
Full height double doors mark the end of the old and start of the new, and the rugged travertine floor tiles continue from indoors to out.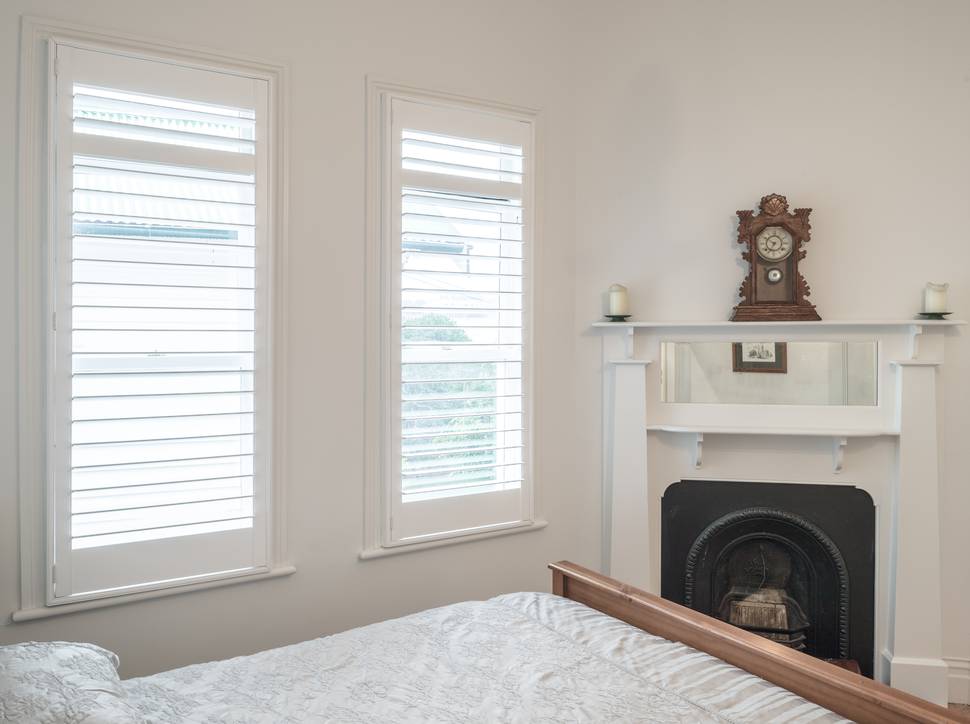 Double glazed sliding doors open the entire back wall to the garden. The patio runs the width of the house, and with its cedar wing walls and louvred ceiling it is a second sitting room for all but the worst of winter.
The useless sloping back lawn was carved into terraces that carefully preserved the old feijoa tree.
The kitchen includes dramatic stone - this time a waterfall island of Affogato marble is paired with a matt black slate and white frosted glass splashback/window.
The couple are particularly pleased Rachel talked them into coved ceiling split with LED strip lighting to add drama to the room, along with a bronze leaf feature pendant over the dining table.
More well-thought out storage covers one wall of the living room, to hide kids toys, office gear as well as the entertainment system.
Smart electronics control security, smoke detectors and a commercial sprinkler system.
But having finally gotten the old house to it's better-than-new state, Toni and Mike are selling up to move back to be closer to their families in the South Island.
They're sad to leave a project they've put their heart and soul into, but excited to pass on their good work to the next lucky family.