By Louise Richardson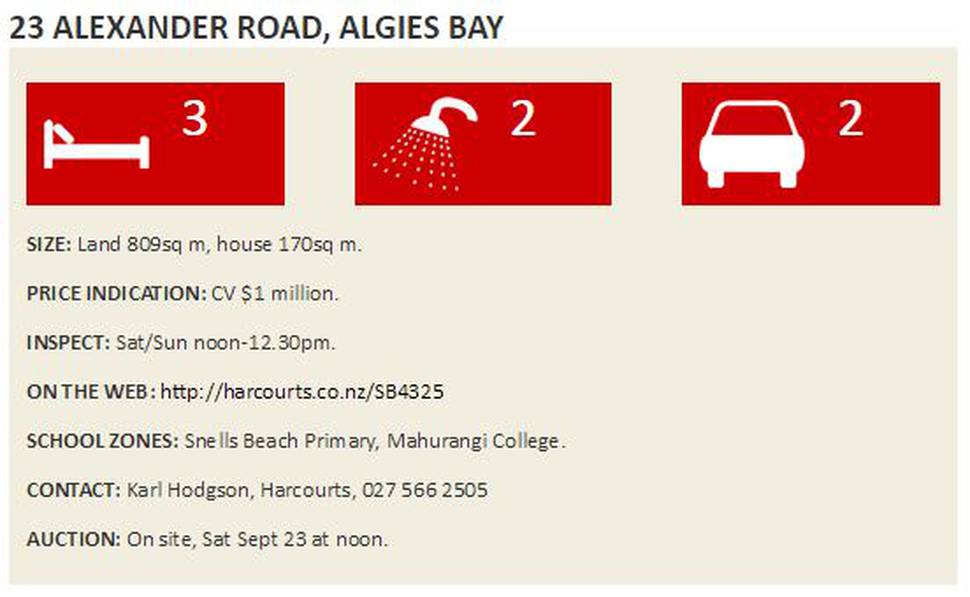 Murray and Jenny Butler never intended their Algies Bay property to be anything other than a holiday home and that's what they love about it.
"It's just a 50-minute drive door-to-door from our home in Milford, even if we're towing a boat, and as soon as we pull in there and look at the view, we immediately feel happy and relaxed. It's a very casual place," says Jenny.
The three-bedroom house was originally a show home and was constructed with Linea weatherboards and a coloured steel roof.
When the Butlers saw it on its original site in Drury, they knew straight away that it would work on their 809sq m Algies Bay section, which had only a two-bedroom 1950s-style bach on it at the time.
"We even bought some of the show home furniture, because it was such a good package," Jenny says.
The new house was moved to Alexander Rd in 2014 and since then Murray and Jenny have worked on the easy-care landscaping and stone walls that surround part of the house.
They also installed the spa/swimming pool, which had previously been on another property they owned, and a separate double garage.
The couple's children are both grown-up now and Jenny says that even with the arrival of grandchildren, there's still plenty of room for everybody - and the bright, modern kitchen easily caters for all of them.
"The layout is really clever with the master suite at one end of the house so that we can enjoy our own space, with our own bathroom, while the little ones and their parents have theirs at the opposite end.
"Better still is the lounge, dining and living space, which is the whole width of the house. It's huge and if you wanted to, you could possibly even add a fourth bedroom there."
She says that she and Murray considered turning the house into a two-level dwelling but that meant their pleasant elderly neighbours would lose their view of the sea, so the plan was shelved.
"You could lift it up though. It wouldn't be hard," says Jenny.
"The views are wonderful now, but they'd be even better then."
She says that the vista from the house and its extensive decking is always changing and, over the time they've been coming here, the family has seen dolphins and Orcas frolicking in the bay.
"There are people out there enjoying water-sports right throughout the year and the local yacht club is a very active one."
One of Algies Bay's greatest attractions is the fact that with only two roads in, it's a destination, rather than a thoroughfare to other places, which means that it never gets crowded.
It has a little shopping centre with a dairy, pharmacy and bakery or you can go further afield to Snells Beach, which has many larger outlets.
"Warkworth is just nine kilometres away and we're in Matakana Coast wine country - the area is dotted with vineyards.
"Sandspit's not far from here, which is great if you want to go over to Kawau Island," says Jenny.
The Butlers have recently built a house in Queenstown and the family is enjoying a change of scenery by going down there for holidays.
"We thought about keeping Alexander Rd, but trying to run three properties was going to be a bit tricky so we've decided to end a very happy phase of our lives and sell this one.
"We'll miss the tranquillity and the fantastic views, but life changes and you have to change with it," says Jenny.