By Graham Hepburn
Three hours was all it took for Dave and Gilly Sheffield to go from inspecting to owning their two-storey villa.
"We'd sold our villa in Epsom and had started looking around," Gilly explains. "We saw this house for sale and thought we'd just come and have a look from the outside but when we turned up the agent happened to be here.
"At 4pm we walked in and we had a good look around until 5pm, and later that night we were signing a contract."
Dave adds that having come from a villa they were keen on living in another, and this one "fit the brief" with plenty of room and a swimming pool for their two then-teenage daughters, Lucy and Molly.
Set back from the road and shielded by hedges, the circa-1885 kauri villa is quiet and private. Formal gardens frame the semi-circular driveway with wooden gates at either end.
Sitting centrally in the symmetrical garden is a lawn where the family have set up a badminton net in summer.
The driveway also continues down the lefthand side of the house where there is an internal-access garage and workshop, and on to the standalone double garage at the bottom of the garden that also houses pool equipment.
Designed by architect Thomas Mahoney, the home has sash windows and a 3.8m stud that makes for light-filled, generous spaces. Judiciously placed skylights have amplified the light throughout the home.
Dave says the home had been sympathetically renovated before they bought it in 2013; among the revamps a new kitchen and bathrooms.
"You still know it's an old villa because there is a nice blend with the old and the new." He says they have only made a few changes, such as putting in automated garage doors, an eight-zone Sonos sound system, and having the house painted.
"The paint job has a 10-year guarantee so that should give new owners peace of mind," Dave says.
The layout of the home has served the family well with separate spaces for teens and adults, and plenty of room for entertaining.
At the front of the home a lounge with a bay window and fireplace has been set up as a TV room, while across the hallway the separate dining room opens into the large family room/kitchen.
A neutral colour scheme and wide kauri floorboards tie all these spaces together. Living spaces open out to a wide veranda that wraps around the northeastern corner of the house, making for an ideal barbecue spot.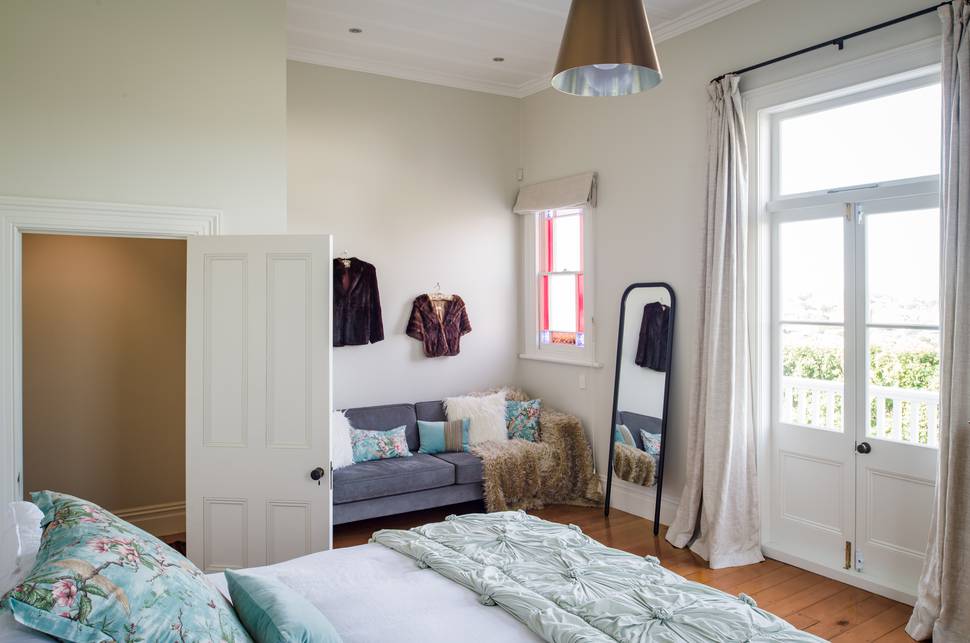 On the western side of the house, a quaint cottage-like annexe has a tiled en suite to the bedroom, which has its own entrance with a pebble path out to the front garden.
Both kitchen/family room and master bedroom open to a back deck with wide views to the south.
Gilly enjoys that view from the master bedroom, which has its own tiled en suite.
"You can sit in bed reading the newspaper in the morning and you get beautiful sun and the view out there is amazing," she says.
Downstairs there are two more bedrooms, a bathroom and what used to be the ballroom - a grand space with an office off it that could also serve as a bedroom.
The ballroom has made a great rumpus room for the kids and opens out to the pool area, which features a heated swimming pool - with a spa pool in one corner - and an outdoor area warmed by a gas fire.
"You could do more with the pool area if you wanted to with furniture and lighting," says Gilly.
Dave says: "This has been a great house for entertaining; we've had parties and pre-balls for about 70 people and it coped easily.
With their daughters at university, the couple are downsizing.