By Donna McIntyre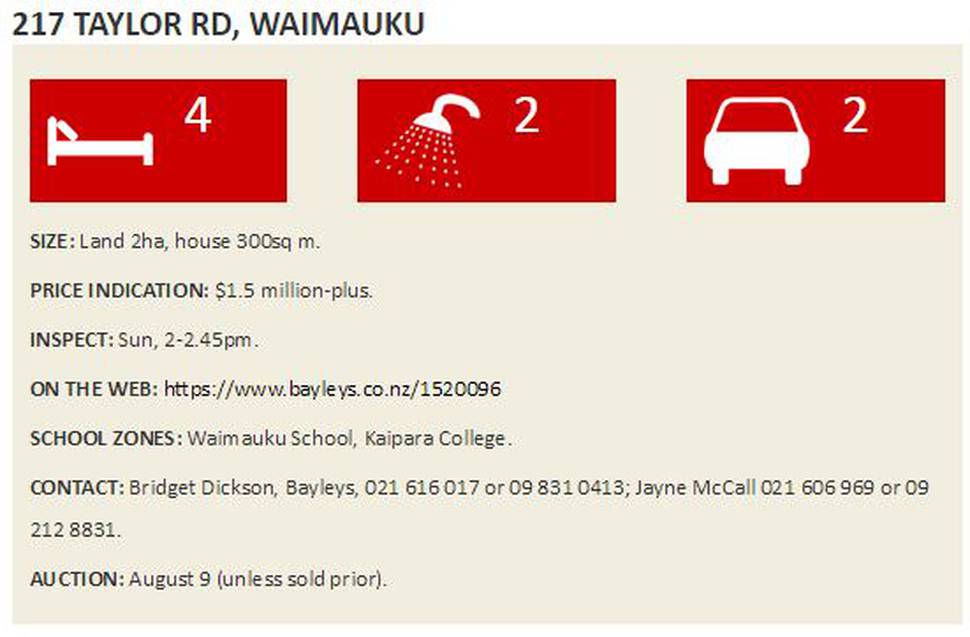 When you live on a lifestyle block, you tend to amass a little zoo over time, says Jake Ball.
Jake lives in this three-bedroom Waimauku house with his family.
"There's my wife and three boys and a bunch of animals. We have had goat, sheep, chooks. We get visiting birdlife - rosellas, kingfishers, fat woodpigeons, pukeko.
"We get pretty much the usual gamut of birdlife for a property that borders a substantial protected forest."
The cedar-clad home he bought around 2009 has an unusual and distinctive shape.
He says the house and the 2ha of land have "quite a spiritual thing. Perhaps it is the use of natural materials, there isn't a lot of plasticky stuff in it.
"It sounds corny but I think the fact that it has three separate family owners over its lifespan, means it has retained a little bit of that feeling in its bones."
The home was built in the mid-70s by potter Ray Rogers.
"His work has come to some prominence now, with his ceramics getting some good auction results," says Jake.
"And the remnants of his ownership are still in the house, the door handles on all the downstairs internal doors are ceramic."
Another owner, Maureen Maxwell, was responsible for extending the home.
"She transformed it. She was well known in the area for her lavish entertaining and she ran the Hunting Lodge restaurant, down the road from the house."
So what brought Jake and his family to this special property?
The answer is the weather as Jake explains how they had been living in the Waitakeres and were looking for somewhere that didn't get as much rain.
"We didn't realise we were living in a subtropical rainforest in the Waitakeres. Whenever we came to Waimauku, it would be a nice day."
This pole and rafter house of around 300sq m was exactly what they had in mind.
"It is also an asymmetric property, just a single pitch to the roof and the ceiling spaces are open," says Jake.
"It brings in a lot of light and you have an expansive ceiling space. It is not like any other property I have come across in terms of its looks.
"I think it works very well for giving you a sense of space."
He says the one-bedroom, self-contained accommodation connected to the house by decking matches the look of the house, as do the outbuildings on the property.
The house has the kitchen, with stainless steel benches and Gaggenau and General Electric appliances, just off the sheltered entrance porch.
Close to here is the Lady Kitchener woodburner that throws out enough heat for the whole house.
"In winter, this tends to become the centre of the house, it heats the water, it makes lovely casseroles, it provides the warmth for both upstairs and downstairs. It is a remarkable fireplace," says Jake.
Also, downstairs are the dining room and lounge with two entrances to two decks.
"It faces the northeast and gets the sun."
There is another fireplace and a heat pump in the home.
Upstairs are the landing, three bedrooms, (master with en suite), a shared bathroom and a separate toilet.
"Each bedroom has a quirky layout," he says. "One has a ladder which takes you up above the wardrobe; another leads up to the third storey, which is a small room with its own deck and it looks out over the property. It is the highest point of the house."
Jake says there is a lot of glass in the house. "I think there are 20 doors opening to the outside on our property, I counted them one day. There are more than 240 panes of glass and 70 opening, functioning windows."
The property also has a barn, a pool, and a sauna next to a carport. "And what I refer to as the hangar, which is a 12m x 6m long outbuilding in the same style as the house and was once a helicopter hangar but is now a motorcycle workshop."
There's also a tack room and a garden shed, which stores all the ride-ons, chainsaws and equipment. "That shed has a mezzanine loft space which we use as a music room.
"And we have amazing views of what is known as Renall's Farm, the single largest piece of land within 25km of Auckland or something.
"It in an understated splendid piece of Kiwiana."
The family are selling as Jake's wife wants to be closer to town for schooling for their sons.
"I think this home is a credit to everyone who has lived here over the years," he says.
"They have all brought something to it. We feel it in the bones of this home."