By Deborah Telford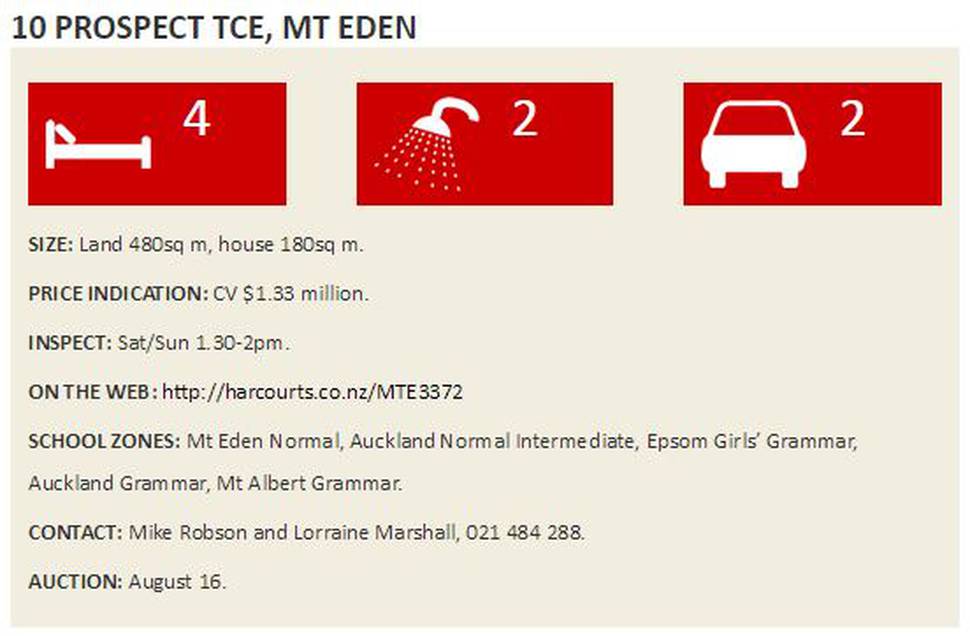 When Sydney couple John and Sue Pearce first flew to Auckland 11 years ago after John was headhunted for a job at Fonterra, they drove around the city to see where they'd like to live. Mt Eden captivated them immediately.
But rather than leaping in and buying there straight away, they rented in Epsom while they waited for prices to cool, and Sue thoroughly researched other suburbs, including Ponsonby, Parnell, Remuera, Three Kings and St Heliers.
"My full-time job was getting a feel for the market and what you get for your money."
Three years later they were still taken by Mt Eden's friendly village, predominance of character villas and the beauty of the mountain itself.
The central suburb was also in-zone for Epsom Girls' Grammar, where their youngest daughter Katie was at school, and close enough to the city for John to be able to walk to work in 45 minutes.
With three dogs needing daily walks, the couple were also lured by the wide open green spaces of Mt Eden, which is less than a kilometre away.
"You walk up the mountain with the dogs and you could be anywhere. The wind flaps through their ears and it is their total happy place," says Sue.
This 1920s villa in Prospect Tce appealed because it felt as though it had a soul, she says.
"When I walk into a house it has to speak to me and have a personality of its own. There are lots of 'beautiful' houses around but they often just feel like boxes with a roof on top."
She and John - who have been doing up houses since they were engaged - could also see great potential for improving the house without making any significant structural changes.
When they bought the property in 2009, John says its north-facing side garden was a quagmire with a tangle of old trees and shrubs blocking the sun. The back garden was "basically a bank filled with rocks".
After clearing both these areas, the Pearces created a terraced back garden with a lawn and added a wide, L-shaped, covered deck that wraps around the north and eastern sides of the house.
Clear, polycarbonate roofing and cafe-style, clear blinds have been installed to create a sheltered, all-weather, indoor-outdoor space that captures year-round sun.
At the west-facing front of the house, the verandah has been rebuilt, ugly concrete stairs have been replaced and the Pearces have put in a picket fence in keeping with the character of the villa, which still has its original leadlight window in the front door.
As well as four bedrooms and two bathrooms, the house has two living rooms - a more formal one that faces the street and an east- and north-facing lounge that adjoins the dining room, opens on to the covered deck and looks over the back garden.
"Katie thought it was great when we moved in because she and her friends could have the front of the house and we had the back," says Sue.
The home's easy, indoor-outdoor flow makes it great for entertaining and before Katie's marriage in 2014 four generations of family gathered there ahead of the big event.
The Pearces' three daughters, their partners and five grandchildren are now living in Canberra, London and Victoria in Canada. Two of the daughters plan to settle in New Zealand in late 2019.
Sue and John's immediate plans are to sell up and move to the Southern Highlands between Canberra and Sydney.
"But we have fallen in love with New Zealand. We will really miss the village so we can see in the future it may be a time to reassess."