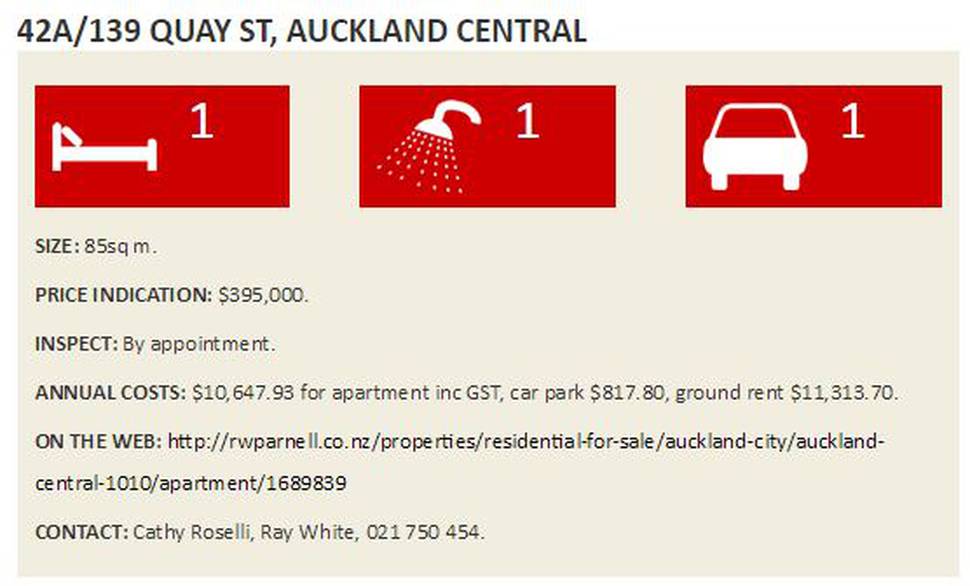 Listen to Jayde Pritchard listing the many appeals of this penthouse apartment and you will be tempted to move in.
Jayde and her husband bought the split-level apartment in December 2016. "I love living on the top floor penthouse as the 4m-high ceiling stud means the entire apartment has a light, bright and airy feel," she says.
"It gets sun in the morning and afternoon and it's also not as noisy as the other side of Princes Wharf, as there are no bars below.
"There are great views over the harbour across as far as Devonport with Rangitoto in the background, the harbour bridge, and back across the city and Sky Tower which looks spectacular at night all lit up."
Her northeast facing apartment is one of 72 in Shed 20, across four floors. There are only eight penthouses on the top floor.
The concrete building was built in 1999.
Jayde says she and her husband looked extensively at every apartment for sale on Princes Wharf and decided to buy this one because of its views, and that it is a penthouse with lovely ceilings. "It felt very open and luxurious."
She finds being leasehold is easy. "It makes it a low-entry price point to own an apartment in this location. Not to mention that most of the Princes Wharf apartments have 50-year leases and ours is one of a few that have a 99-year lease on the original low ground rent.
"Other penthouse apartments on Princes Wharf have ground rents double what we are paying. So, ours is like hens' teeth."
The central location was also important. "We have the abundance of great restaurants and eateries on our doorstep. You are never more than a short walk away from entertainment and it's easy to jump on a ferry over to Devonport or Waiheke."
The split-level layout has the entrance, laundry and storage on the first floor; kitchen, bathroom, bedroom, living and dining with access to the deck on the top.
Having a deck was non-negotiable, says Jayde. "This isn't a plus - this was a must! We had every intention of spending many evenings on the deck, champagne in hand, watching the world go by."
They have renovated the apartment, painting it, installing new fixtures and fittings, a designer kitchen and bathroom.
"The kitchen was designed by Hayley Dryland from August Design, with Fisher & Paykel appliances and granite bench top. The tiles throughout the entrance, kitchen and bathroom are from Casa Italiana along with the beautiful bathroom fittings."
The apartment's dedicated carpark is next to the door to the elevator. "It's the best car park to have." The couple are selling their apartment because they have a newborn.
"We need a garden and a more future-proofed home for a growing family," says Jayde.