4B FINCH ST, WESTERN SPRINGS
SIZE: Land 383sq m, house 240sq m.
PRICE INDICATION: Interest expected upwards of $2 million.
INSPECT: Sat/Sun 11-11.30am, Wed 6-6.30 pm.
SCHOOL ZONES: Mt Albert Primary, Kowhai Intermediate, Mt Albert Grammar, Western Springs College.
CONTACT: Ruth Hawes, 021 482 797, or Tim Hawes, 021 482 601, Ray White.
AUCTION: October 30 on site at 2.30pm.
An elevated 1216sq m tract of suburbia has given developer Graeme Fan the ideal opportunity to repeat a formula close to his heart and embrace something new twice over.
He has done so in yet another heritage renovation that is the revitalised original square-front villa at the front of the property. Down a shared driveway, two near-identical double-storey contemporary homes are his first venture in new home building. It is the rear house that features here.
Graeme and his business partner bought this property two years ago and apart from the construction, there is more that has changed about this property than is obvious at first sight.
There are distinct similarities with the palette of colours that Graeme used in his previous renovations in Auckland, which followed his tenure as a development consultant in London working with Georgian and Victorian-era homes.
For this project, Graeme had the property resurveyed to swap the shared driveway from the north to the south side to maximise the north-facing lounge-side deck and garden space for the new homes. He went a step further to maximise the land for each, by moving the original villa forward before completing the seven-month renovation.
Only then did the two homes designed by Greg Jones of Jones Architects start taking shape, almost completely out of sight down the long section.
From its first view, this house with its soft, newly-planted sub-tropical garden sets the scene with its exterior cladding of bagged brick and vertical cedar battens. Inside, the soaring atrium entrance features a black oxide concrete floor, light-brown textured wall tiles and grey-stained ash timber open-tread stairs with a marine stainless wire balustrade. It is a sculptural element that opens the core of the house to the living area and garden directly ahead and washes it all with natural light from the fixed skylight.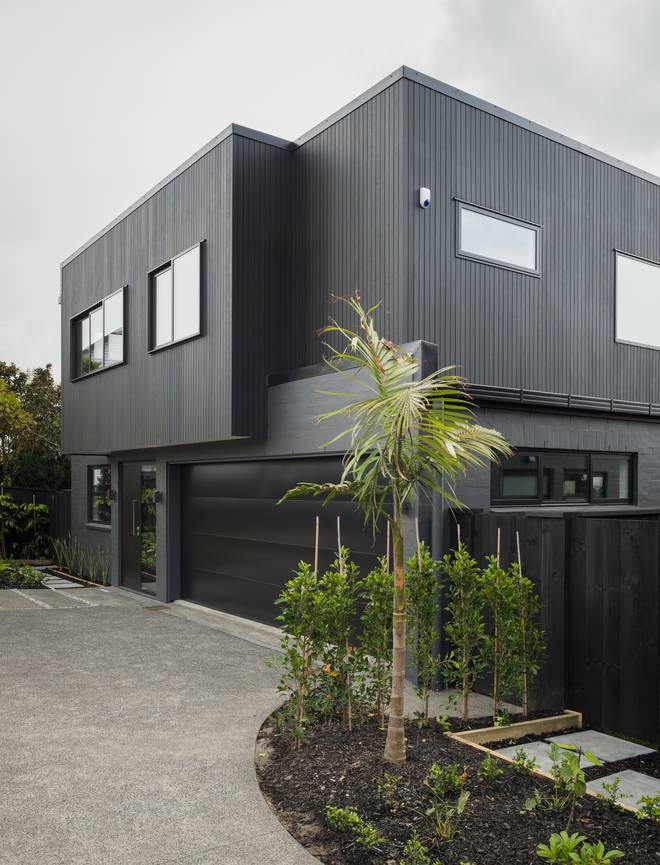 It is Graeme's signature touch of texture and his neutral colour palette that repeats itself in a thoroughly modern context. "I have not moved too far from my grey palette at all. I'm big on texture, too. Entranceways are very important to me and we have invested a lot of time into making sure this entrance is successful."
Flexibility is another key feature. The dual-function guest bedroom/lounge to the left of the front door and next to an en suite/powder room is a charming case in point. Similarly, the largest of the three guest bedrooms upstairs has the same dual functionality, which gives this house multiple lifestyle options without compromise.
Within the bathrooms, Graeme designed the vanities with their engineered stone tops, porcelain floor tiles and brick wall tiles. The master en suite has elegant back lighting behind the double shower. Within the large master bedroom quarters there are two separate dressing rooms.
Downstairs, the full-width open-plan living area steps down from the main entrance to a slightly lighter grey concrete floor. Dark wall tiles feature behind the gas fireplace, offset by the open-plan kitchen with its Calacatta marble-style island bench at the opposite end. His choice of oak for the flush cabinetry adds warmth visually and is an appropriate choice given that Graeme opted for a concrete floor here, rather than timber flooring. In his kitchen statement he opted to do away with a scullery to keep the kitchen better connected to the wider living area. This project gave him scope to play with the design and choice of materials and he enjoyed it immensely. "It's just so much easier than a renovation because everything is new and there are no surprises behind the wallboard," he says.