A trip to the hairdresser can result in the loss of a large portion of your hair, as well as an even larger loss out of your pocket.
A British hairdresser has faced backlash after revealing she charges people differently depending on a couple of conditions - one seems reasonable, the other is a bit bewildering.
She shared she'll charge people more if they're over 172cm (5ft 8in) tall, or if their hair reaches down to their bra strap.
A UK hair salon review page @hairadvisorUK took to Twitter to share a screenshot of the woman's announcement via her Instagram story, with the caption: "Are hair stylists expecting too much from their clients?
"An anonymous hair stylist has put a height restriction on her clients and we are not just talking about hair."
The post soon caught the Twitter world's attention, with people asking if she had "lost her mind"?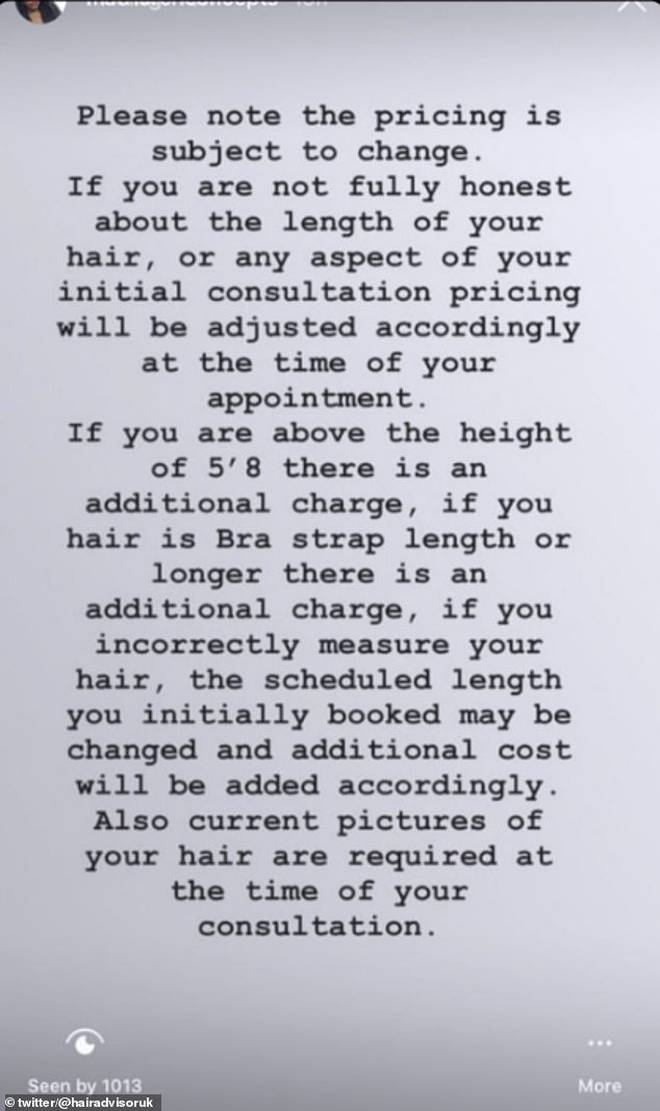 The female stylist, whose name has been cropped out, writes: "Please note that the price is subject to change.
"If you are above the height of 5ft 8in, there is an additional charge; if your hair is bra strap length or longer, there is an additional charge."
While she goes to great lengths to outline who constitutes long hair, she doesn't explain why she charges extra for height.
The anonymous poster went on to warn people that if they tried to cheat the system, they'd be issued a fine and their booking would be changed.
She wrote: "If you incorrectly measure your hair, the scheduled length you initially booked may be changed and additional costs will be added accordingly.
"Also, current pictures of your hair are required at the time of your consultation."
Twitter users couldn't believe it and were fast to criticise the hairdresser for what she had said.
In Auckland, it appears to be the norm to charge extra if a client has longer hair.
Well known studios Dry & Tea, M11, Stephen Marr, and French Revolver all charge differently according to hair length.
While Servilles charges differently depending on the skill level of the stylist.
: